Alex Paknadel's Top Ten Comics On Sequential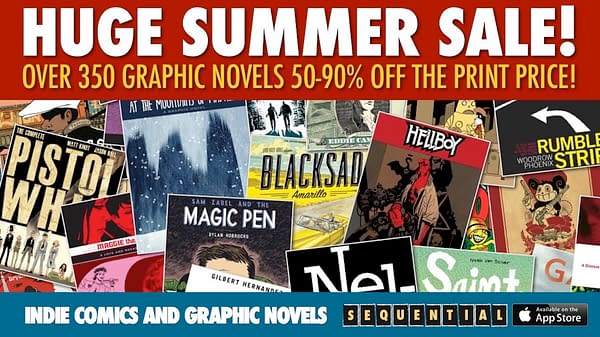 PM Buchan writes,
The SEQUENTIAL summer sale, which ends on Saturday, is the biggest indie graphic novel sale EVER, featuring over 350 graphic novels at 50-90% off the print price.
18 publishers are participating in the sale and offering an amazing range of titles, including Hellboy, Sin City and Love & Rockets.
Alex Paknadel, writer of ARCADIA from BOOM! Studios, has selected his top ten comic and graphic novel recommendations:
Apocalyptigirl by Andrew MacLean
This haunting spin on 'A Boy And His Dog' has everything: a sympathetic protagonist, a killer conceit and some of the most strikingly beautiful sequential art I've seen in a long time.
Boo by Various
Take the UK's best independent creators and set them loose on a kids' horror anthology. What do you get? You get Boo! A new Boo! is turning into a Halloween tradition, so let's hope we get one in 2015!
The Fifth Beatle by Kyle Baker and Andrew C. Robinson
Who knew Brian Epstein was more interesting than the rest of the Beatles put together? We tend to dismiss money men and focus on conspicuous creativity of the Lennon variety, but this wonderful graphic novel makes an excellent case for broadening our concept of creativity. Epstein was a tragic visionary. Celebrate him here.
Thomas Wogan Is Dead by Dave Hughes
A sublimely morbid, affecting and – yes – funny graphic novella set in Morecambe and purgatory. It's centred on a very English ennui of the drizzle and baked beans variety that always moves me to tears. Love this one.
Set To Sea by Drew Weing
A gentle giant with poetic aspirations is abducted and forced into a life of adventure on the high seas in Drew Weing's unequivocally beautiful graphic novel. Fiercely allegorical and reliant on emotion rather than sentiment, this is one that will stay with you for a long time.
Meanwhile… by Various
Not a graphic novel or collection, but rather an anthology that's still being published. However, it features the welcome return of Gary Spencer Millidge's epoch-making Strangehaven and that's why I'm including it here. Strangehaven was the comic that educated my palate after half a decade of junk food in the late nineties. Gary rewired my brain!
The Lengths by Howard Hardiman
Is kitchen sink surrealism a thing? Well, it is now thanks to Howard Hardiman. The Lengths is a fascinating, emotionally charged drama based on testimonies from male prostitutes in London. However, to protect the identities of these men Hardiman has replaced their heads with the (highly appropriate) heads of various dog breeds. It's a Kurtzman-esque masterstroke.
Hugo Tate by Nick Abadzis
Talking of kitchen sink surrealism, here we follow Nick Abadzis' fictional surrogate 'Hugo Tate' from Thatcher's London to sensory overload New York. The real treat here is that you get to see Abadzis' evolution as a writer/artist as he progresses from figurative stick people to near photorealism as he hones his skills. Hugo Tate has been called "the British Love and Rockets" and it's easy to see why.
Nelson by Various
The singular achievement of the British comics community. 54 creators take us through 43 years in the life of one Nel Baker, and by the final page you know her like a sister. It's as bittersweet and schizophrenic and poignant as life itself, because that's exactly what Nelson is: life itself.
The Left Bank Gang by Jason
The concept alone is irresistible: Ezra Pound, Ernest Hemingway, F. Scott Fitzgerald and James Joyce are all cartoonists living in Paris in the 1920s. And they're dogs. And they rob banks. And… And… Look, just buy it will you?
Other creators and critics that have selected their favourite titles from the sale include: David Hine (The Bulletproof Coffin, Detective Comics), who recommends books such as Angoulême winner Pinocchio; Ryan K. Lindsay (Negative Space, Headspace), who selected books such as Eisner Award-winner Green River Killer; Ian Dawe at Seqart, who chose books such as Eisner Award-winner The Fifth Beatle; and Jon Morgan at Pornokitsch, who chose books such as Alan Moore and Steve Parkhouse's The Bojeffries Saga.