Posted in: Comics | Tagged: dark horse, jai nitz
---
Jai Nitz Responds to Allegations of Predatory Behaviour, as More Details Emerge
This weekend, former editor-in-chief of Her Campus Hannah Strader wrote a guest article for the site, regarding an encounter with comic book writer Jai Nitz two years ago when she was twenty-two.
She wrote about Nitz being invited to appear at her class at the University of Kansas, the assignment being to research who he was in a very short period, then be ready to ask questions in a mock press conference.
Contacting each other on social media afterwards, she writes that they agreed to meet up for drinks for what she thought might count as a mentorship. But, as she writes, he had a very different idea, and during the evening she was given the impression that Nitz was interested in younger women, possibly students. After making it clear she wasn't interested, she recounts that he forced kisses on her, as she left in a state, and had to find support at a nearby friend's house. She considers Nitz' actions to be predatory behaviour and chose to name him, as Nitz was attending a comic convention in Kansas this weekend, and she wanted to prevent similar behaviour.
The day after the post was picked up across social media, Nitz pulled out of attending the show, with this note left on his table.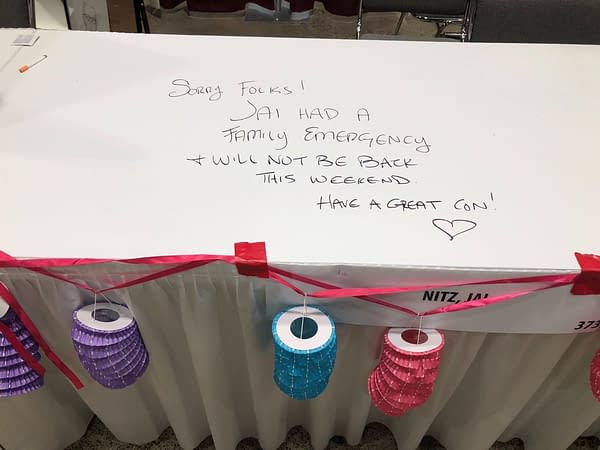 Since then, Dark Horse has cancelled his current comic book series Astro Hustle, though the second issue due to be published next week has already shipped to stores. But they have stated they are investigating the issue and have suspended their professional relationship with Nitz. Nitz's final issue of Suicide Squad: The Black Files from DC Comics is published tomorrow.
I contacted Nitz over the weekend, apparently the only reporter to have done so. He told me:
"This is a very difficult time for me and my family. I apologize for my past behaviors and any pain they caused. I am stepping away from comics and public life. I am seeking counseling and trying to live a better life for my loved ones."
In response, Strader told me:
"I am very happy to hear that Jai is recognizing his behaviors and taking steps to change them. That is a very difficult thing to admit to and seek treatment for. There's a responsibility victims feel when they come forward with allegations against someone like this. He's had a very accomplished career and I know he has kids. I didn't want to taint that, but I also have a responsibility to any other girls he could do this to and they are my priority."
A number of other people have shared their own experiences.
Samantha Puc wrote a long article for the Comics Beat yesterday, which is very much recommended reading, in which she reported other allegations.
This included the timeline that Strader first tweeted without naming names, to be contacted by Kara Love, who told the Beat "It seems to have been a whisper network-like secret, but nothing could really be done without anyone coming forward. So far, I've heard of at least 5 other women" with Strader telling them "I was surprised, however, that multiple other people had spoken up about it happening to them, but were afraid to go on record. Until someone came forward, there was nothing the community could do to keep him from entering those spaces."
This led her to name Nitz in the article.
The Beat has also spoken those who allege sexual misconduct and predatory behavior from Nitz, when working at a local comic shop, where Nitz rented the space, and included screencaps of their conversations from two-and-a-half years ago.
This morning, Strader posted:
Talking to Strader earlier today, she told me:
"Between Kara Love and I, we have tallied 13 people who have been assaulted/harrassed by Nitz or otherwise witnessed inappropriate behavior. I'm receiving messages from creators who know Jai personally, also, and have stated they had no knowledge of his misconducts but would be severing ties with him. I'm overwhelmed by the positive support I'm receiving, but also very surprised at the number of people coming forward."
I understand that there may be more to come.
---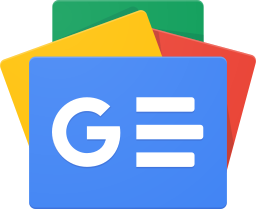 Stay up-to-date and support the site by following Bleeding Cool on Google News today!