Amazing Spider-Man #55 Second Print Orders Double First Printing
The recent Amazing Spider-Man #55 got a lot of orders – and interest – because of its rather striking cover by Patrick Gleason. The cover was parodied before it was even published by The Amazing Sycophant and the Winnie The Pooh/Deadpool mashup Do You Pooh.
Despite a big increase in orders, the comic book managed to sell out instantly, with multiple copies selling on eBay right now for up to $53 each. While Patrick Gleason's own virgin variant version of the comic that he was selling for $24.99 each,is now selling for up to $200 raw on eBay as well.
It also went to a second printing with a red cover – and a 1:50 version with a flipped-back-to-the-original artwork as Bleeding Cool suggested it might. Meanwhile, the Gabrielle Dell'Otto variant has only been selling for cover price, alongside the Ron Lim LEGO variant, and the 1:10 Brian Horton version of the cover for only $10.
Now Bleeding Cool understands that, in a remarkable departure from the norm, orders for the second printing from retailers are more than for the first printing – almost twice as many copies ordered.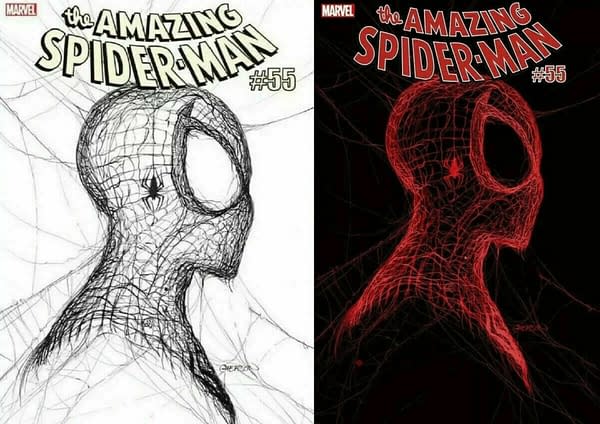 And with copies selling for $8, twice the cover price, before orders are even finalised, you can see why there might be interest. Especially when that and the 1:50 copy together have sold repeatedly for over $80 on eBay as well.
Throw this in with the news that Marvel's Star Wars: The High Republic has hit over 200,000 orders for its first printing, and Marvel Comics should be quite happy right now.
AMAZING SPIDER-MAN #55 LR
MARVEL COMICS
OCT200583
(W) Nick Spencer (A/CA) Patrick Gleason
LAST REMAINS CONCLUDES!
• "LAST REMAINS" ends and will make you look at Spider-Man differently. It'll make Peter look at himself differently.
• If you thought the buildup TO Kindred was intense, the fallout FROM Kindred is even more devastating.
Rated T+ SRP: $3.99