The lead up to Amazing Spider-Man #800 continues to burn through printings. And even though they didn't actually have the Red Goblin in them, Amazing Spider-Man #795 and Amazing Spider-Man #796 are going to third printings of both, out on the 18th of April — which will also be the same date as Amazing Spider-Man #799, first printing. Which promised that the mystery of the Red Goblin will be revealed. Honest this time.
They will both have black-and-white versions of the Alex Ross covers of the first printing.
They will also be joined by a second printing of Avengers #693, which, unlike some of its counterparts, had the decency to wait before it was published to sell out and go to another printing…
AMAZING SPIDER-MAN #795 ALEX ROSS B & W 3RD PTG
(W) Dan Slott, Christos N. Gage (A) Mike Hawthorne, Terry Pallot
THREAT LEVEL RED Part 2
IS THERE A DOCTOR IN THE HOUSE?!
• Spidey pays the Sanctum Sanctorum a visit looking for a consult from the Master of the Mystic arts, Doctor Stephen Strange…
• …but finds himself face-to-face with the Master of Mischief and new Sorcerer Supreme – LOKI LAUFEYSON!
• And he's even MORE charming than in the movies! Don't believe us? Read this one and find out for yourself!
Rated T
AMAZING SPIDER-MAN #796 ALEX ROSS B & W 3RD PTG
(W) Dan Slott, Christos Gage (A) Mike Hawthorne & Various
THREAT LEVEL RED Part 3
• You've watched for months as Norman Osborn has scoured the globe for a cure to the genetic tampering that prevents him from becoming the Green Goblin.
• IN THIS ISSUE…HE FINDS IT!
• And it spells the worst kind of trouble for your Friendly Neighborhood Spider-Man!
Rated T
SRP: $3.99
AVENGERS #683 MEDINA 2ND PTG
(W) Mark Waid & Various (A) Paco Medina, Juan Vlasco (CA) Paco Medina
NO SURRENDER Part 9
THE AVENGERS WEEKLY EPIC CONTINUES!
Jarvis' life hangs by a thread. Only by voyaging into Jarvis' mind can the Beast save him – but what terrible secret is lurking inside the memory of the Avengers' loyal butler?
Rated T+In Shops: Mar 07, 2018
SRP: $3.99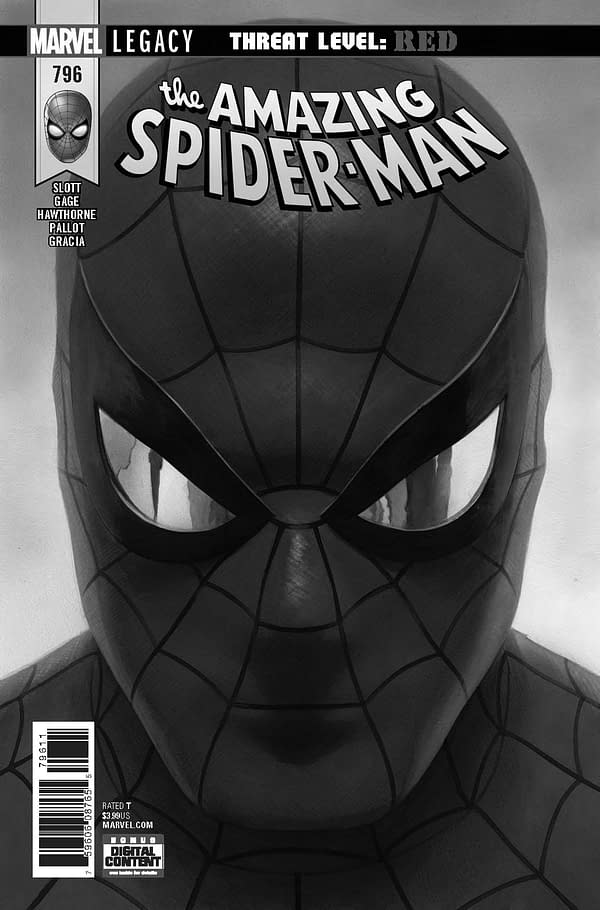 Enjoyed this article? Share it!