Amy Chu talks to Byron Brewer about the debut of KISS: THE DEMON #1, on sale in January from Dynamite. Covers: Kyle Strahm, Tom Mandrake, and Michael Adams. BYRON BREWER: Amy, I just marvel at a writer being able to write a wonderfully serious sci-fi take on KISS as you have, much less two! Tell us how KISS: The Demon came about.
AMY CHU: Thank you! I'm really enjoying the opportunity to expand the KISS world. The Demon is the result of wanting to tell the backstory of the current series, set in the present and answering some important questions. Because we took it to the future, understanding not everyone is a sci-fi fan we wanted to fill in the backstory and ground it in the present.
BB: KISS #1 has received critical and fan approval all over the board! Did you expect such a reception when you began that comic for Dynamite?
AC: I'm so relieved! I really didn't know what to expect when I started. I wanted to please the fans and tell a good story that non-fans could also appreciate. It's a lot of pressure, especially knowing Gene Simmons is such a huge comics fan.
BB: I understand that there is some connective tissue between this new book and the existing KISS series. The Demon is the backstory of KISS …? AC: Yes, it's the genesis of our mysterious Mr. Blackwell, who founded the underground city of Blackwell.
BB: Who are your protagonists in this new miniseries and how do they come together?
AC: Like the current series, teenagers are the focus, but this time it's a young Sam Blackwell who meets some new friends at a KISS concert and they form a band. And then things get … complicated.
BB: What can you tell us about any possible big-bad awaiting our heroes behind the scenes?
AC: To me, the best big-bads are the ones who aren't just straight up cartoon-y evil, but have really complicated reasons for doing what they do. Sam Blackwell is exactly that.
BB: A big part of your inspiration for the KISS book was the band's music, and a few albums in particular. Any such muses for The Demon?
AC: Not so much one album, but I'm really fascinated by the concert experiences of KISS fans, and how it brings different people together. That's a big theme in The Demon.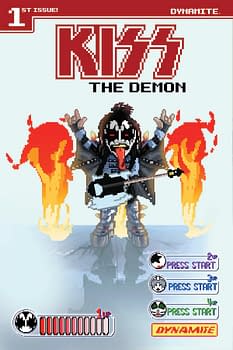 BB: Since beginning this experience with the rock gods, have you upped your own listening of KISS classics?
AC: Oh, without question! I hope everyone else who is reading the comics does the same. I should probably make a play list for each issue …
BB: Tell us what (non-spoilery) we can expect from The Demon mini going forward.
AC: Well, you can expect to have a lot of big questions answered, like who is the mysterious Mr. Blackwell, what is Morpheus, and what is the meaning behind KISS in this world! It will all make sense, trust me!
Enjoyed this article? Share it!