An Affordable Piece of MLJ History: Suzie #51 at ComicConnect
This week's ComicConnect auction has had some fantastic finds. From Phantom Lady #17 to Batman #1, we've seen some of the best that the Golden Age world has to offer! For those of you who are looking for an affordable, if not off the beaten path of regular good girl art, look no further than Suzie #51.
Suzie was introduced into the MLJ (Archie Comics) universe during the height of MLJ's hero age. Alongside Archie, Wilbur, Ginger, and Katy Keene, Suzie would help ensure that MLJ turned into a teen comedy comic book before World War II was even done. Suzie herself would make her own wave in MLJ — Suzie #51 is the third issue in Suzie's solo line — successfully replacing Laugh Comics. So not only is this the third Suzie issue, but it's also a piece of good girl art. Katy Keene can be found as a backup in many of Suzie's comics, making this an excellent series for fans of good girl art, teen humor, and new Katy Keene fans looking to dive into the Bill Woggon world of the pinup queen.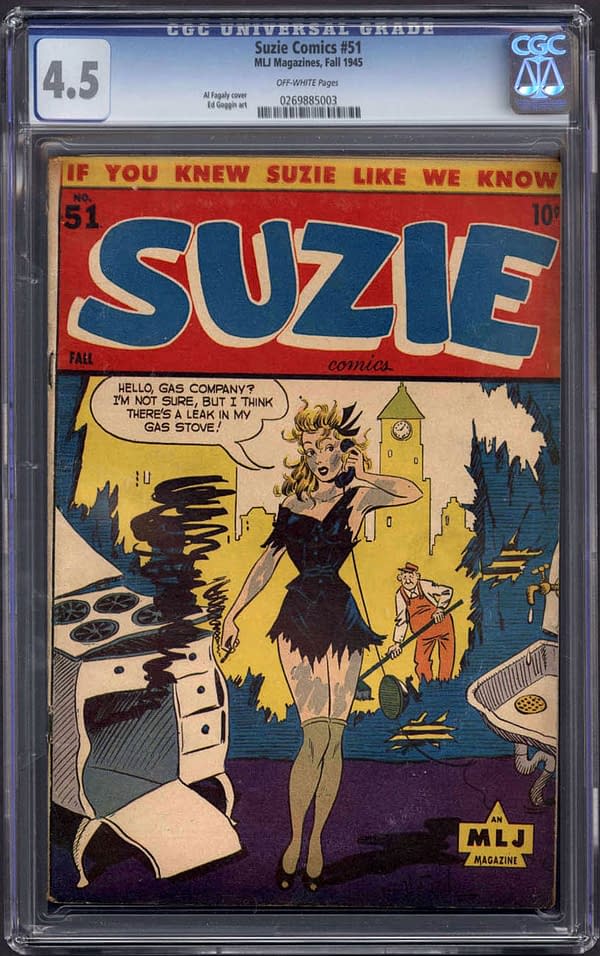 This stunning CGC universal blue label 4.5 with off-white pages last sold in October of 2017 for $333. Another CGC blue 4.5 copy sold in September of 2019 for $552. Likewise, a CGC blue 8.5 — the highest in GPA — sold for $4326 in May of 2018. This is a minor key, but it hits a lot of checkpoints for many Golden Age, and non-Golden Age, collectors. It's one of the first in its series, it helped turn MLJ into Archie Comics, and it has a fun, good girl cover by Al Fagaly. The book presents beautifully and deserves to be in your collection!
The auction on this piece of history ends on May 22nd and is part of Session 5 of Event Auction #42. Are you interested in bidding? You will need a ComicConnect account. But don't worry, accounts are totally free. Plus, you never know what other comic book goodies you may find. Good luck and happy bidding!

Affiliates of Bleeding Cool buy from and/or consign to ComicConnect.