Archie Comics is looking to capture a share of the lucrative young adult and middle-grade book market with the launch of two initiatives: Blue Ribbon, a young adult graphic novel line, and a partnership with Little Bee Books to produce middle-grade materials. The news was revealed EX-X-XCLUSIVELY on The Hollywood Reporter, a website whose expertise in material for children includes advocating for the Dora the Explorer movie to be sexier.
For the middle-grade line, to be published by Little Bee's BuzzPop imprint, Sarah Kuhn and J. Bone will create The Riverdale Diaries: Hello, Betty!, the first graphic novel in a series in which the Riverdale gang are rebooted as middle-schoolers. It's taken the pair over 80 years to complete high school, so this represents a major setback for them, but hopefully they'll be able to excel in their classwork.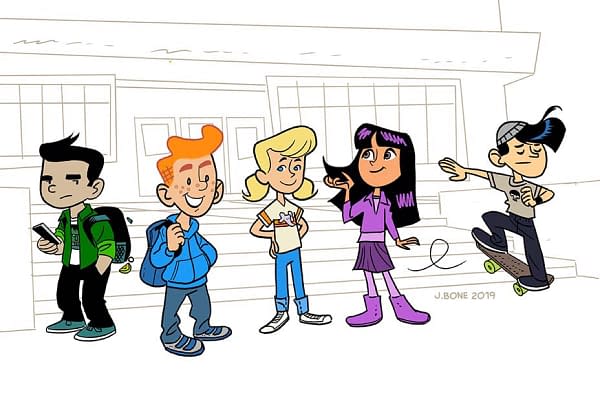 For Blue Ribbon, the first title will be Betty & Veronica: The Bond of Friendship by Jamie L. Rotante, Brittney Williams, Matt Herms, and Jack Morelli, in which Betty and Veronica imagine what it would be like to finally graduate high school after forty years (nobody tell them about The Riverdale diaries). That will be followed by Riverdale: The Ties That Bind by Micol Ostow, Thomas Pitilli, John Workman, and Andre Szymanowicz, a spinoff of the Riverdale TV show based on the popular Bruce Springsteen song of the same name from the album The River.
"The ties that bi-yi-yi-yi-yi-yi-yi-yi-yi-yi-yi-yi-yi-yind," said Archie Co-President Alex Segura in a statement. "Nah you can't brea-yay-yay-yay-yay-yay-yak the ties that bi-i-i-nd."
After completing a powerful saxophone solo, Segura continued, "At Archie, our goal is always to present the best story in the best format to reach the most readers. Launching a YA-centric line of original graphic novels with Blue Ribbon and partnering with Little Bee to create graphic novels geared toward kids is a natural next step to give fans compelling, unique, and meaningful stories involving our iconic characters."
Both lines will launch in 2020.
Enjoyed this article? Share it!