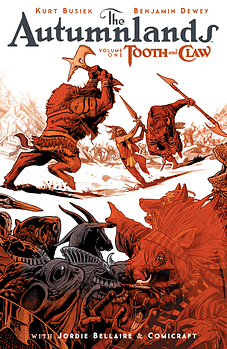 Back in the beginning of June I had the pleasure of sitting next to Kurt Busiek while attending the Phoenix Comic Con. I hadn't met him previously, but really enjoyed talking with him over the weekend. He turned me on to his Image comic series The Autumnlands that he's doing with artist Benjamin Dewey and colorist Jordie Bellaire. It's an epic fantasy set in a world that would be a great gift for anyone looking to lose themselves in a grand adventure.
The Autumnlands: Tooth and Claw is about a secret conclave of wizards who are desperate to save their world, so they reach into the past for a legendary hero and end up with Master Sargent Steven T. Learoyd. A war-weary human dropped into a world of anthropomorphized owls, buffaloes, dogs and more. He is prophecized to either restore their way of life… or destroy it. Busiek has always been good at world-building, and we get that here but it's not just spelled out. We learn what we need along the way. There is almost a Burroughs-esque quality to the story as an average human is dropped into an alien fantasy world where he is the potential savior. And like good science fiction stories, there are strong analogies to historical political issues as well as issues of faith and believing in idols. Busiek has created a classic Sci-Fi / Fantasy tale that taps into the best traits of the old pulp novels.
As good as Busiek's story is, Dewey's art makes it even better. The character designs are intricate and consistent through out the series. The expressions we see in the faces of the dogs for example are every bit as powerful as you could see from a human's. He's able to make all of these very unique characters fit together and creates a world around them that you easily lose yourself into. Bellaire is one of the top colorists in the industry and you can see why on every pages in the book.
This would be a great gift for fans of characters like John Carter, Tarzan or Flash Gordon. Also for fans of Tolkien, Peake and Rothfuss, this will appeal to their desire for epic fantasy and strange new worlds. This trade collects the first six issues of an on-going story, so not every thing is wrapped up nice and neat by the end. But when you find yourself in a brand new world, do you really want it to end?