Here come Avatar Press' first solicitations for 2016, from January… including a brand new comic book from Garth Ennis.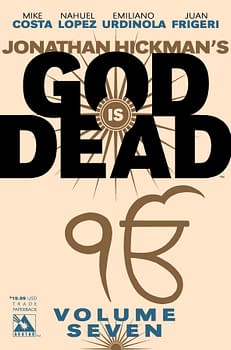 GOD IS DEAD VOL 07 TPB
$19.99
Cover: Jacen Burrows
Writer: Mike Costa
Art: Nahuel Lopez, Emiliano Urdinola, Juan Frigeri
MR, Color, 144 pages
Jonathan Hickman created an incredible world where the mash-up of religion and mythology meets modern reality. In the chapters since, Mike Costa has taken this terrifying vision and delivered the wildest reinvention of classic mythology ever published. After all the Earth shattering events spinning out of the Second Coming, all of creation is utterly destroyed by the masterful machinations of Satan. As a new world where mortal and divine are separate emerges, an ancient force starts a terrifying chain of events that ultimately will lead to an apocalyptic future for all. It all changes right here! This volume collects issues #37 – 42 of the ongoing God is Dead series.
CODE PRU #1 REGULAR CVR
$3.99
Writer: Garth Ennis
Cover & Art: Raulo Caceres
MR, B&W, 32 pages
Garth Ennis and Raulo Caceres bring you a black humor horror book unlike anything you've read! Pru wanted nothing more than to join the FDNY and help people as a paramedic. However, that was not to be, as she gets assigned to a special unit that tends to the monsters that live in modern day New York. Vampires, zombies, ghouls and all the creepy things that live around us in he shadows. But no one told her that was her assignment. Learning on-the-job is much more challenging with the supernatural! This series is a lead-in to the ongoing monthly Code Pru stories running in an anthology to be announced shortly! Raulo Caceres' art never looked better than in the luscious black and white of this series. Available with Regular, Wraparound, Movie Poster, Nightlife, and a special Pure Art Incentive cover, all by series artist Raulo Caceres.
MERCURY HEAT #6 REGULAR CVR
$3.99
Writer: Kieron Gillen
Cover and Art: Nahuel Lopez
MR, Color, 32 pages, ongoing
Kieron Gillen's bombastic new sci-fi epic delivers a full force first story arc finale! Luiza has stumbled into a much bigger conspiracy than she could have imagined. Cybernetic criminals and enhanced mob bosses are just the tip of the iceberg in the boiling cauldron of Mercurian violence. Now one woman who always wanted to be something other than the neuro profile she was assigned must use her unique penchant for viciousness to bring these untouchables down. Available with Regular, Wraparound, Art Nouveau, Excessive Force, and a special Interstellar Incentive Cover by series artist Nahuel Lopez.
CROSSED +100 #14 REGULAR CVR
$3.99
Cover: Gabriel Andrade
Writer: Simon Spurrier
Art: Rafa Ortiz
MR, Color, 32 pages, monthly
Simon Spurrier continues to deliver shocking developments in the future world of the Crossed. Humanity is taking a stand and fighting back against the rising tide of infection. Future has managed convince the towns of the true threat and a violent resolution has been enacted. But the Crossed have evolved and their plotting and planning are the machinations of generations of madness. How can any sane person hope to understand what is coming next…? Several special themed covers continue to enrich the series:
*American History X Wraparound – Each of these will depict a specific time in the past hundred years, showing how things have changed and offering a peek at some key events. Each cover will display the year in which it takes place to help build the full picture. Art by Christian Zanier.
*Crossed Wires – The Crossed just don't see or make things the same way a person would, these images celebrate that day-to-day madness. Art by Christian Zanier.
*Disastered – These will show how America has changed since the original Crossed outbreak. Art by Christian Zanier.
*Horrific Homage – What if the Crossed were there from the very beginning of comics? This edition will be an Homage to a great Golden Age cover. Art by Michael DiPascale.
*Wishful Fiction – The evolution of science-fiction would have been very different with the Crossed as we show you here! Art by Daniel Gete.
CROSSED: BADLANDS #92 REGULAR CVR
$3.99
Cover: Christian Zanier
Writer: Max Bemis
Artist: German Erramouspe
MR, Color, 32 pages
Say Anything singer and songwriter, Max Bemis, delivers a visceral story of Crossed misery that will leave you scarred for life. Every survivor knows that there is nothing but wretchedness awaiting them in a Crossed world. But despite the hate and fear that rule the infected domain, love still finds a way to creep into even the direst of circumstances. Is there hope for more than survival in a world of maniacs? Available with Regular & Torture Covers by Christian Zanier, Wraparound Cover by Daniel Gete, C-Day Worldwide Cover by German Nobile, Art Deco Cover by Michael Dipascale, and Red Crossed Incentive Cover also by Zanier.
GOD IS DEAD #46 REGULAR CVR
$3.99
Cover: Jacen Burrows
Writer: Mike Costa
Art: Emiliano Urdinola
MR, Color, 32 pages, monthly
Millennia of plotting and planning and manipulation have put Satan back on top. Not only was he responsible for destroying the world but he also guided the stories that would ultimately unleash the gods again on an unsuspecting new world. Now as his devious plans come to their ultimate fruition, can anyone guess what his real motivation is behind the new wave of horror being unleashed? Only the Great Deceiver knows as the return of the Christian God continues to wreak havoc upon the lesser pantheons and humanity itself. Join scribe Mike Costa in the most original mythology mash-up ever published with the newest issue of God is Dead! Available with Regular Cover by Jacen Burrows, Enchanting and Iconic Covers by Michael DiPascale, End of Days Cover by Christian Zanier, Carnage Wraparound Cover by German Nobile, and a special Gilded Incentive Cover also by Zanier.
WAR STORIES #16 REGULAR CVR
$3.99
Writer: Garth Ennis
Cover & Art: Tomas Aria
MR, Color, 32 pages, ongoing
In part one of the three part "Send A Gunboat", the men of the Royal Navy's gunboat squadrons defend England's coast against Nazi raiders. The little boats are fast, heavily-armed and deadly- and terribly vulnerable. And the enemy is never far away, as the commander of one vessel finds when his German opposite number takes a dangerous interest in him and his crew. By Garth Ennis and Tomas Aira. Available with Regular, Wraparound Covers by Thomas Aria, Good Girl Nose Art, Battle Damage Retailer Incentive Covers by Matt Martin.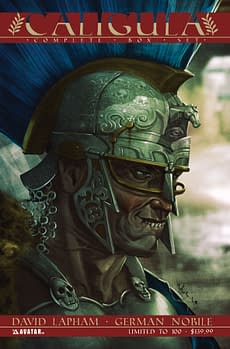 CALIGULA COMPLETE BOX SET
$139.99
Box Set of 48 comics
Every cover from all twelve issues! This amazing box set features all six issues of Caligula and all six issues of Caligula: Heart of Rome. Included are First Series #1-6 Regular, Wrap, Golden, #1-4 Auxiliary, and #1 Phoenix, Wondercon. Heart of Rome #1-6 Reg, Gore, Wrap, and Imperial covers. Limited to just 100 sets.
Bleeding Cool is, of course, owned by Avatar Press. And that's the way we like it.
Enjoyed this article? Share it!