Avoiding Over-Sexualizing And Stereotypes Is Par For The Course In LGBTQ Comic The Pride
By Jeremy Konrad
Out this week on Comixology is issue 2 of the LGBTQ superhero comic The Pride, written by Bleeding Cool's own Joe Glass. For those who do not know, The Pride is a superhero team started by FabMan (Tomorrow's Fabulous Man, Today), who becomes fed up with the way his heroic exploits are presented by the news because of his sexual orientation. He decides to form The Pride, which consists of heroes FabMan, Wolf, Twink, White Trash, Angel, The Bear, Frost, and Muscle Mary. Together, they strive to change the public's opinion of them and prove that they are just as good of heroes as any straight one. The issue kind of works as an origin issue of sorts for Wolf, who is the "Batman" of the team, if you will. An expert at the art of fighting, he spends the issue training the rest of the team, while recounting his ousting from a different superhero team, the Justice Division. It is a fantastic scene; Glass does a great job making you feel the frustration Wolf feels when confronted about his sexuality by the Justice Division, but also their ignorance as to how offensive they are being by asking him to quit instead of getting fired since it will "look better." That was a truly heartbreaking scene to read, and endears the character to the reader instantly.
As far as I'm concerned, Wolf is the star of this show. It seems to me Glass has the most fun writing this character, which is not to say that the others are not given their moments to shine as well. Like any other good team book, the heroes are all given an organic reason to show off a little personality and their power sets. The only character who maybe needed a little more time spent is Bear; it is not really abundantly clear what his power set is, but he is a giant bear, so it is ok by me to have it explained at a later date.
The issue also introduces the villain Reverend, who appears to be experimenting on other heroes in order to figure out how to rid the world of these "sodomites and perverts." He does this by seemingly mind-controlling a hero named Firebomb and sending him to destroy a gay bar, which just so happens to be near where our new team is training.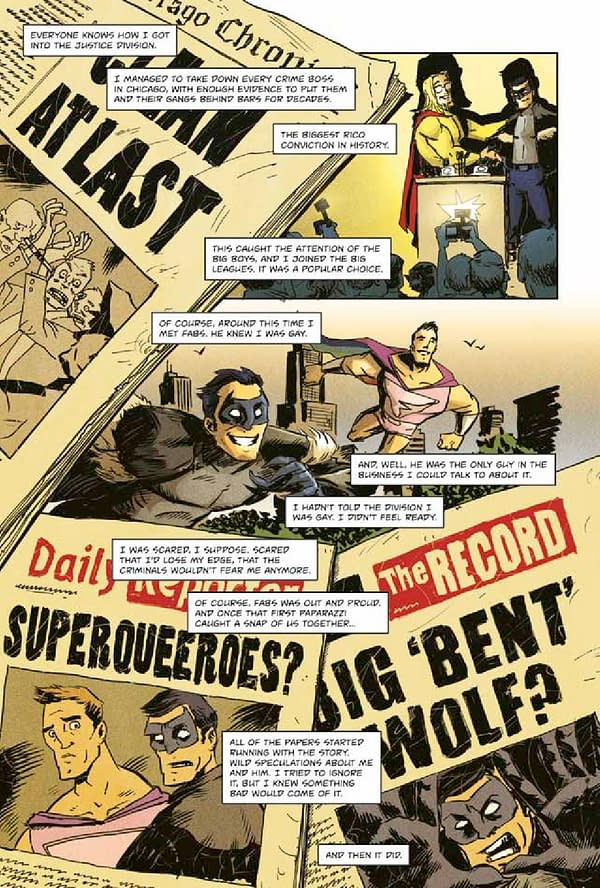 After the battle, FabMan gives a very well-written series of answers to a reporter about "no longer being seen as jokes and quiet minorities anymore" and "they are here to help anyone!" not just to be heroes for the gay community.
As an added treat, we are also given one-page backups giving us a bit more on the origins of Angel and Muscle Mary, which are written by Glass and drawn by Glass and Cory Smith, respectively. This is Silverage team story-telling at its finest, folks. The script is well thought-out, and the art by Gavin Mitchell has a very Howard Chaykin-vibe to it, maybe even a little Kevin Eastman thrown in as well. It fits the story quite well. The best part for me, this book can be read by anyone, of any age. There is no foul language, no sex, no nudity. It is refreshing to read a comic with these particular themes that can be enjoyed by anyone. Comics like this are important. There is not really enough representation of the LGBTQ community in superhero comics, and sometimes it almost feels like it is because the "Big 2" are afraid of the topic being too adult and only being able to tell these kinds of stories by relying on over-sexualizing and stereotypes. This proves that is not the case. I am looking forward to issue 3. If Wolf and Twink are not hooking up, we will be having words, Joe.
The Pride is available on Comixology now. More information on the series and its creator Joe Glass can be found here.