Batwoman #16 Review: Bat vs. Bat Brilliance
[rwp-review-recap id="0"]
Batwoman and Tuxedo One have stopped the plague of bats which Alice unleashed upon Gotham. However, Alice isn't down, but Kate doesn't want to see her sister locked away in Arkham Asylum. However, this threat has caught the attention of Batman, who is intent on seeing Alice locked away. This puts Kate and Bruce at an impasse, and it may just come to blows.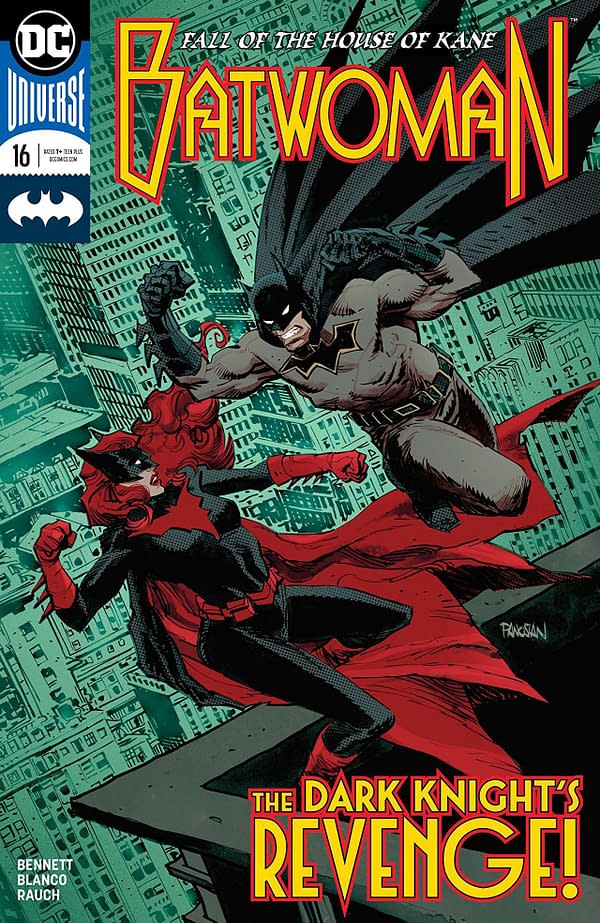 Marguerite Bennett and Fernando Blanco do it again with this issue of Batwoman. Getting to see Batwoman and Batman duke it out is cool enough on the surface; the execution of said fight is downright brilliant.
For a start, the setup is solid. Kate wants to help Beth, but she knows that Arkham is where she will be headed if she's arrested. Kate knows what Arkham can do to a person, and she will lose her sister forever if Beth is thrown inside the Asylum. Meanwhile, Alice almost set a pandemic upon Gotham, and Bruce can't allow that to go unanswered.
The book has a good grasp of the stakes, with Kate acknowledging repeatedly that this will damage her relationship with the Bat Family as well as her blood family.
Finally, Kate knows Batman's weakness. This isn't some flaw in his martial arts or his capacity for compassion; this is a deep-cut dirty move that is really quite brilliant from a writing standpoint.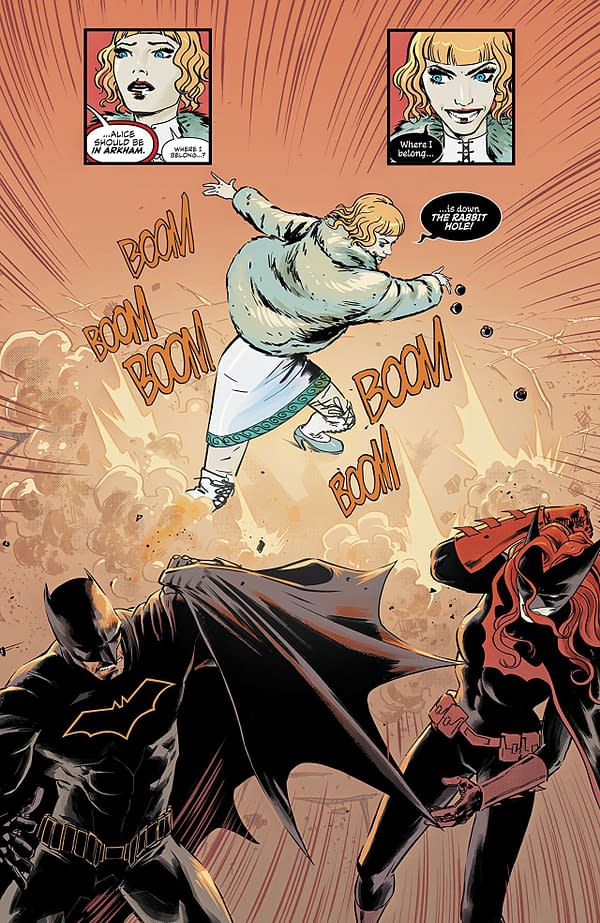 Blanco's artwork makes for an appealing yet cold comic that gives the reader a feel for the dim and brutal world of Kate Kane. The fight looks good, and the attention to detail is thorough. John Rauch brings the coldness of the aesthetic to the color art, contrasting colors heavily with extreme white and black shades.
Batwoman #16 continues to impress and amaze with another rough and emotionally intense issue, this time bringing the Kane and Wayne in-fighting to a head. The storytelling is brilliant, and Blanco and Rauch do excellent work with the visuals. This one comes highly recommended. Give it a read.
[rwp-review-ratings id="0"]
[rwp-review-form id="0"]