Writers Ben Acker and Heath Corson talk about Kings Quest #1 (of 5), on sale in May from Dynamite. Cover is by Marc Laming.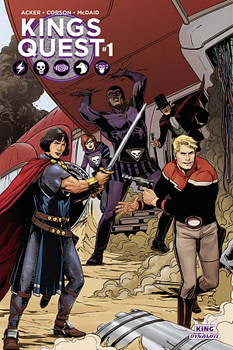 BYRON BREWER: Ben and Heath, this is the BIG ONE fans of these characters have been waiting for! What's it like to handle all these classic characters?
HEATH CORSON: Oh, man, right?! All these characters with all of this history in one place can be slightly overwhelming…Which is why I very much recommend doing it in pairs. My PIK (that's partner-in-King for those of you playing at home), Mister Ben Acker (he makes me call him Mister) is a fantastic writer, generous collaborator, versed in the world and always ALWAYS has three ways to solve any story problem (even the ones we didn't know were problems yet… Like my use of parentheticals. I feel like it's my way of whispering to you, the reader. He feels like it's overdone. Since this is my third one in a single sentence, I might have to agree…THAT'S HOW GOOD HE IS. He even helps when he's not here!).
BEN ACKER: Hi. It's me. I just got here. How's it all going, you guys? You've met Heath. He's great. Too many parentheticals sometimes. Otherwise, the best guy. I bet he was about to answer a question about handling classic characters.
HC: For me, I love ensemble pieces. So getting to play with all these classic characters is an incredibly exciting honor.
BA: I was totally right. He's answering that question. Keep it up, Heath.
HC: I love cracking the relationships and dynamics between each hero. Figuring out who gets along with who, who doesn't and who just wants to punch the other in the face.
BA: Oh man, I love that too, Heath. We probably get along great working on this book together. I mean, I know I dig it. The thing about Heath is, he's a guy who, when you have three solutions to any problem, he's just got one because it's the right one and that's all you need. Uses too many parentheticals sometimes, though (but who doesn't?).
BB: I know there has been some tweaking of the characters. Can you guys kind of re-introduce the cast please?
HC: Okay.
FLASH GORDON, the two-fisted space-adventurer.
MANDRAKE THE MAGICIAN, the rakish stage magician/actual magician.
TWO PHANTOMS, LOTHAR, the imposing, experienced former sidekick who is keeping the mantle warm for JEN, former science reporter now unwilling heir of the Phantom name.
PRINCE VALIANT, the fierce sword-swinging royal, out for blood and glory.
JUNGLE JIM, the formerly-human, now-elemental force merged with nature.
DR. HANS ZARKOV, the brilliant and drunk scientist.
BA: And of course … DALE ARDEN, science journalist turned space adventurer. She's so cool.
BB: I HAVE to ask: Is Ming in this miniseries, and are there any more big-bads we should be on the lookout for (non-spoilery, of course).
HC: You will see some real good, real merciless Ming and a couple of other big -bads too.
BA: I want to tell you so many big-bad spoilers.
BB: Now, Ben! … Any interesting new characters herein you can tell us about?
HC: Ha. Nope. Spoilers.
BA: Well. Kind of. Heath. Kind of. I mean. Darya is relatively new. She's the warrior queen of the ocean planet Coralia. And we'll have appearances by Kala and Klytus, who are old Flash Gordon characters, but new to this run of comics.
BB: Why is Dan McDaid the right artist for this thrilling and highly anticipated property?
HC: Um… Have you SEEN the man's art? His thrilling, powerful, amazing art? Dan's layouts really tell an already action-packed and dramatic story with even more action-packery and dramaticking. That's a fact.
BA: Yeah, for serious. He's amazing. He's making us better and Heath and I are really super great already. It's a privilege to write for him. He's just astoundingly terrific. Wait'll you see.
And you should also know that we've got another artist, Bob Q, doing flashback work for us and he is absolutely fantastic as well. He nails action and character through body language and expression in ways that writers dream of. Keep an eye on Bob Q — he's going places.