Bigfoot And The Great Idea Machine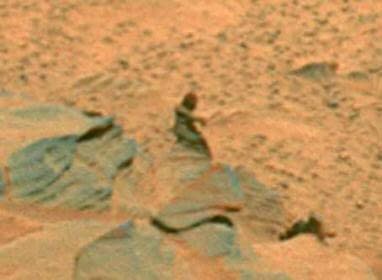 Josh Henaman writes;
It all started with an image.
It was back in 2009 and I was the stereotypical "frustrated writer." Always waiting for someone to give me the go-ahead. Years earlier, I had moved to Los Angeles and quickly fell into a boring corporate gig as I waited for the gatekeepers to validate my potential with a, "Hey, writer! We want to publish YOU!"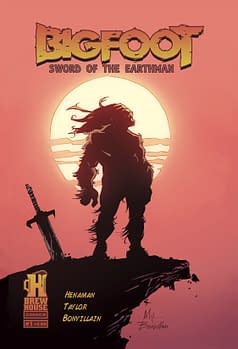 From screenplays to short stories to comic books, it felt like I was always on the verge of making that leap. The carrot was right there! "We like this story, it's not for us, so what else ya got?"
And through it all, I saved every letter of polite rejection, every flat out "No" and every email stating, "Keep us in mind for your next project." Hell, I even have a letter from DC Comics editor, Kevin Dooley, from waaaay back saying, "You neglected to include a resume of your published comic book accomplishments. I'm afraid I know of no editor who has time to work with an inexperienced writer."
DC shot in the dark aside, that's what I was trying to get… Experience. Yet, no one was willing to hold open that door.
And then NASA's Spirit rover took a photo.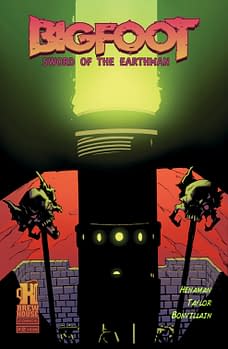 Mockingly, various news sources screamed, "It's Bigfoot! Bigfoot's on Mars!" and within five minutes of stumbling across the image, I wrote this:
The dying planet needed a hero…

A world of dinosaurs, warring tribes, kingdoms and sorcery,

It cried out for someone to unite its fragmented people

And destroy those who would profit from death, greed and evil."

In desperation, the Mystics of the Blue looked to the skies

And the distant planet Earth for aid.

What they found… was a survivor.

A champion of outrageous odds

And a loner amidst a world that feared him.

What they found…

Was someone who would not be missed…

Because no one believed he existed in the first place.

Savage, brutal, ape-like and mute.

Lover of women… Destroyer of men.

They found…

Bigfoot of Mars.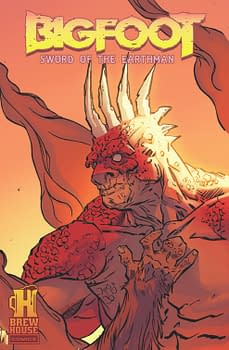 Okay, several months after writing that, Disney greenlit the John Carter flick, so I knew a name change was in order, but at that moment, I fired off a quick email to a friend asking him what he thought of this idea as a comic book. His reply was an equally quick, "Dude… Dude… DUDE! Why haven't you written this already!?"
It was the first time I thought, "You can do this yourself."
I didn't need any of the old gatekeepers to check my name off a list.
With that said, I really didn't know where to begin, but as luck would have it, UCLA was offering a comic book writing course with Nunzio Defilippis. I quickly signed up for the course and set about outlining and then writing the entire six-issue arc of what would become BIGFOOT – SWORD OF THE EARTHMAN.
In hindsight, writing the actual book was the easy part. Unfortunately, I didn't know the first thing about actually forming it into a finished comic. More importantly, I didn't know any artists and being your typical writer, I certainly wasn't comfortable enough to approach anyone in person.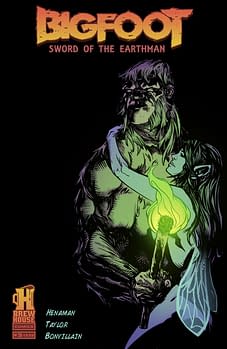 So, I set about haunting the various artist sites such as Digital Webbing, Pencil Jack and even ConceptArt.org. I even approached a few artists via email and made it all the way through character designs on a couple. Unfortunately, they always fell through. For one reason or another, I could never get a solid commitment from an artist. After several false starts, I came to the conclusion that approaching an artist was the wrong way to go. It was a lot like internet dating. For every one artist there were about ten to twenty (if not more) writers vying for their attention.
I needed the artist to come to me.
If you google "Paid gig Josh Henaman" you'll see the ad I put out on Penciljack, Digital Webbing, etc. that would eventually help me find an artist. Probably the first thing that will stand out is the emphasis on "PAID GIG". If you take a few days to just familiarize yourself with these sites, you'll see tons of links and references to people trying to find a collaborator (i.e. work for free.) With even a hint of monetary gain, I knew it would it would set me above the majority of the clamor. You'll also notice I don't say, "I'm paying this much…" I let the artists come to me with their rates. Why limit your range upfront? See where the market goes and leave everything up for negotiations, if possible.
I put the ad up around 10 pm Pacific time and it was pretty trippy to see the world wake up. I received hits first from the Philippines, then Australia, Europe and finally the Americas. In that order. All in all, I probably received around 80 – 100 emails from various artists hungry for work. More importantly, PAID work. I realized early on that with no connections I needed to separate myself from the static by stating there was something concrete in it for the artist. Simply put, they needed to know this would not be a waste of their time. In other words, they need to know I was serious about this.
After narrowing it down and finally settling on Andy Taylor as an artist, I had him sign an NDA and sent over the pitch. His response?
I honestly never would have imagined your proposal to be an Adam Strange-type adventure with Bigfoot as the savior.
It was through Andy that I was introduced to his fellow Kubert School alum, Thomas Bonvillain, and with the Bigfoot team in place, we set about creating the first issue. I was even able to wrangle Tim "Enormous" Daniel for a logo design. With the finished 1st depressing process of submitting it to the various publishing companies that would accept submissions. Even then, having no credits to my name, I was met with the same (or lack of) response I had received before.
No thanks.
And truthfully? I really can't blame them. Here was an unknown creative team pitching a project that seemed… odd. Or at the very least… uncool. Bigfoot. As a barbarian?
So I was at the old fork in the road. Do I move on to the next project and hope for the best or do I push forward. As writer, I'd like to say the easy answer was, "We push on!", but you have to remember, we're talking about a ton of money. Creating a comic, paying your artists, printing the book, it all costs a small fortune (mostly it's the printing!) I needed to decide whether I believed it was something worth pursuing.
Four issues in, I guess you know the answer.
So is Bigfoot – Sword of the Earthman a hit? Far from it, but at 24 stores and counting, I know we're in it for the long haul.
Bigfoot – Sword of the Earthman isn't the story of how Bigfoot became a myth on Earth… It's the story of how he became a legend of the stars.
And I know I've been rambling, but if Rich will have me, I'll gladly continue this in another post on how I was able to get 24 of the most badass stores out there to welcome our little comic on their shelves. issue in hand, I started the long (and let's not kid ourselves,
Lastly, if you go to the Brewhouse Comics online store and order the Bigfoot Super Bundle (issues 1 – 3) and mention, "I saw you on Bleeding Cool!" I'll throw in issue #4 for free!
[Rich adds… we'll have you back, Josh!]