Black Mask Studios and Mr. Robot: Hacking Comics Panel at SDCC
Words and Pictures by Bleeding Cool's Mike Sangregorio:
Midday Thursday at San Diego Comic-Con 2018 saw Black Mask Studios (Black, Jade Street Protection Services) discuss their recently announced Mr. Robot comic series.
The panel was moderated by Black Mask's publisher, Matteo Pizzolo, and featured a discussion between he and show writer Jeff McKibben, who will be writing the comic.
Jeff discussed his earlier days as a writer on The Walking Dead. He would take old issues of the series, flip through and annotate them, and try to make scenes in the show look as close to specific panels as he could. For the Mr. Robot comic this process has been reverse engineered.
While discussing his earliest days as a professional writer, Jeff mentioned working on The Middleman, widely considered the greatest science fiction/superhero television series of all time (at least by this reporter). It was based on the comic by Javier Grillo-Marxuach.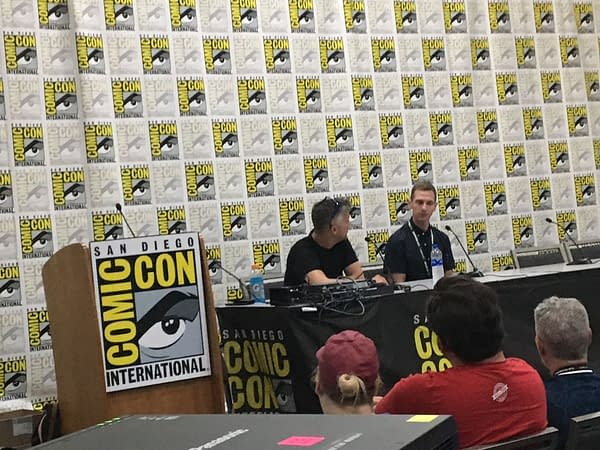 Matteo began the panel by distributing copies of the Black Mask comic Calexit #1 to the audience and reminding them that the deadline for registering to vote, in advance of the US midterm elections, was coming up and that they should all make sure that they are registered to vote. It was also stressed that no details regarding the show itself would be revealed or discussed.
Jeff discussed how "Mr. Robot is very interactive with its audience," speaking specifically about each seasons' alternate reality games, and how it features a "layered universe." Jeff said that this comic is about "filling in the edges of this world."
Jeff came to comics as a fan in the early 1990s, recalling the heyday of Batman: Knightfall and Ren & Stimpy. His tastes evolved to what he described as "edgier, more mature works" that explained how different writing comics could be from television. Each issue of a comic "should have six to eight story beats."
Each season of show is/feels distinct and thus the comic does not have to adhere to any particular pace. It has never had to feature only the "hack of the week." The comic will be a six issue mini-series that takes place before the pilot episode filling in the gap from Halloween 2014 and the events of the first episode during February 2015. The period was decided upon by Jeff and Sam. Should this prove successful another series could be done but it would be set in another period, one that was agreed upon at that later time based on where the show had gone and which of its narratives could best be served.
The show has many consultants for discussing hacking, which is always story-driven. These consultants will be brought in, as needed, for the comic. Jeff believes that this separates them from other 'tech shows' as they "do not fudge the details."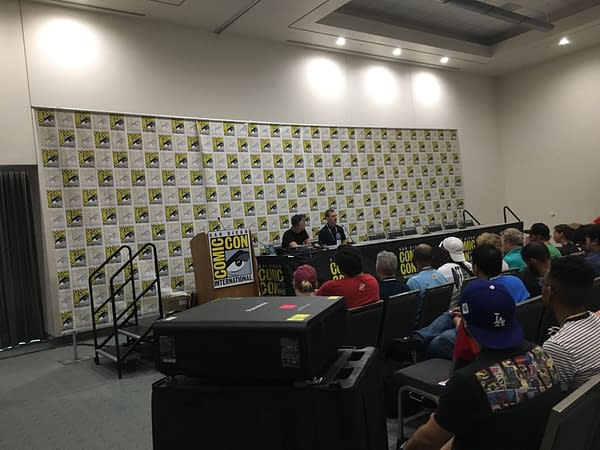 Due to a question from the audience Matteo discussed Black Mask. The studio has never done any true licensed work before, and this is a big step for them. The first Black Mask comic was Occupy Comics. As a result of that it led to Black Mask's creation. Steve Niles remarked to Matteo, during the early days, that "if V for Vendetta were published today there would be no publisher for it." This resulted in the need for a publisher to produce overtly political comics.
Jeff looked at Rogue One: A Star Wars Story to understand how to do a prequel story with an existing, rich canon. One that can tell a complete story regardless of the audience knowing exactly what will happen next.
An unintended consequence of the way the show is run is that Mr. Robot is still set in 2015, and is thus a period piece. According to Jeff the show is fundamentally about "the way Elliot [Alderson] interacts with society, namely through a screen. As this is the case with the audience, it can be inherently lonely and he really wants to find a way to connect."
Artist of the comic is is Antonio Fuso, an artist who lives in Rome. Though no artwork was available to show, Antonio has worked on a variety of licensed work before and is excited to work on Mr. Robot, of which he is a fan.
Though the comic and season 4 are being written concurrently, there is no way of knowing at this time if one will affect the other.
Jeff closed out the panel by asking the audience what comics were appropriate for his young daughter. Among the recommendations were Leave it to Chance by James Robinson.
The first issue of Mr. Robot may be in stores by the end of the year, but this is cannot be confirmed at this time. More information, along with a confirmed release date and shipping schedule, will follow when available.