Long have comic book readers and creators alike been assumed to live in basements. Long have they been accused of being within earshot of their's mother's call, the distant din of "Dinner is ready" echoing through their walls plastered with superhero posters, or even Zenescope pin-ups if they have a bolt on their door. Long have they been said to leave a trail of Cheeto dust on every bed that they touch… but those days are over. The truth of how comics readers long to live has been revealed with style and flair by Marvel Comics, who have teamed up with renegade corporation Pottery Barn to introduce a bed set that will rock your expectations to the core… with the Black Panther Collection.
Starting off their ad with a joke that works both as a COVID-19 gag and a "Wakanda isn't real" admission (controversial, on both counts), Marvel proudly announces the bed set:
While traveling to Wakanda is out of the question, thanks to Pottery Barn Teen you can now bring Wakanda to you. The home furnishings store has released a brand new 14-piece bedroom collection, including bedding, lighting, wall decor, and decorative accessories all themed around the Oscar-winning Marvel Studios' Black Panther.

The collection features hand-drawn and hand-painted artwork and illustrations that seamlessly blend a regal and tech-savvy design aesthetic true to Wakanda and the Black Panther. With gold metallic printing, details reflecting the five tribes of Wakanda, and "glow" elements woven throughout as a nod to vibranium, the Black Panther x Pottery Barn Teen collection is fit for any King of Wakanda (or a tech-savvy sister).
Now, tear your eyes away from that Grimm Fairy Tales poster and take in this kingly set of sheets, pillows, lights, and more: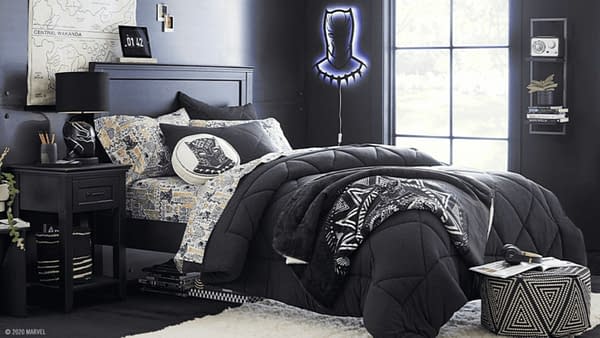 Pillows soft enough to quiet the rage in a mourning king's heart. Sheets comfortable enough to sent Shuri into a restful sleep, so she can save everyone's ass in the morning with some science stuff that none of the audience can follow. A bed comfortable enough to bring Killmonger back to life, which will absolutely happen in the sequel to the film because money, of course.
The Black Panther Collection debuts from Pottery Barn Teen this summer. Don't let them call insult you with Cheeto dust anymore, king. The time to rise up, or really just go to sleep, has come.
Enjoyed this article? Share it!