The Blasphemy of Batman: Damned #1 (Final Page Spoilers)
In any other comic, in any other issue, it would have been the final scene of Batman: Damned #1 by Brian Azzarello and Lee Bermejo published today that would have set the cat among the pigeons. Seen outrage expressed. With calls for DC Comics to be held responsible for blasphemy within their comic books by retailers in the Bible Belt.
But whether accidentally or on purpose, the fuss regarding Bruce Wayne's Batmember on display has short circuited any of that.
Still, on reflection, maybe it could be the final page of Batman: Damned that ends up causing the most fuss?
At Batman, meeting up with John Constantine enters a church…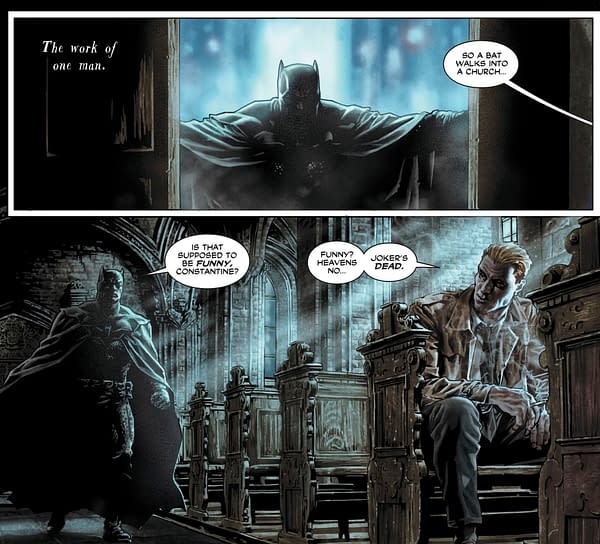 …to find John Constantine telling him what he already knows. Or does he?
And that final page ender.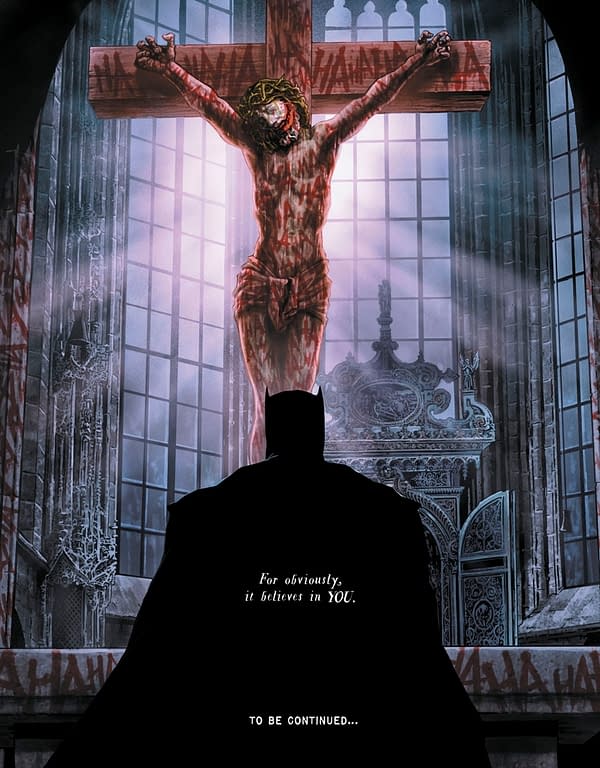 A statue (presumably) of the crucified Jesus Christ, in a Catholic Church, daubed and smeared by the Joker. And published in a DC Comics Batman book, the flagship for their new line of mature reader comic books, Black Label.
Thank heavens for small penises. I mean, mercies.
BATMAN DAMNED #1 (OF 3) (MR)
(W) Brian Azzarello (A/CA) Lee Bermejo
DC BLACK LABEL, the highly anticipated new imprint from DC Comics, starts here!
The Joker is dead.
There is no doubt about that. But whether Batman finally snapped his scrawny neck or some other sinister force in Gotham City did the deed is still a mystery.
Problem is, Batman can't remember… and the more he digs into this labyrinthine case, the more his mind starts to doubt everything he's uncovering.
So who better to set him straight than… John Constantine? Problem with that is as much as John loves a good mystery, he loves messing with people's heads even more. So with John's "help," the pair will delve into the sordid underbelly of Gotham as they race toward the mind-blowing truth of who murdered The Joker.
BATMAN: DAMNED is a bimonthly super-natural horror story told by two of comics' greatest modern creators-a visceral thrill-ride that proudly puts the "black" in BLACK LABEL.In Shops: Sep 19, 2018
SRP: $6.99