This is the Top 10 Bleeding Cool Bestseller List, as compiled by a number of comic stores from their sales on Wednesday and Thursday. It measures what are known as the "Wednesday Warriors", those who can't wait till the weekend to get this week's comics. We salute you, and the keenness you bring to your passion.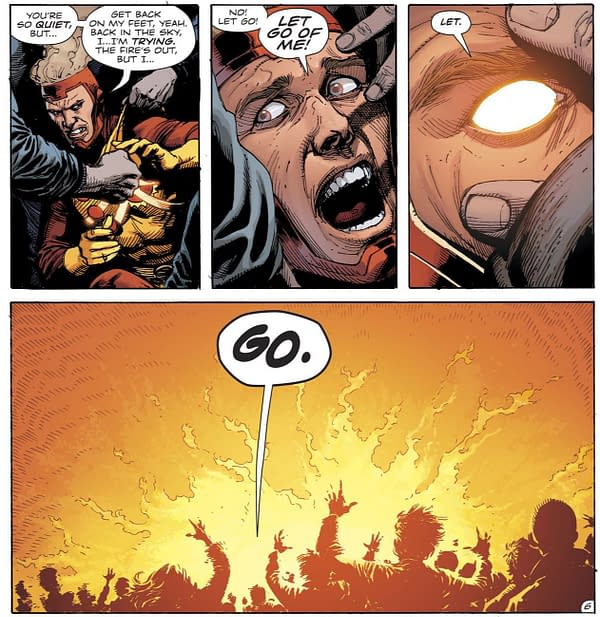 Doomsday Clock beats Batman beats everything else by a long way. DC does well with the Shazam launch, Green Lantern keeps up its momentum and Die is Image's launch title of choice – and outsells every Marvel title in the chart.
Top ten bestseller list
Doomsday Clock #8
Batman #60
Shazam #1
Green Lantern #2
Justice League #13
Die #1
Uncanny X-Men #4
Venom #9
Martian Manhunter #1
Immortal Hulk #10
Thanks to the following retailers
Who had this to say,
Doomsday Clock came out on top this week at FFF hitting #1 on our weekly Top Ten. Die is the new store favorite and was our SECOND best selling book this week followed by Batman (our usual top seller). Shazam made it above the halfway mark selling just two copies less than Batman. Green Lantern is holding strong. Grant Morrison is taking the character in a weird direction but people love him and they love Hal Jordan. Venom and Walking Dead are perpetually on our Top Ten list and this week is no exception. Defenders Immortal Hulk got a small boost from the main Immortal series and cracked the Top Ten at #10, selling out of all the copies we ordered.
—-
I can't remember a week so stacked with releases. Batman ran neck and neck with Doomsday Clock and Walking Dead close behind that. Shazam sold a ton of copies too, including new readers I don't think I had ever seen in here before although that could just be the season. Uncanny X-men is still trucking along. Winter Soldier and Killmonger also had a lot of people talking.
—-
DC killed it this week especially with everyone wanting the finally released DOOMSDAY CLOCK #8 – nothing came close.
Solid week of quality books with something for everyone and NEXT WEEK looks like an absolute killer on the budget. So many heavy hitters!
—-
Huge release week this week, with a slew of new #1's on top of the most recent issues of several major titles.
DC dominates the entire top half of the list, thanks to juggernauts like BATMAN and DOOMSDAY CLOCK alongside strong sellers JUSTICE LEAGUE and Morrison's GREEN LANTERN, and even Geoff Johns' new SHAZAM series stakes out a spot.
DC also holds up the very end of the list, with the premiere issue of the new MARTIAN MANHUNTER maxi-series. In between this horde of Detective Comics Comics, Marvel manages to carve out some spaces with UNCANNY X-MEN, VENOM, and the always superb IMMORTAL HULK.
—-
New series Martian Manhunter, Die, and Shazam all did well this week! The great Wicked & Divine (#40) had a good week as well. Big titles like Green Lantern, Justice League, Doomsday Clock, and Batman continue to sell.
—-
A strong comeback week for DC as they took the top five slots as well as tenth place in our store's top ten. Strong audience support for Shazam! and Martian Manhunter propelled both into our top ten–and while we expected that from Shazam!, we were surprised by the success of Martian Manhunter. Marvel dominated positions 11-20 with 7 books charting there. Our top selling indy title was Image's Die! #1 in 12th place.
—-
Notable sales: Uncanny X-Men #94 vg/fn $150 We bought a massive collection of about 25,000 comics and while there were more than a handful of Marvel UK books and 2099 books there were also some great books like this.
Enjoyed this article? Share it!