BOOM! Studios Panel Covers Jonesy, Goldie Vance And Joyride #InStoreKickOff #ConKickOff2016
The BOOM! Studios panel at the Instore Convention Kick-Off started off with a bang as Sam Humphries wasted no time showing us the new cover for Jonesy #2. From there, the conversation rotated between Humphries (Jonesy), Hope Larson and (Goldie Vance), Jackson Lanzing and Collin Kelly (Joyride). The group was eager to promote their titles, and while Goldie Vance and Joyride aren't out yet, the first issue of Jonesy is. Humphries urged viewers to be sure to grab an issue of his brand new comic, because soon they'll be sold out.
Goldie Vance is out the second week of April and Hope described it as such:
"It has a kind of like a retro tone, but it's smart and fun."
The idea came to her from BOOM! Studios editor Shannon Watters as a small idea that she gladly jumped on.
"Of course, who doesn't want to do a girl detective book? I couldn't think of another book that's around like that."
For those of you who are looking for something to compare the books to, both Jonesy and Goldie Vance are part of BOOM! Box and have an all ages feel to them. Fans of Lumberjanes and Giant Days would certainly gravitate towards the title for sure.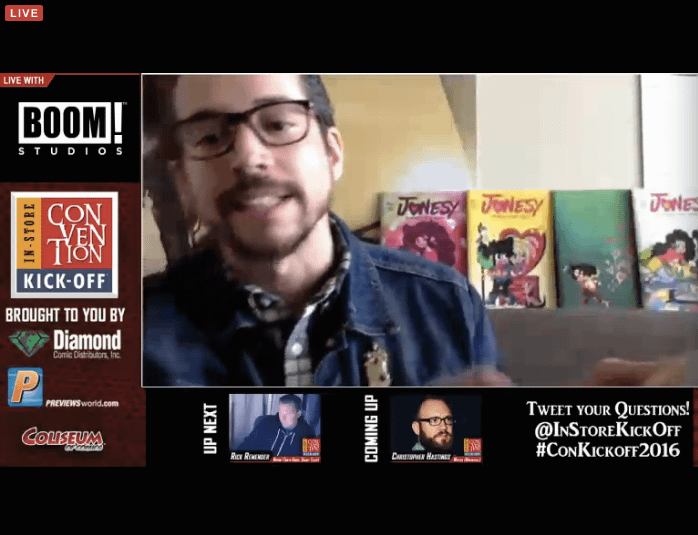 The conversation turned towards Sam who talked about Jonesy artist Caitlin Rose Boyle, and how much he loves working with her. He gave her a lot of credit for the development of the character. When asked about how fans of his Marvel work would react to Jonesy, Sam answered:
"There is a lot about superpowers, there are themes of romance, unrequited love, and those things have all been part of my Marvel work. "
But there aren't any superpowers in Goldie Vance.
"There's science. Real world technology,"
Hope continued:
"Goldie's thing is she's just the jack of all trades, she will pick up any skill that she can…. She's kind of like Batman…she has a lot of skills."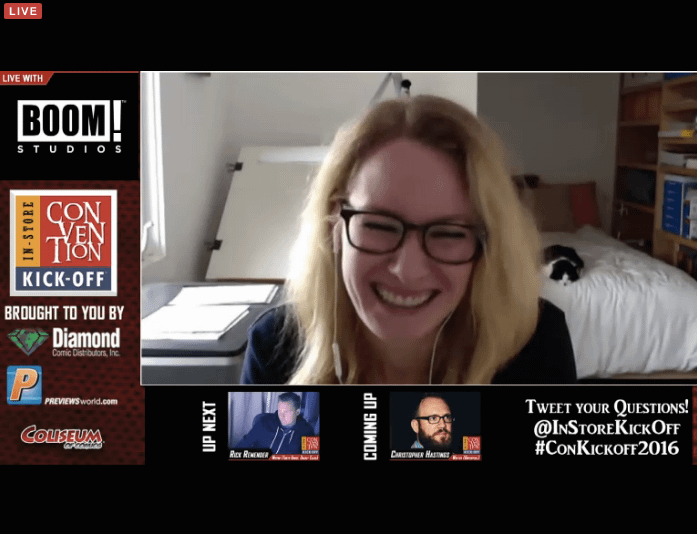 Oh, and to whoever is curious…that's Hope's cat Molly. Someone actually wanted to know.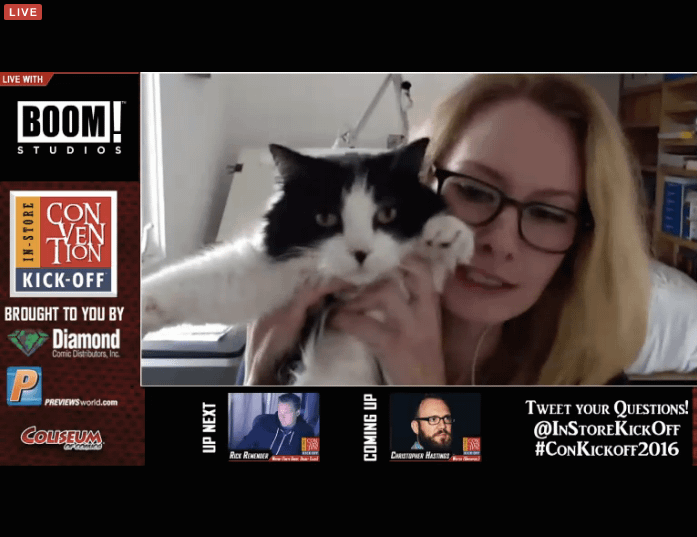 Hope also wanted to clear up accusations from a reviewer about her setting Goldie Vance's setting in Florida. She defended her intention by saying:
"I have no beef with Florida. I'm from the South too. I'm not setting it in Florida because it's seedy. I like the resort culture."
Enter Filip Sablik who promoted other books like Lumberjanes, and Giant Days, and showed a brochure that's being used to promote Goldie Vance. I enjoyed the design and appreciate the cleverness there.
Soon after, Sam was joined by the creative team behind Joyride. Jackson Lanzing and Collin Kelly started off by saying that the release date for Joyride is April 13th, with a FOC of March 29th.
Jackson described the book as:
"Joyride in a nutshell is punk rock teenage star trek. Every issue in Joyride leads to a new planet."
…and there's a blurry shot of the "moon rocket" they spoke of. Sam Humphries shared another very colorful panel from Jonesy as well. The common theme between all four of the creators on the panel was the passion that they have for each of their books. While Humphries is dead set on making 100 issues of Jonesy, the others spoke about how they hope their mini-series efforts will lead to longer runs for each of the books. I can't speak for Joyride, but I have read the first issue of Jonesy and I loved the unique nature of the main character. The preview of Goldie Vance easily had me hooked as well. I'm definitely a BOOM! Studios supporter. They all kept pretty hush hush about their other projects, but hinted that WonderCon would be big for all of them. I guess we'll have to keep our eyes peeled until then.
Follow the rest of our In Store Convention Kickoff coverage here.