Boom's Filip Sablik Addresses Retailers Over Once & Future and Something Is Killing The Children Sell-Outs and Printings
Recently Boom Studios has found itself with a couple of hits on their hands. Once & Future and Something Is Killing The Children. Which have sold out and gone to many subsequent printings. The only problem is that they have had to set those printings before orders have come in, and as a result have had to allocate copies to stores and do another printing. And the same thing has happened. Again and again.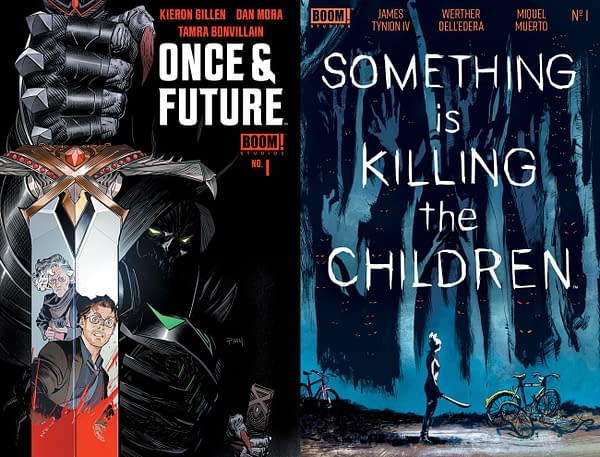 Which led to Filip Sablik, President of Publishing and Marketing at Boom Studios, to address retailers directly earlier this month. He wrote,
Hi Everyone,

Thank you, thank you for being amazing partners and helping us create two gigantic original series hits with Once & Future and Something Is Killing The Children. Thank you for all of your passion, engagement, and spirited debate.

These two series are true high watermarks for BOOM! Studios as a publisher and based on the publicly available data, are two of the highest selling original series of 2019 for any company, BOOM! or otherwise. That is amazing and we're blown away by the level of support we've received from our retail partners. Once & Future #1 is on track to sell over 45,000 copies and Something Is Killing The Children #1 is on track to sell over 40,000 copies. These are terrific sales numbers for Marvel, DC, or Image, which is incredibly exciting for us.

Together, we've caught lightning in a bottle TWICE…in one month's time!

It's clear from the feedback that there are elements of the roll-out on these two titles that need refinement. It's important to acknowledge those challenges and address them while also celebrating our big picture shared success.

So, let's address the challenges head on. I thought it important to address all the concerns that have been raised comprehensively. If you've had any issues or concerns, I encourage you to read the entirety of this FAQ as it should address them.

Q: What are fast-tracked printings? Does this mean you are printing them before receiving orders?

A: We have been fast-tracking subsequent printings of Once & Future and Something Is Killing The Children so we can deliver those later printings to stores as quickly as possible in order to maintain the momentum and excitement we've seen in the market for these two titles.

Yes, fast-tracking means we are setting these print runs prior to receiving Final Order Cutoff orders. It requires us to make a reasonable guess as to what the demand will be. We actually do this all the time with collections and graphic novels, many of which are printed overseas and need print runs set 6 months ahead of their on-sale month. You rarely experience any problems with available inventory on our original graphic novels and collections because we utilize this process routinely. For single issues, most of the time, we wait to initiate later printings until we've received orders but that results in subsequent issues arriving 3-4 weeks after the previous printings.

By way of example, we based the print run on our second printing for Once & Future #1 on our past experiences. Then with third printing we increased our print run by 25% over the second printing, with the fourth printing we increased it again by 30%, and with the 5th printing by another 40%. On Something Is Killing The Children #1 we doubled our print run on the third printing from the second printing.

In the case of these two series, we prioritized momentum and getting copies into stores faster. Again, we made reasonable printing decisions based on the information we had at the time coupled with historic sales data. In these two cases, the demand far exceeded our expectations…and who here hasn't been in a position where they underestimated demand from time to time?

The Once & Future #1 6th printing will not be fast tracked, the orders will be filled in full, and we will have a healthy overprint. We expect this will be our final printing of this issue. The Something Is Killing The Children #1 4th printing will not be fast tracked, the orders will be filled in full, and we will have a healthy overprint.

Q: Why wasn't there a disclaimer about allocation for later printings of Once & Future and Something Is Killing The Children?

A: We were caught by surprise by the orders on Once & Future #1 2nd printing, so we weren't able to accurately prepare our retail partners for possible allocation. We've worked with Diamond to address that with subsequent printings listings and all fast-tracked printings going forward. Based on your feedback, we've fine tuned the language to "DUE TO RAPID DEMAND AND LIMITED QUANTITIES, ORDERS PLACED WITH THIS CODE MAY BE ALLOCATED." so that you can manage your customers expectations.

Q: I didn't receive any copies of a later printing I ordered, why wasn't the allocation process more equitable?

A: To be clear, everyone involved in the process of allocation, including Diamond, has done their best to manage that process in a reasonable fashion. Based on some of the anecdotal reports we've received, that didn't work for everyone that placed orders. We've taken this feedback and are collaborating with Diamond with a goal of making our allocation process more equitable going forward. We'll update you on that as soon as we've reached a resolution.

Q: Why did you roll my orders for earlier printings over to later printings?

A: We believed that given the demand and speed of reprints on Once & Future #1 it would be preferable for our partners to have orders roll over and not risk missing out on a later printing. Based on your feedback, this wasn't the case. So going forward, we will not be rolling any orders over. You'll be able to place your orders for every printing individually. Additionally, if you had orders roll over on a subsequent printing and don't want those copies, let myself or Morgan know and we'll approve a return.

Q: BOOM! said you weren't doing variant covers on Once & Future, but the later printings have new covers so aren't they variant covers?

A: BOOM! has always created new art for later printings of our books, so this is not a new policy or approach on our part. We believe it helps distinguish the book on the shelf so there's no customer confusion on which printing they are purchasing. Later printings have generally not been viewed as variants or even collectibles, so we had no reason to believe these would be treated that way in this case. We are not going to change our approach to providing new covers for subsequent printings.

Q: Okay, I understand all of the above, but I still have a frustrated customer I need to deal with. How do I address those? How can you help?

A: It seems to us that the customer concerns generally fall into one of three categories – readers, collectors, and speculators.

If you have a reader who is looking for a copy of one of these books, you will be able to take care of them. Whether it's with a later printing like the 6th printing of Once & Future #1 or Something Is Killing The Children #1 or if you took advantage of the returnability and increased discount we made available for first printings.

For Once & Future, we wanted to set our partners up for success so we made #1-6 fully returnable with no strings attached, incentivized with additional discounts on #1, and are sending free 20% overships on issues #2-6. It's awesome to see many of our retail partners who took advantage of these tools and are set up for success with first printings.

With Something Is Killing The Children, we are making issues #1-3 fully returnable with no strings attached. If you haven't joined the BOOM! Guarantee Program yet, please contact Morgan and join – it's free, easy, and removes the risk on new series.

If you have a regular customer who likes to have every edition of a series they are collecting and preordered later printings, we understand why that is frustrating for both them and you. We have emergency reserve stock to take care of those customers that are available first come, first served directly from Morgan. In the last month we've only received requests from 12 retailers for shipments to take care of their regular customers. If you need to take care of a customer and haven't reached out yet, please drop Morgan a line and we'll do the best we can for our retail partners.

If part of your business is catering to speculators, we understand it's frustrating to not be able to maximize the money you can make on a hot series like Once & Future and Something Is Killing The Children.

We've had two tremendous victories with these two series together. Our goal is to continue to grow readership and sales for both series in your stores. I encourage you to triple check your orders on Once & Future #3 and Something Is Killing The Children #2 in the current Previews catalog. Both books are fully returnable. Let BOOM! take the risk as you find your ceiling! Over order and then send them back via affidavit! We're asking you to.

Q: So what does this mean for me moving forward?

A: We may run into a similar situation in the future – I don't know about you but I'd love to catch lightning in a bottle again. In those cases, we may decide to fast-track a printing, but we've learned a tremendous amount over the last month and will be applying those learnings to how we approach and handle situations like this going forward.

Thank you for helping us create new hit series in the direct market and providing us your invaluable feedback. Let's make some hits before the end of the year!

Best, Filip Sablik
Once & Future #2 is published tomorrow. Something Is Killing The Children #2 is published on October 16th.
---
---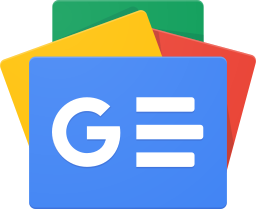 Stay up-to-date and support the site by following Bleeding Cool on Google News today!