Brenna Thummler's Sheets & Delicates Threequel, Lights, For September
Brenna Thummler's graphic novel Lights, has been scheduled for the 6th of September, 2023, from Oni Press.
---
Oni Press, has announced a much-anticipated release date for the graphic novel Lights, the 6th of September 6, 2023. Lights follow the events of Sheets and Delicates, bringing Brenna Thummler's characters, artwork, and ghostly charm back to life in the third and final instalment of the Sheets trilogy. In Lights, Wendell will finally uncover the truth of his human life. Marjorie and Eliza will learn that some people really can change. Most of all, they start to see that everything can cast shadows, but if you look hard enough, you can find the light.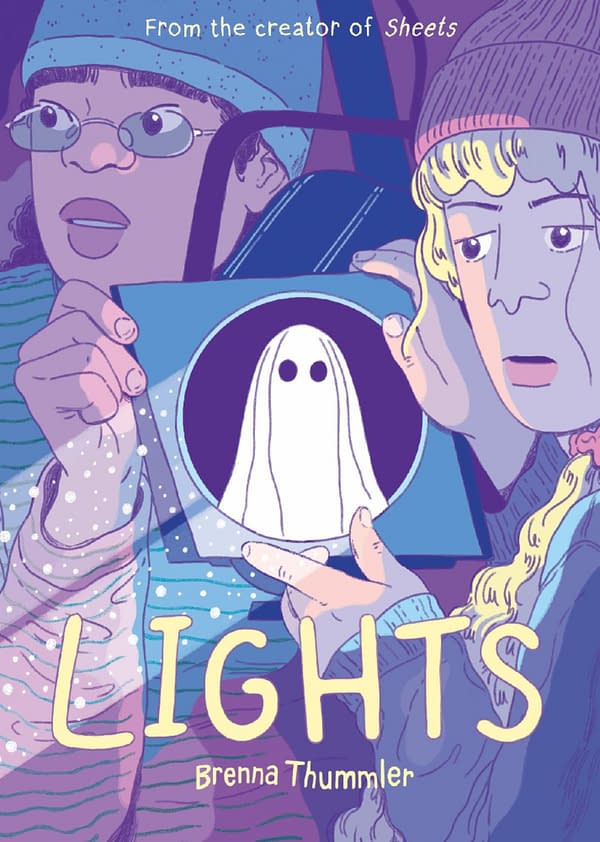 Marjorie Glatt's life was forever changed the day she discovered a group of ghosts hiding in her family's laundromat. One of those ghosts was Wendell: a lonely phantom turned Marjorie's best friend. When he and Marjorie are joined by ghost enthusiast Eliza Duncan, the three friends band together in friendship, bravery, and all things paranormal.

Wendell died far too young and now must wander the Land of Humans with nothing more than a sheet for a body. He knows how he died—a tragic drowning accident—but lately he's grown curious about his past life. He wants to know more about why he died, not just how he died. It's not easy, though, since Wendell's memory of his human life has grown increasingly blurry. With Marjorie and Eliza's help, they set out on a journey to find out more. When they hear a rumor about Wendell's death, they wonder if it might not have been an accident after all. Meanwhile, Marjorie and Eliza's friendship is tested when Marjorie starts to befriend the very people who used to bully Eliza.
"Lights takes a small step outside of where the first two books have been, into a space that's more snowy, sad, and suspenseful," says Brenna Thummler. "With Wendell at the forefront, this book examines the complexities of relationships as all three protagonists grow more self-aware. These characters have lived in my headspace for the past six years, and in Lights especially, have made me record some of their most hard-hitting experiences. While there is always a sense of relief that comes from saying farewell to long-term house guests, there is also a heavy sort of emptiness, and it was important that I send them off the right way. Marjorie, Eliza, and Wendell have shaped me just as I have shaped them, and I hope readers will find a new kind of comfort in their final story."
"Brenna has created a unique world you can't help but want to live in with characters that feel like your own friends you've grown up with," says editor Grace Scheipeter. "In Lights, readers will relate to Marjorie's experiences looking ahead to high school, and all the nerve-racking and scary parts that go along with the dynamics of friendships during that big life change. And readers will also get a glimpse into Wendell's human life as a young child, something that adds a whole new level of imagination and whimsy – but also a true touch of melancholy – to this beloved character. Lots of fans have been eager to get Wendell's full story before his life as a sheet ghost, and they'll finally get to dive into that now when they read Lights."
Sheets was selected as one of Barnes & Noble's Best Books of 2018 followed by Delicates accolades including an American Library Association 2021 nominee for Best Graphic Novels for Children and a 2021 Cybil Award nomination.
A story of ghosts, family, loneliness, and laundromats. Marjorie Glatt feels like a ghost. A practical thirteen-year-old in charge of the family laundry business, her daily routine features unforgiving customers, unbearable P.E. classes, and the fastidious Mr. Saubertuck who is committed to destroying everything she's worked for. Wendell is a ghost. A boy who lost his life much too young, his daily routine features ineffective death therapy, a sheet-dependent identity, and a dangerous need to seek purpose in the forbidden human world. When their worlds collide, Marjorie is confronted by unexplainable disasters as Wendell transforms Glatt's Laundry into his midnight playground, appearing as a mere sheet during the day. While Wendell attempts to create a new afterlife for himself, he unknowingly sabotages the life that Marjorie is struggling to maintain. Sheets illustrates the determination of a young girl to fight, even when all parts of her world seem to be conspiring against her. It proves that second chances are possible whether life feels over or life is over. But above all, it is a story of the forgiveness and unlikely friendship that can only transpire inside a haunted laundromat.
Following the events of the bestselling graphic novel, Sheets, Delicates brings Brenna Thummler's beloved characters, artwork, and charm back to life. Marjorie Glatt's life hasn't been the same ever since she discovered a group of ghosts hiding in her family's laundromat. Wendell, who died young and now must wander Earth as a ghost with nothing more than a sheet for a body, soon became one of Marjorie's only friends. But when Marjorie finally gets accepted by the popular kids at school, she begins to worry that if anyone learns about her secret ghost friends, she'll be labeled as a freak who sees dead people. With Marjorie's insistence on keeping Wendell's ghost identity a secret from her new friends, Wendell begins to feel even more invisible than he already is. Eliza Duncan feels invisible too. She's an avid photographer, and her zealous interest in finding and photographing ghosts gets her labeled as "different" by all the other kids in school. Constantly feeling on the outside, Eliza begins to feel like a ghost herself. Marjorie must soon come to terms with the price she pays to be accepted by the popular kids. Is it worth losing her friend, Wendell? Is she partially to blame for the bullying Eliza endures? Delicates tells a powerful story about what it means to fit in, and those left on the outside. It shows what it's like to feel invisible, and the importance of feeling seen. Above all, it is a story of asking for help when all seems dark, and bringing help and light to those who need it most.