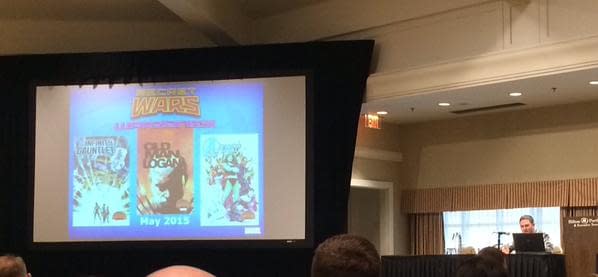 Photo courtesy of Calum Johnston.
Jim Nausedas gave Marvel's presentation at the comic retailer confernece ComicsPRO at POrtland today. May not have had the big guns of Marvel and Dark Horse, but Brian Bendis was making the keynote speech tomorrow…
Jim laid out the plans for the Secret Wars divided into three subdivisions and the announced books we'd be getting. Along the way, we learned that Deadpool's Secret Secret Wars, with its action figure variant covers would also feature the famously terrible lenticular shields that each character was lumber with in the original Secret Wars toyline.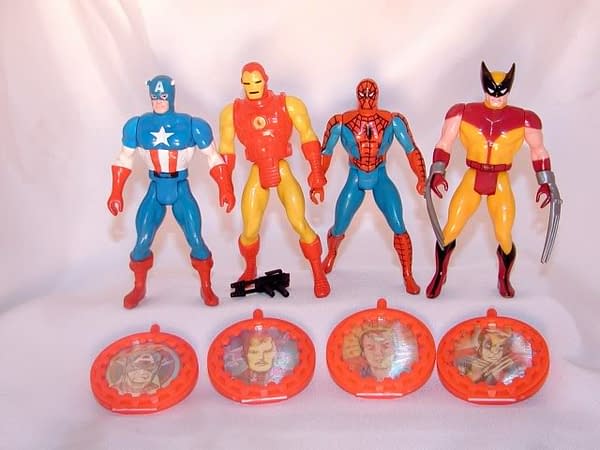 With the Last Days titles now threatening doom for Silver Surfer, Ms Marvel, Punisher and Black Widow, as well as the previously announced Loki, Magneto and Captain America & The Mighty Avengers Marvel have intentionally teased that these books may be cancelled, as none of the chosen books are big sellers, in print at least.
But Jim appeared to give the impression that recent popular launches Ant Man and Spider-Gwen would be continuing, even with Last Days branding, though was reportedly rather evasive confirming that. Nevertheless, that should give some Marvel fans succour regarding their own favourite titles getting the same branding…
For more ComicsPRO coverage, click here.
Enjoyed this article? Share it!