Britannia: Lost Eagles of Rome #1 Review – Sherlock Holmes in Rome
[rwp-review-recap id="0"]
Antonius Axia is a "detectionist," the first investigative detective in the world. He lives during the reign of Emperor Nero in Ancient Rome. He has gotten by on working under Nero, but, after a legion goes missing in the Tottenwald forest in Germany, Antonius Axia is called to investigate all the way out in Germany. Antonio is reluctant; however, taking the case will not only save his own life but also free a slave girl named Achillia, whom Antonio has taken a shine to.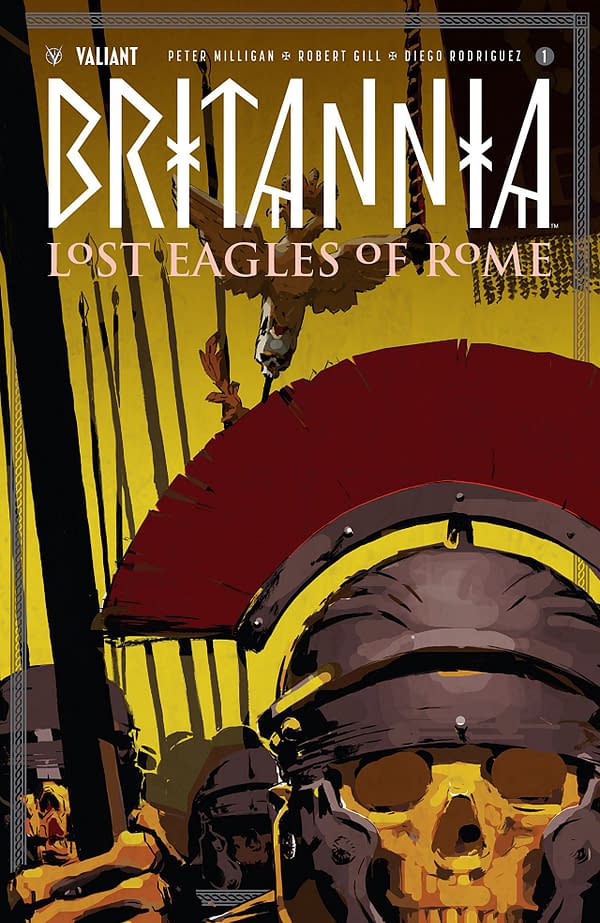 Britannia: Lost Eagles of Rome #1 is an odd mixture of dry storytelling and charm. It reads like a Sherlock Holmes story set in Ancient Rome. Antonius is more of a John Watson in terms of personality though, lacking the famous arrogance of Sherlock himself.
The story is heavy on exposition and historical contextualization. That admittedly makes sense to a point — give the facts so that the reader can follow along with the mystery. It is also a bit of fun to watch Antonius and Achillia hit up random soldiers and officers who were present in the battle and give them the Sherlock routine.
However, it is slow in spots, and the story comes to a grinding halt at one point so that Nero can complain that Antonius is taking too long to leave Rome. It's intended to up the stakes so that we know Nero will kill Antonio if he fails, but we already knew Nero was crazy. History class taught me that long before I read this comic.
Robert Gill's artwork definitely adds to the charm of the comic. Instead of some hyper-realized and serious depiction of the ancient world, Gill brings a touch of playfulness and fun to the visuals. Expressions are often over-the-top, framing and angles shift to give some additional personality, and the detailing isn't overwrought. Jose Villarrubia and Diego Rodriguez keep things mostly bright and cheery, only resorting to darker shades when absolutely necessary.
Britannia: Lost Eagles of Rome #1 is a bit slow-moving at times, but the charms and novelty of the story carries. Antonius is a charming lead, Achillia is fun, and the art is good. I can recommend it in the end. Feel free to give it a try.
[rwp-review-ratings id="0"]
[rwp-review-form id="0"]