A few weeks ago, Bleeding Cool asked what does Buffy The Vampire Slayer: Willow #1 reveal about the future of the Buffyverse.This week we got that answer.
We were the first to tell you weeks ago that the Buffy the Vampire Slayer comics from Boom Studios had some major plans, from seemingly introducing the Willow Rosenberg character from the TV series into comics continuity and then further connecting the TV series and this reboot series in ways no one really expected. But we'd been hearing the term "Buffyverse" used quite a bit by people who know about these things, but multiple versions of Buffy continuity – which have extended into prose, young reader graphic novels and more.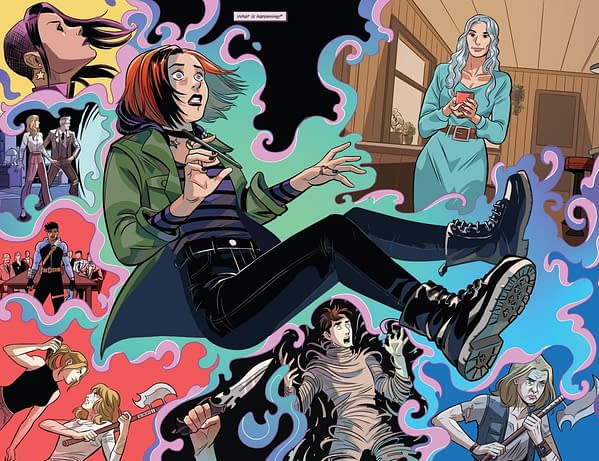 In Willow #1, there's a two page spread in the issue teasing lots of big things which will be coming up in the series – including Buffy vs Buffy, old Buffy, etc and versions of Buffy from different realities. It's also a little reminiscent of what Marvel Comics did with the Age Of Ultron white board. ten years ago… and a few times since. Also keep your eye on their Angel series, which has been quickly introducing a number of familiar faces and has been hinting at a larger master plan by Wolfram & Hart regarding Fred…who we all know eventually became host to a dimension-crossing entity named Illyria in the TV show. There's a connection to this issue to the Buffy series as a whole and possibly any new TV series.
BUFFY THE VAMPIRE SLAYER WILLOW #1 CVR A BARTEL

BOOM! STUDIOS

(W) Mariko Tamaki (A) Natacha Bustos (CA) Jen Bartel

* After everything – and everyone – she lost to the Hellmouth, Willow is leaving Sunnydale behind for a new school that promises "to help you prioritize your true self."
* But Willow soon learns that all is not as it seems, and if your true self isn't what the school thinks it should be…well, don't worry, they'll help you get there. By any means necessary.
* Now, truly alone for the first time in her life, Willow must rely only on her instincts – and her magic – to save herself from a different kind of threat than Buffy ever prepared her to face!
* Award-winning writer Mariko Tamaki (Laura Dean Keeps Breaking Up With Me, Harley Quinn: Breaking Glass) and superstar artist Natacha Bustos (Moon Girl and Devil Dinosaur) bring Willow face to face with the truth of her past… and plant the seeds for a future no one could've predicted. In Shops: Jul 08, 2020 SRP: $3.99
Enjoyed this article? Share it!