Cable/Deadpool Annual #1 Advance Review: I Hope You Like Doctor Who and Terminator References
[rwp-review-recap id="0"]
Deadpool is visited by a Doctor Gamble, whom tells him that robots called the Incinerators are going back in time to kill his mother before he was ever born. He gives Wade a time-travelling device that allows Wade to go back and find his mother. He arrives, and Cable arrives shortly after. Nate tells Wade that he was set up, and the woman Wade believes to be his own mother corroborates that story. Gamble is stalking this woman across time and space.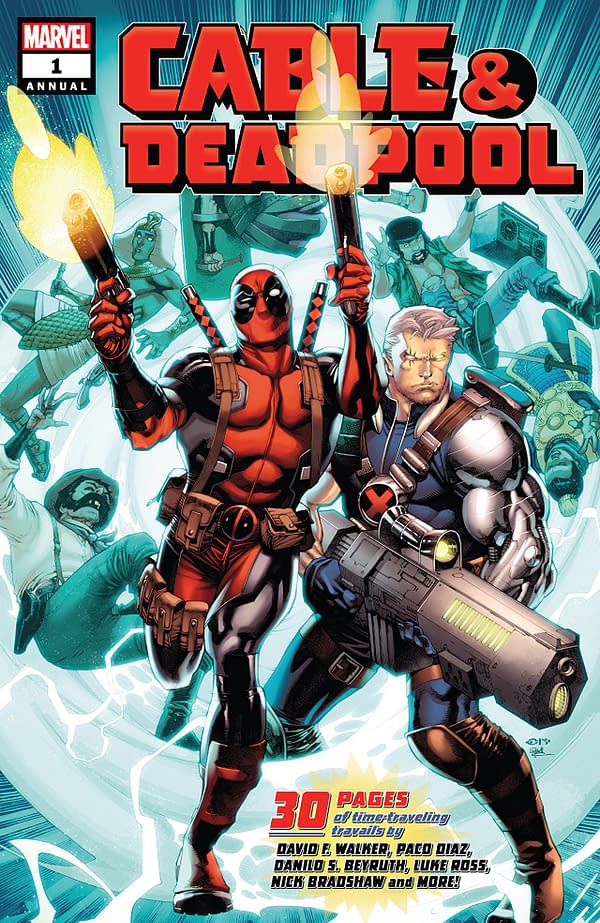 I did try with this one.
I wanted to like Cable/Deadpool Annual #1. Despite my distaste for Deadpool and ambivalence towards Cable, I gave this one a chance to sell them to me.
The premise is dumb of course, but that's the point. It's supposed to be a setup for jokes. The problem is that the jokes don't land.
Twice, the comic makes a Doctor Who joke. I don't mean jokes about Doctor Who, those are numerous. I mean, the comic says "Doctor, who" and "Doctor, whoever" on the same page.
The other half of the jokes are Terminator references and one Time Cop joke.
There is one bizarrely extended sequence where Deadpool explains how comics differ from film as a storytelling medium. I actually kind of enjoyed that.
Also, Wade and Nate actually bond a bit at the end; I enjoyed that too.
On the whole, the comic is just too long and not funny enough to justify itself though.
The artists do solid work though. Luke Ross, Paco Diaz, Nick Bradshaw, and company succeed in keeping the book visually appealing, and I have nothing to complain about when it comes to this part of the comic. The book tends towards a cartoonish style that fits the tone and characters.
Cable/Deadpool Annual #1 just isn't funny. The jokes are weak and predictable, and the only enjoyable parts were extended analysis of comic books as a medium and the only time the two characters acted like humans. I can't recommend this one, with my general love for the work of David F. Walker. I suggest giving this one a pass.
[rwp-review-ratings id="0"]
[rwp-review-form id="0"]