The Prowler has been a character in the Spider-Man comics since he appeared in Amazing Spider-Man #78 in 1969. He was an engineer that no one took seriously, so he created his suit to rob the Daily Bugle and then turn the money in as himself, Hobie Brown, to become a hero. This plan of course went wrong, and he got into it with Spider-Man. But in the end, Brown turned out to be a good guy and showed up in a few different stories over the years.
But that's not who we're talking about today. We're looking at the OTHER Prowler, Aaron Davis. The one played by Donald Glover in the new Spider-Man: Homecoming film.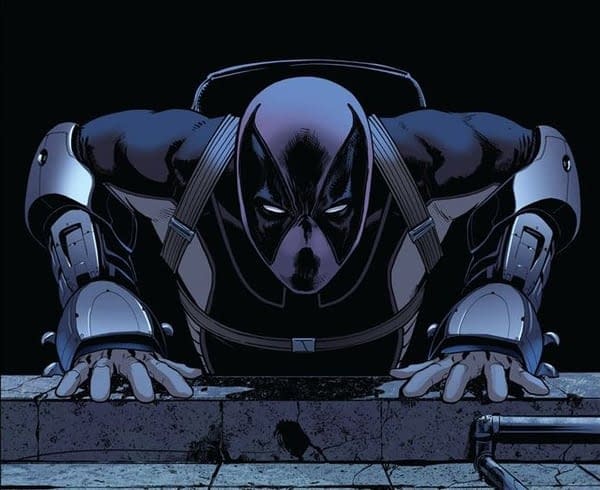 This version of the Prowler first appeared in Ultimate Spider-Man Vol 2 #1. Aaron Davis is a career criminal; he and his brother were partners for a while before his brother reformed after having a child. Aaron continued as a burgler, using the guise of Prowler. One of his capers included stealing tech from Osborn Industries for Roxxon. A genetically enhanced spider hitched a ride on his costume and would later bite his nephew, Miles Morales, creating a new Spider-Man.
Davis was in deep with the Scorpion when he figured out his nephew's secret. He forced Morales into fighting the Scorpion with him and then tried to blackmail his nephew into continuing the partnership. But Morales refused, and Davis tried to eliminate him using his vibro-shock gauntlets. One of those gauntlets exploded, leaving Davis severely injured, and he died the next day. Davis' death took place in Ultimate Spider-Man Vol 2 #13.
Unlike his main universe counter part, Davis is just an athletic thief. All of his equipment was created by the Tinkerer, whom Davis killed when they together figured out that Morales was the new Spider-Man. He wanted to be the only one with that knowledge.
Seems like Glover would've been better off if they cast him as Hobie Brown. But with Davis in the universe, there is the possibility of bringing in Miles Morales at some point.
Enjoyed this article? Share it!