Rod Lamberti of Rodman Comics writes weekly for Bleeding Cool. Find previous columns here.
It looks to be a heck of wild ride coming up. As I type this up on Saturday I am going to drive out and check out a large comic collection that the person got from their father. They are a comic newbie so it is a complete gamble on if anything is of value in the collection. The collection is quite large judging by the boxes in the picture I was sent.
Been seeing a lot of new people at the store. People that have just moved into the area. Hoping, of course, to get them to return and be repeat customers.
This Sunday will be the Rebirth Heroclix prerelease which was pushed back by Wizkids so the prerelease takes place just days before the actual release day oddly enough. That said we have people who are very interested in the set.
Wizards of the Coast, the makers of Magic the Gathering card game, announced over thirty planeswalkers in the next set, War of the Spark. Planeswalkers are characters in Magic the Gathering that many players of the game think are really cool. The prerelease is set for April 27th and April 28th. Followed by the regular release date of May 3rd. The buy it by the box card is a planeswalkers card. I believe this is the first time that has ever happened. People are excited about this set. Which is great. I received a call last night from one person who wants six booster boxes reserved from them. Each booster box is $104.99. This set looks to be crazy popular. May 4th is Free Comic Book Day/Star Wars Day/Rod Deals all on the same day. Our last Rod Deals on March 30th was easily the best sales day of the year. Currently hammering out the details for what we want to do for Free Comic Book Day. Such as, would giving away a Star Wars comic from our old stock be a good idea? Should we have it for the first whatever amount of people that come here for Free Comic Book Day? Would that just make the start of Free Comic Book Day even more of mess? Would raffling off Star Wars comics be better? Everyone who visits the store that day gets a raffle ticket and we will call later if they win?
Will we have time to build a binder of cards for the War of the Spark set with it coming out on May 3rd the day before Free Comic Book Day/Star Wars Day/Rod Deals? Will we just have to build a binder of the set afterwards?
Been talking with my employees for new ideas. What new ideas should we try for May 4th? What new ideas should we try to get people to come back after their first visit to the store? Should I make a coupon to give out to everyone on Free Comic Book Day that the can use if they come back another day and purchase something they can get another free comic book in an effort to get new people to actually return and spend money? Currently, the idea looking the best is we simply give out a coupon to people to that come in on Free Comics Day that is good for a free Star Wars comic if they come back another day during the month of May. If the people behind Free Comic Book Day are unwilling to evolve or try anything new with it at least we are.
One of my sayings is "We can try it once, if it doesn't work we just won't do it again." Or, of course, if need be we can make adjustments to make it work.
We have already printed up flyers for May 4th. I will instruct my employees to let everyone know that comes in about May 4th. Over the years I have learned that actual face to face communication is the best way to communicate and get people interested in upcoming events. Face to face also means any questions or concerns are instantly addressed.
In years past for Free Comic Book Day these usual questions come up.
"You have to pay for all these and not the people who make these?" Yes, it that is the case.
"Where's the free pizza?" We have never done free pizza on Free Comic Book Day. I feel that would lead to a lot of grease stains on comics.
"Why don't you do Free Comic Book day like the other stores?" Because we are not the other stores. We mix the free comics up within the store. Some will be mixed in with new releases, some right at the checkout counter. They will all have a label under them clearly marked Free Comic Book. Before we opened I knew of stores that would have all the free comics on a table right at the entrance. I also noticed most of the people would just walk up to that table take the free comics and just turn around and leave. I or an employee will stand by the exit to double check as people leave to make sure no one picks up non-free comics that they did not purchase.
"What? Not all the comic books here are free today?" Yes, we get the question usually at least once a year.
Then there are the poor kids who are told go ahead and take a free comic book and they are totally confused by the whole just take something without paying for it thing. "It's that stealing?" No, it's Free Comic Book Day.
Usually after Free Comic Book Day is over with we would donate the leftover free comics to the local theater that we had private showings with. That theater is no longer in Ankeny. This year I will have to call around and see if a nearby school district is interested in free material. I tried Ankeny schools in the past and was told the free Bongo Simpsons Day comic was too violent. Which, to me, was Ankeny schools saying we have too much money, we don't need your freebies. Des Moines area schools with fewer resources in the past have been more than happy to get free comics from us. I do not even think they even opened them up to check them out. They were just that happy to get reading material to their students. I remember donating our store's T-shirts to one of the Des Moines schools and watching two parents grab the last one and playing a tug of war over it and thinking oh man they are going to fight over the T-shirt. Then one of them won the tug of war and gave it to her I assume son and he put it on right there happy as than heck to have new T-shirt. Wrinkles from the tug of war and all.
I also will be getting ready to go to the Diamond Summit in Las Vegas in May and listen to Diamond spout how great Free Comic Book Day is. Best sales day of the year for many stores I will get to listen to. Our sales day in July always beats Free Comic Book Day and that is without buying comics to give away.
That said if there are any publishers interested in having an interview with me during the Diamond Summit feel free to let me know. Obviously, it would be from the point of view of a comic store owner.
Did the comic orders from the most recent Previews. I was shocked. The amount I ordered was the lowest amount for a month that I can remember in years. I did order more Marvel comics than DC which surprised me though that is something that I have done already this year. I have also noticed more and more that at least for us the covers influence more and more what the customers are interested in. Things have changed so much over the years that many people are more interested in who the cover artist is than who the writer or artist on the interiors of the book is. Cover artists are overshadowing the interiors of a comic more and more for us. Example, for the upcoming Black Cat #1 it has J Scott Campbell as the cover artist on the regular cover and also an Artgerm variant cover. Though of course the Artgerm cover is currently listed as image coming soon which is a waste, though I did manage to find the actual cover online and thought it looked like a winner and did order up on it. I am also assuming some people will get both the J Scott Campbell cover and Artgerm cover. That is not just limited to Marvel, of course, we have people that buy both covers of Harley Quinn each issue and other comics.
That said I read the creative team and the plot given for Black Cat #1 and then was focused on the covers. Over the years the cover art is what gets hyped a lot and it has programmed more and more people to only be concerned with the cover art.
War of the Realms came out this week. What was the question that was most asked about it to us here in store? Do you have this cover of it?
Right now things are going good. Detective Comics #1000 was a hit and seems to have legs for us. The Rebirth HeroClix set has people very excited about it. Magic the Gathering's upcoming War of the Spark has people very excited about it. We are currently working towards getting people excited for Free Comic Book Day/Star Wars Day/Rod Deals.
I best get back to getting ready for all the upcoming events! Thanks for your time, everyone.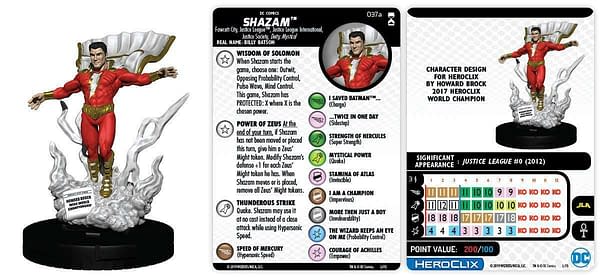 Enjoyed this article? Share it!