Comico Comics – Coming Soon?
Bleeding Cool has been making mention of the return of Elementals and Youngblood owner and eighties/nineties comics publisher Comico founder, Andrew Rev, to comic books, as Terrific Production. He has gone out of his way to make a splash, raise people's heckles and act in a public fashion that is reminiscent of noughties Bill Jemas crossed with Carrot Top on Twitter for the first time. He certainly has got people talking, even if what people often say is of the 'what the hell', 'seriously?' and 'pass the popcorn' variety.
That's Terrific Production. But what of Comico Comics? The website is up at Comic.com, registered to a domain name buyer, but with this image up front.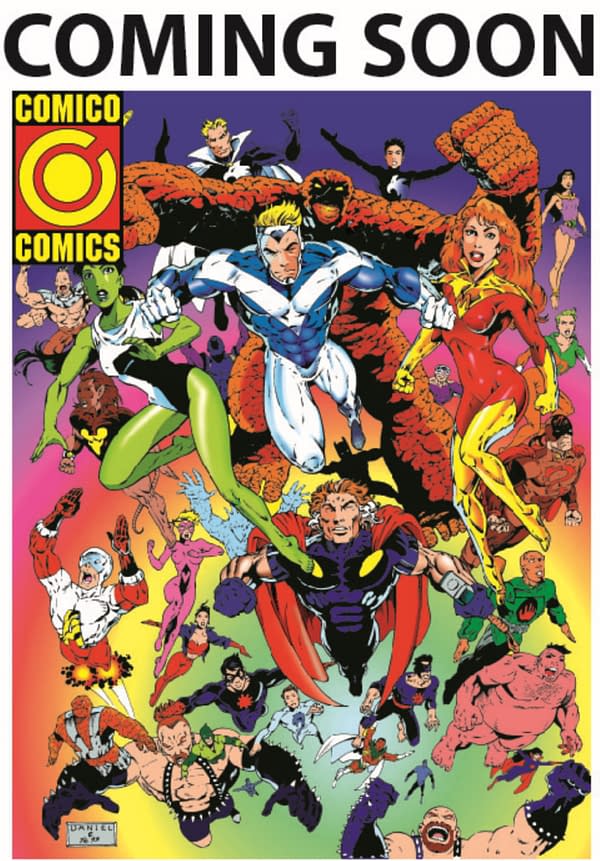 That's a Tony Daniel piece of art from 25 years ago. Now, Comico: The Comic Company was an American comic book publisher headquartered in Norristown, Pennsylvania. Its best-known comics include the Robotech adaptations, the Jonny Quest continuation written by co-creator Doug Wildey, Matt Wagner's Mage: The Hero Discovered and Grendel, and Bill Willingham's Elementals. They published the first comcis work of Chuck Dixon, debuted Sam Kieth's The Maxx and published Dave Stevens' The Rocketeer, Space Ghost, Fish Police, Trollords, Howard Chaykin's The Trouble with Girls, Justice Machine and The Maze Agency. Once considered a major contender on the American market, Comico went into bankruptcy in 1990, and sold to Andrew Rev. Although it continued to sporadically publish books until 1997. In 2009, two of Comico's original founders launched an original webcomics site called CO2 Comics, which they claim is the reincarnation of Comico. The site hosts several of the comics from the Comico Primer, including work by Reggie Byers, Bernie Mireault, Rich Rankin, and Neil Vokes.
But might it be that whoever is putting Comico.com together may want that back? Of course they may also have a different fight on their hands. Comico is also the name of a comics webtoon portal based in Japan that is part of NHN Japan Corporation, first launched in 2013, followed by a launch in Taiwan in 2014 and then in Thailand, and South Korea in 2016 followed by Indonesia in 2017, and now the second largest website for digital comics in Japan based on the number of users. So that's someone else who might consider they have claim to the name. We shall see.