Black Canary: Ignite and Super Sons: The Foxglove Mission are two original graphic novels published by DC Comics, as part of what were once known as the Ink and Zoom imprints for young adult readers and children.
They are scheduled to be released in bookstores on Tuesday the 29th of October in bookstores and Amazon and the like, and Wednesday the 30th of October in comic book stores through Diamond and the direct market.
Or rather, they were.
Because someone at DC Comics has decided that maybe the comic stores might like to get to sell these books for a full 6 days before the bookstore market gets their grubby little hands on them. And maybe reward those who order copies directly without being able to return unsold copies.
So now both Black Canary: Ignite by Meg Cabot and Cara McGee and Super Sons: The Foxglove Mission by Ridley Pearson and Ile Gonzalez will be published in comic stores for Wednesday the 23rd of October. Isn't that nice of them?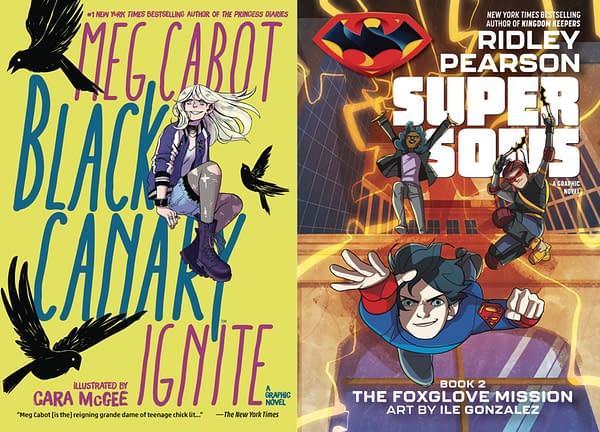 BLACK CANARY IGNITE TP DC ZOOM
(W) Meg Cabot (A/CA) Cara McGee
From the #1 New York Times bestselling author of The Princess Diaries comes Black Canary: Ignite, Meg Cabot's first graphic novel! With expressive and energetic art by Cara McGee to match the trademark attitude and spunk of Meg Cabot's characters and dialogue, this mother-daughter story embraces the highs and lows of growing up without growing out of what makes us unique. Thirteen-year-old Dinah Lance knows exactly what she wants, who she is, and where she's going. First, she'll win the battle of the bands with her two best friends, then she'll join the Gotham City Junior Police Academy so she can solve crimes just like her dad. Who knows, her rock star group of friends may even save the world, but first they'll need to agree on a band name. When a mysterious figure keeps getting in the way of Dinah's goals and threatens her friends and family, she'll learn more about herself, her mother's secret past, and navigating the various power chords of life. Black Canary: Ignite is an inspirational song that encourages readers to find their own special voices to sing along with Black Canary!  In Shops: Oct 23, 2019 SRP: $9.99

SUPER SONS BOOK 02 THE FOXGLOVE MISSION TP DC ZOOM
(W) Ridley Pearson (A/CA) Ile Gonzalez
In the aftermath of The PolarShield Project, Jon Kent and Damian "Ian" Wayne, the respective sons of Superman and Batman, are on the run! With their hometown in ruins, and in the absence of their heroic fathers, Jon and Ian are on a mission to find a sample of the deadly virus that's threatening Wyndemere and Jon's mother, Lois Lane. Meanwhile, Candace follows clues that hold the key to her destiny, and her journey is filled with twists and turns as she unlocks powerful abilities she never knew existed. While their quests threaten to divide the three of them, it's only through teamwork and trust that they can succeed. The Foxglove Mission is the rare sequel that takes everything readers love about the Super Sons and raises the stakes without losing any of the charm or sense of wonder. Join New York Times bestselling author Ridley Pearson (Kingdom Keepers) and artist Ile Gonzalez as they introduce new settings, new allies and villains, and an all-new adventure in this latest action-packed chapter! In Shops: Oct 23, 2019 SRP: $9.99
Enjoyed this article? Share it!