Dynamite has sent us a new writer's commentary by Amy Chu for Green Hornet #3 which comes with covers by Mike McKone and Stephane Roux and with interiors by German Erramouspe.
* * * * *
So once again, yes, I'm late, as I spent the weekend at a comic con in a high school cafeteria in Phillipsburg, NJ. Yes, I've got a bunch of deadlines, but *looking at my editors here* do you know how hard it is to say no to a bunch of high school students? Apparently G. Willow Wilson, Nik Virella, Klaus Janson, Lee Weeks, and the legendary Joe Staton of Dick Tracy fame and a whole host of top guests also felt the same way. (Trivia note: Dick Tracy is one of the few current characters that is older than Green Hornet.) I dragged DMC Darryl MacDaniels into it too. And thus, for those promoters wondering out there, this is how Phillipsburg Comic Con has a guest list that rivals and exceeds many for profit conventions.
The takeaway is that many of us creators and fans might feel jaded and cynical about comics and pop culture, the $50 photo ops, the failed events, and the money grabs. But throw some excited kids into the mix who throw, let's be frank, a professionally run show that rivals some, and it gives some hope for the future. All I'm saying is, if you feel the need to rediscover your love for the medium, go where the kids are, see what they're reading and talking about.
This allows me to segue to the theme of Green Hornet and the conflict between old and new. We're now midway through a story which I'm hoping gets new readers on board the Green Hornet train along with the loyal readers.
Mike McKone and Stephane Roux have drawn some killer covers for this issue — and as you can plainly see, Kato's daughter Mulan has taken on the role, as — gasp — Britt Jr. has abdicated it, for some good reasons.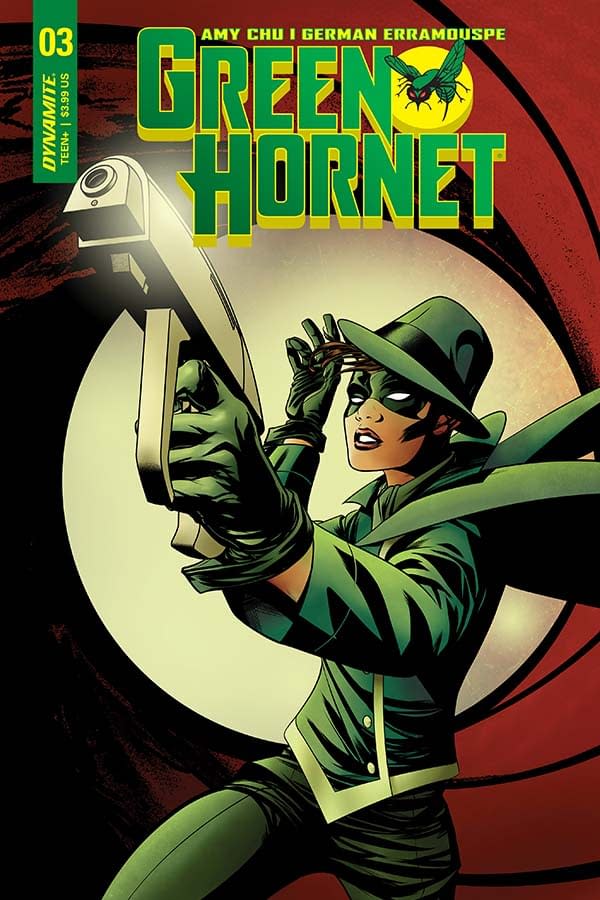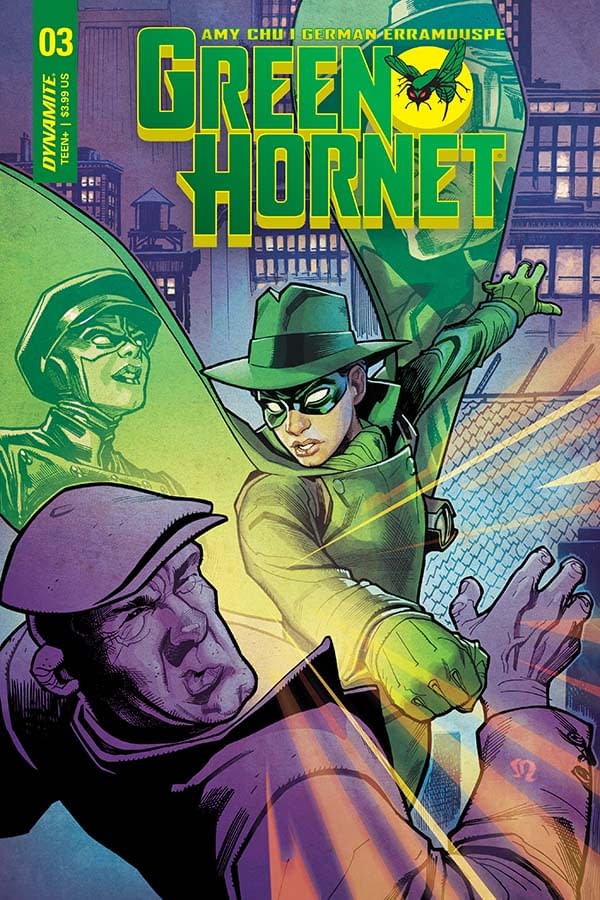 Also by now, some of you may notice I'm trying something different — each issue is narrated by a different character. Making this issue very important, since it's Britt Jr's turn to tell us just what the hell is going on! So let's go to Istanbul, shall we?
Page 1:
Picking up right where we left off in Issue #2. Here is where I felt the need to explain Britt and Mulan's complicated relationship, because it is, let's face it, if you've been reading the Dynamite comics in years past, EXTREMELY complicated and perhaps puzzling.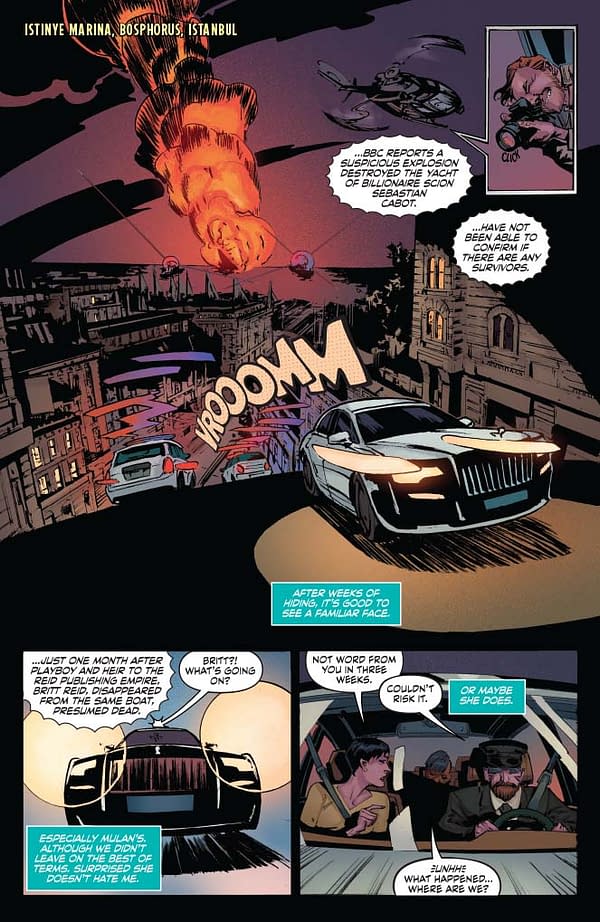 Page 2:
Sorry, Tai! Here's the thing with a third wheel — sometimes you have to take them out of the scene so people can talk in private…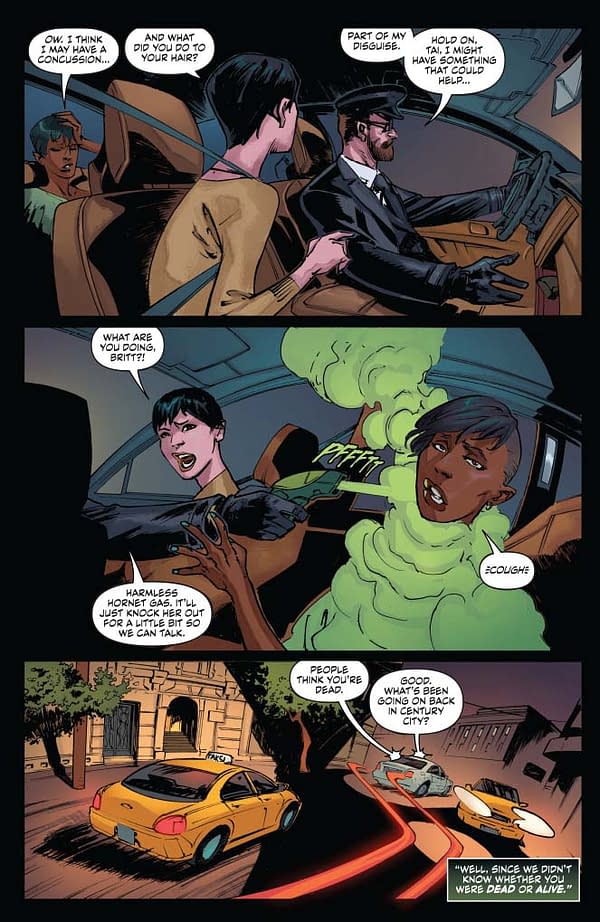 Page 3:
…and it's a handy way to recap what's happened in previous issues and introduce the Espada.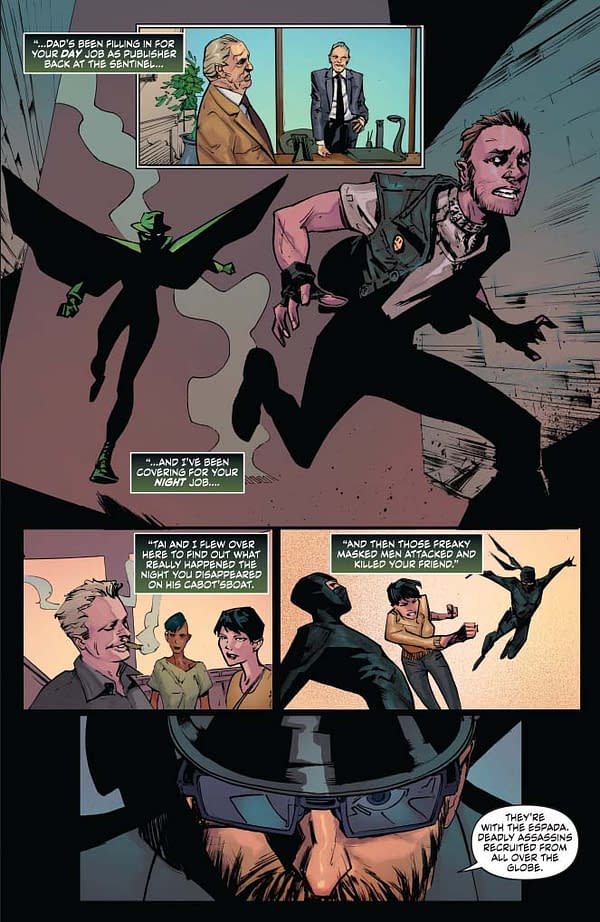 Page 4:
The Oko is back! And he's saved one survivor from the boat conveniently with the press right there.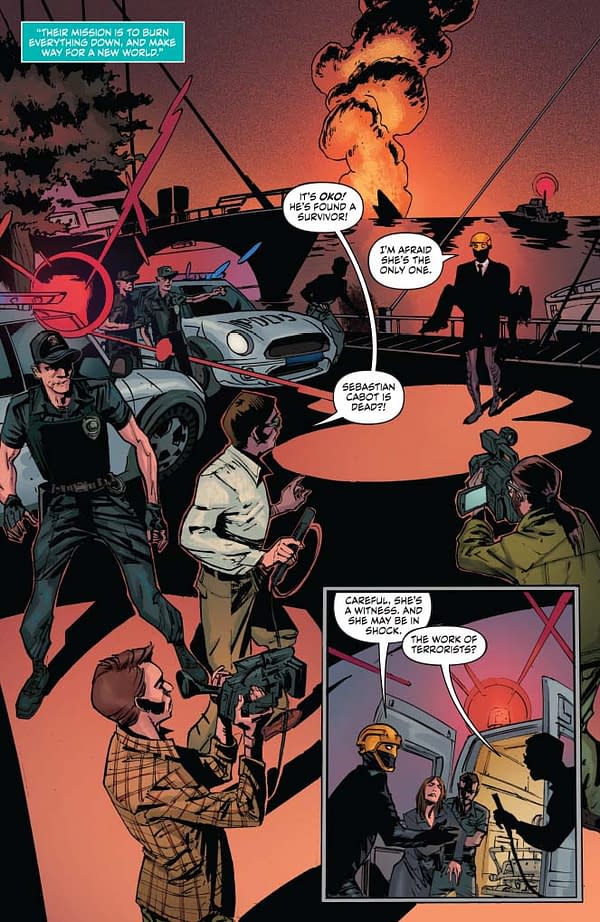 Page 5:
Uh oh, looks like the Oko is on the trail of the Green Hornet. Doesn't he know they are actually the good guys?!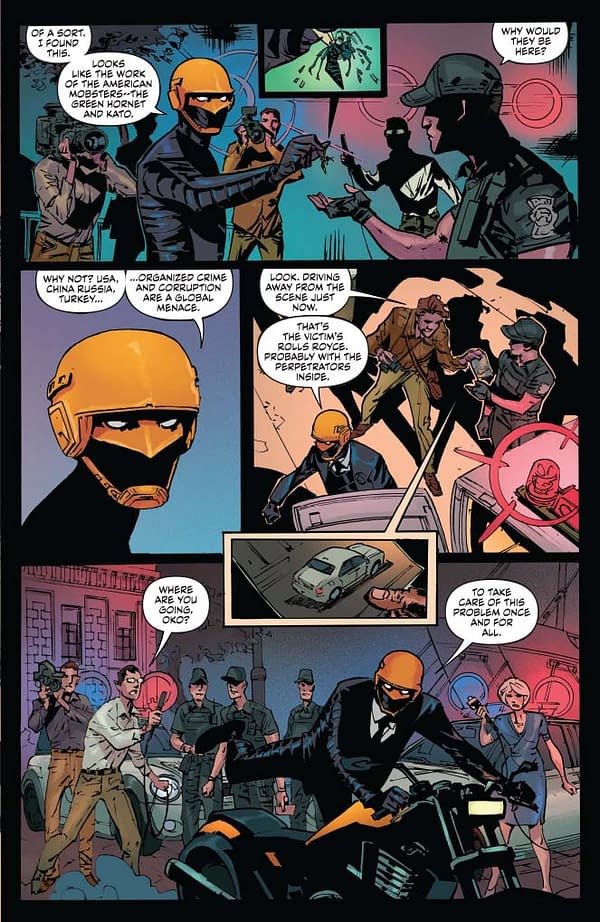 Page 6:
The big challenge in this issue was getting them into Green Hornet gear without seeming ridiculous. It's harder than it sounds, but you'll get to see a lot more in Issue 4.
Page 7:
Those damn secret societies…
Page 8:
This page was a bit tricky and gave me a big headache working it through — entirely my fault because when German drew it I hadn't entirely figured things out, but colorist Brittany Pezzillo does a fantastic job setting the mood for this flashback.
Page 9:
And so we begin our James Bond car chase portion of the issue. I think, nay, I KNOW, German had a lot of fun drawing these scenes. Aspiring writers of mainstream comics, avoid talking heads whenever possible and you will be ahead of the game. I suspect this is letterer Tom Napolitano's favorite kind of SFX too! What kind of writer am I, if I can't provide these kind of opportunities for Team Green Hornet?!
Page 10:
For those who have been, know that the Bosphorus is quite beautiful — I have been to Istanbul three times but never done the sightseeing boat, so I guess putting it in a comic is the next best thing.
Page 11:
A red herring, or rather, green…
Page 12:
Roaches are everywhere! Sidenote: ever since I started talking about the Green Hornet on social media I've been getting insecticide ads on twitter. I assume it's the same for Seth Rogan and Kevin Smith…
Page 13:
This is when stuff gets fun! Mulan gets to show of her deadly wing chun long pole form. If you like martial arts, go watch some of these on youtubes and you will be addicted.
Page 14:
Narrative captions let us get inside the character's head, and I thought it would be useful in particular for Britt to express his feelings here without Mulan knowing. *semi-spoiler* big reveal here if you have been following the ENTIRE Dynamite Green Hornet run… if not, no worries.
Page 15:
Here is where I have to thank Comic Book Men Mike Zapcic again, for lending me his Green Hornet compendium — because it inspired me use of one more toy in the Green Hornet arsenal…
Page 16:
The Black Stinger! Honestly, not sure if it's been used since the NOW comics of the early '90s. I'm sure someone better than me can say so.
Page 17:
The Oko is definitely one of the most media savvy characters around – watch as he manipulates public opinion. I have a good mind to have him run for public office in a future arc…
Page 18:
What the Black Stinger is to the Green Hornet, the Reid jet is for the Daily Sentinel publisher. I've ridden in a private jet exactly twice (this isn't comics life — or maybe it was during the '90s, I wouldn't know). If you see me at a convention, I'll tell you the story behind those trips… I can tell you, though, in this day and age, it's definitely the way to go.
Page 19:
Facial hair will do that to a man, certainly… German and I talked it over, and we felt Britt needed a makeover to go along with the more serious tone of this series.
Page 20:
We are definitely not in Century City anymore.
I hope you're as excited as I am about this next issue — I don't think Green Hornet has ever been to Hong Kong and it just gives so many more story possibilities. German has been posting some sneak peaks so follow him on Instagram – ger.erramouspe – and also on Facebook!
#Protip: The one way to make sure you always have Green Hornet in your life is to pre-order from a local comic book shop (and of course pay for it, and pick it up in a timely fashion) and this will ensure the series continues for as long as it can. A big, big thank you to the stores, readers, reviewers who have been singing our praises, and to the editors at Dynamite who have trusted me to tell the story in this fashion.
Enjoyed this article? Share it!