Kickstarter ends Mon, Oct 27 2014 5:48 PM BST, book published Mon Nov 17th.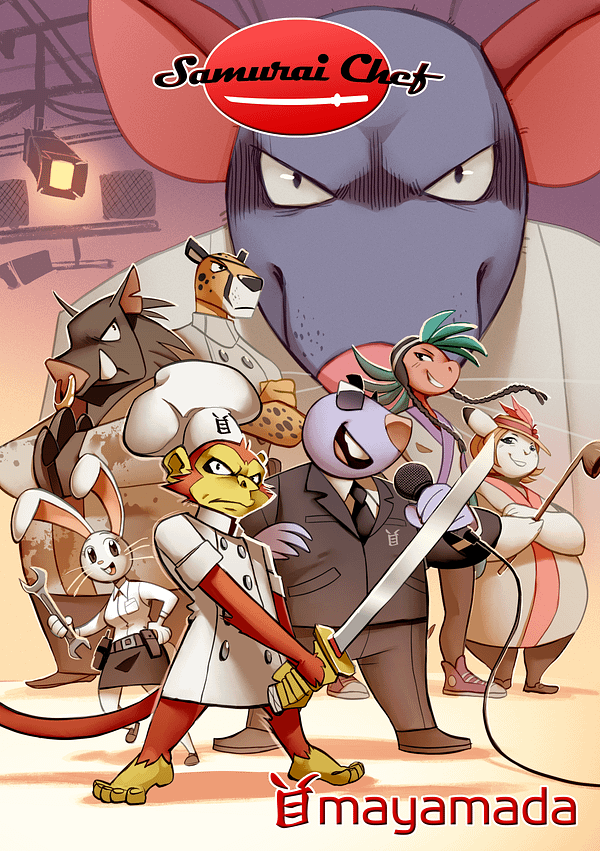 Nigel writes,
Who doesn't love a good comeback story? John Travolta in Pulp Fiction, Robert Downey Jr in Iron Man. Coming good after a big set back makes for a great tale and if you've seen your Kickstarter fail no doubt you're wondering how you can craft your own. Hopefully our experiences can help.
Samurai Chef is an original manga book written by myself, Nigel, co-founder of mayamada, a story-based brand inspired by anime and manga.
Everything we do exists in the world we've created; a fantasy television network with an all-animal cast of characters.
Our book tells the story of a cooking show where the Samurai Chef judges contestants' dishes by attacking each with his samurai sword…and then things start to get a little wacky.
We've certainly been through the roller coaster ride that comes with Kickstarter failures and successes. Our initial effort to fund the production of the concluding volume of Samurai Chef fell short of its goal at 81%.
It was a shame but rather than let that be it we learned from the first effort, made some changes and launched a second comeback campaign that is nearly 300% funded and a staff pick no less.
If you are in a position of seeing your Kickstarter fall short, here are a few considerations before deciding to give it a second go.
Do you need to change the funding goal?
If a Kickstarter fails to reach its funding goal it can be because you asked for too much money. But if you did your pre-launch calculations correctly that shouldn't be the case.
In truth there are a number of reasons for a kickstarter failing to reach its goal and it may not be as simple as the goal was too high.
Between the fees, rewards, postage and the end product itself, your final funding goal can jump higher than expected. However, if you are in a position to reduce the scale while still keeping the essential of your project then a lower funding goal is something to consider.
While this won't automatically increase your project's chance of success, it can help especially if you still have eager backers from your first campaign as we did.
We made the decision to lower our funding goal because we could absorb some of the cost.
It wasn't an easy decision, we have to sacrifice other projects we had planned but the comic was our priority so we continued production and launched a second Kickstarter to cover printing costs for the new book.
How was your pitch?
There are several ways to produce an effective pitch video. Above all you want to get the essential information across well and from our experience videos do this in either an informative or entertaining way.
If you go the entertaining route and a produce a video full of jokes, make sure that people outside of your fan base will get them. If you are a new creator, this will unfortunately be the majority of people so bear that in mind!
If a potential backer lands on your project page and sees a video that only people already familiar with your work will understand, you run the risk of confusing them. And a confused visitor is less likely to become a project backer.
After trying to make a funny video in our first Kickstarter, we went for a personal and informative approach that people completely new to Samurai Chef and mayamada would understand.
Can you simplify your rewards?
The Kickstarter blog has some great stats on reward pricing that you should get familiar with before launching your project. In general you want to have a good spread of reward tiers and prices.
Higher end rewards provide that much needed difference to the bottom line of any project, and rewards at the lower end will make your project more accessible to backers who can help spread the word for you.
But how many rewards do you need for your project?
We managed to squeeze 13 rewards into our first Kickstarter, in our second attempt we scale that down to seven.
Fewer rewards do reduce a potential backer's choice, but that is not necessarily a bad thing as it becomes easier to pick one.
As a result of the changes we made our campaign was funded in 3 days, became a staff pick in the first week and is on course to hit a higher total than we even asked for in our original goal! Go figure.
The Kickstarter ends on Monday 27th October, and just for Bleeding Cool backers, if you mentioned Bleeding Cool when making a pledge we'll add a Samurai Chef iPhone cover (4/4S or 5) and also send you a 20% off code to use at mayamada.com.
You can also reach us on Facebook (/mayamada), Twitter (@mayamada) or good old fashion email (contact@mayamada.com).
Enjoyed this article? Share it!