Cosmic Ghost Rider Destroys Marvel History… But Also Preserves Some Of It, Sadly (SPOILERS)
Tomorrow sees the release of Cosmic Ghost Rider Destroys Marvel History #1 which sees the future powered-up Frank Castle, went back to the past to relive the history of the Marvel Universe and intervene whenever he feels the need- or just fancies messing round. And in the first issue, that's mostly messing around with the Fantastic Four, pretending to be the fifth member on their crashed spacecraft, and jumping around a number of the more monumental moments of their life. Including the time when they met God. And he was Jack Kirby.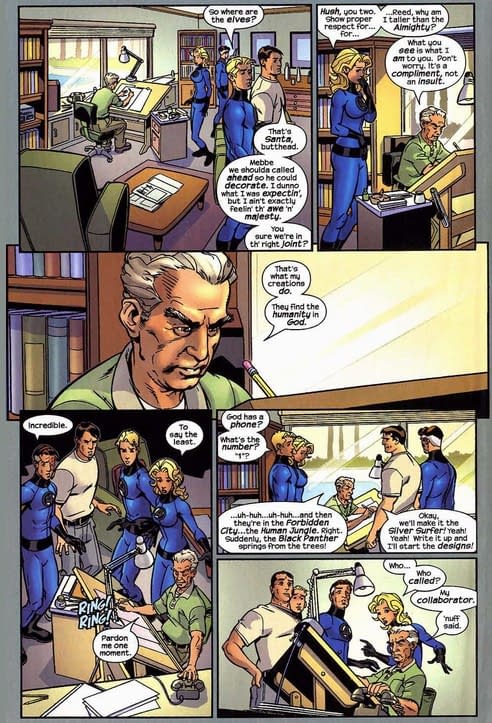 Courtesy of Mark Waid and the late Mike Wieringo there. And now rewritten with the Cosmic Ghost Rider.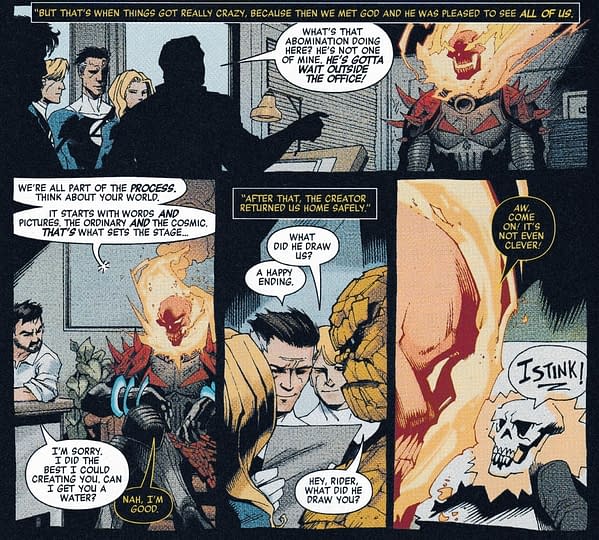 Donny Cates in Kirby's hallway? Shame his hair isn't pink anymore… of course while they re rewriting history, they make some odd choices what to keep. Such as how they get to meet Kirby this time..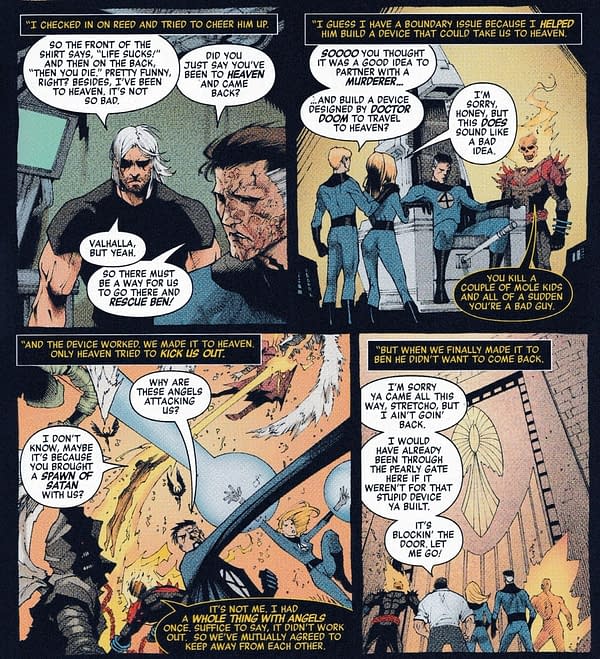 That's right, they've kept that The Punisher was turned into an angel by Tom Sniegoski, Christopher Golden and Bernie Wrightson, before Garth Ennis and Steve Dillon came along to make it all better. But Of all the things this comic decided to keep… man…
Published tomorrow. It is very silly and a lot of fun for sad sacks like myself.
COSMIC GHOST RIDER DESTROYS MARVEL HISTORY #1 (OF 6)
(W) Paul Scheer, Nick Giovannetti (A) Gerardo Sandoval (CA) Gerardo Zaffino
The Cosmic Ghost Rider is stuck in the past, so he might as well have some fun with the origins of the Marvel Universe, right?! After going back in time and trying to kill Thanos as a baby, Frank Castle has sworn off trying to alter history. But when he arrives in Earth's past at the birth of the Fantastic Four, how can he resist jumping in on the fun?!
Parental Advisory In Shops: Mar 06, 2019
SRP: $3.99