 When I think about the Best Graphic Album-New category, I equate it to the Academy Award for Best Picture. All the nominees have been praised for the past year for being the best that comics has to offer, and being nominated for several awards from multiple organizations simply validates the power they hold over the industry. One or many of the nominees can be found on the majority of comic readers' bookshelves, becoming the next generation of required reading for decades to come. While only one will be taking home the award, it matters not: the fans are the winners in the end, and the celebration of the best graphic novels of the year will continue to be read and loved by readers worldwide. I must say in advance that this category was possibly the most difficult one I've had to decide on so far, for as a whole the nominees in this category are astounding.
Keep in mind I cannot vote for who wins (nor can you, probably), as per the rules. Plus voting closes tonight at midnight. However, that's not keeping me from being vocal regardless!
Who is eligible to vote?
Comic book/graphic novel/webcomic creators (writers, artists, cartoonists, pencillers, inkers, letterers, colorists
All nominees in any category
Comic book/graphic novel publishers and editors
Comics historians and educators
Graphic novel librarians
Owners and managers of comic book specialty retail stores
Who is not eligible to vote?
Comics press or reviewers (unless they are nominees)
Non-creative publisher staff members (PR, marketing, assistants, etc.)
Fans
Before I get back to placing Twix ads in DC graphic novels so I can be eligible for next year, let the games begin!
Best Graphic Album-New
The Gigantic Beard That Was Evil, by Stephen Collins (Picador)
Dave lives a relatively mundane life on the island of Here, until one day his one lone facial hair grows out of control into a full-length beard. Beards are highly irregular on Here, especially indestructible ones. While Dave learns to live with the beard, society hates it because it reminds them of the unknown, like the outside country of There, and wants Dave and the Beard gone. Beautifully illustrated by Collins, this book encourages breaking free from the ordinary and being unique.
Here, by Richard McGuire (Pantheon)
Review copy unavailable.
Kill My Mother, by Jules Feiffer (Liveright)
Dames, floozies, alcoholic private eyes, leggy-blondes, boxing has-beens, and Hollywood actors make up the offbeat cast, with Feiffer obviously feeling at ease dipping into the pulp novels of decades past that have influenced the graphic novel greatly. Feiffer completely encapsulates all the things that made crime-noir stories successful and popular, while at the same time adding his own twist to the genre.
The Motherless Oven, by Rob Davis (SelfMadeHero)
Scraper Lee knows his deathday is in three weeks, so all he can do is sit and wait for the inevitable. Until a girl named Vera Pike enters his life, and tells him everything he's come to learn about the world is false. Together with their friend Cas, they decide to go against the grain and escape their city, while trying to find Scraper's runaway dad in the process. By the way, the parents of this world were created by their children, it rains knives, and there are gods for every need. It's a bizarre, fascinating world brought to life by Davis, complete with wonderful art.
Seconds, by Bryan Lee O'Malley (Ballantine Books)
Katie is a talented chef who plans on opening another restaurant, but feels like she's stuck in purgatory at her current one as she waits for the contractor to budge. After accidentally stumbling upon a mushroom and a notepad in an old dresser, she discovers she has the ability to revise a mistake and alter the universe by simply eating the mushroom and writing the mistake down. Things become more complicated when she finds more mushrooms, and the revisions start taking their toll. O'Malley's storytelling remains topnotch, combining humor and fantasy in a great way.
This One Summer, by Mariko Tamaki & Jillian Tamaki (First Second)
Every summer, Rose and Windy's families rendezvous at Awago Beach. Their days are spent swimming, basking in the sun, and exploring. Rose's parents are fighting this summer, which leads Rose to look for a distraction from the drama. The only place to get groceries in town is the local trade store run by a couple of older teens, who have enough drama that it's like watching a soap opera. Intrigued, Rose and Windy can't help trying to get more gossip. It's a summer of growing up and self-discovery, and Mariko and Jillian Tamaki are masterful storytellers.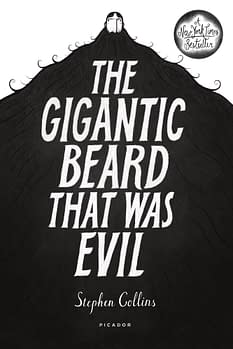 Who I think should win:
The Gigantic Beard That Was Evil, by Stephen Collins (Picador)
If the title wasn't intriguing enough, Collins' illustrations of a man suffering from a monstrosity of a beard is absolutely spectacular throughout. Hipsters would be totes jelly of this beard, for it's the God of all Beards. The story of society fearing something that is different is a classic one, and seeing how Dave's acceptance of the beard slowly forces society to evolve into more independent individuals is gratifying to witness. I also really enjoyed the mileage the Bangles' "Eternal Flame" got, working perfectly every time it was used. All in all it's a very beautifully sad book.
We've all been Dave at one point, and Collins is able to not only make us care for such a tragic figure, but also encourage us all to grow more facial hair and listen to more Bangles.
Who I think will win:
Seconds, by Bryan Lee O'Malley (Ballantine Books)
After the monumental success of Scott Pilgrim, O'Malley had a lot of pressure to have his next project be equally loved. Sure enough, Seconds lived up to expectations and captured everything great about O'Malley's storytelling: unique story, beautiful art, and just the right amount of humor. Watching Katie make mistakes and go deeper down the rabbit hole with the revisions is entertaining, but at the same time harrowing knowing that the results will eventually come back to bite her. And yet, she's spunky, lovable, and definitely stubborn.
Seconds has had glowing reviews across the board, and both fans and professionals really love it. The reign of O'Malley continues to dominate the comics world, and everybody wins because of it.
Who I think should have been nominated:
The Wrenchies, by Farel Dalrymple (First Second)
It took five years for Dalrymple to complete this dystopian masterpiece, and his heart and soul can definitely be both seen and felt on every page. With a beautifully gritty style and incredibly imaginative story throughout, there's no other graphic novel like it. The world is rich in both details and history, making sense of the characters and situations in its own unique way.
The journey and destination are quite incredible, for Dalrymple's art stylings are incredible in their own rights. A teen reader will pick this graphic novel up and relate to the characters and situations, without explanation of how. They'll just know deep down that they do.
Who do you think should win / been nominated?
Cameron Hatheway is a reviewer and the host of Cammy's Comic Corner, an audio podcast. You can share pictures of your awesome beard with him on Twitter @CamComicCorner.
Enjoyed this article? Share it!