Sold out and going to second printing is Coyotes #1 by Sean Lewis and Caitlin Yarsky from Image Comics. It will be out on December 13th along with Coyotes #2.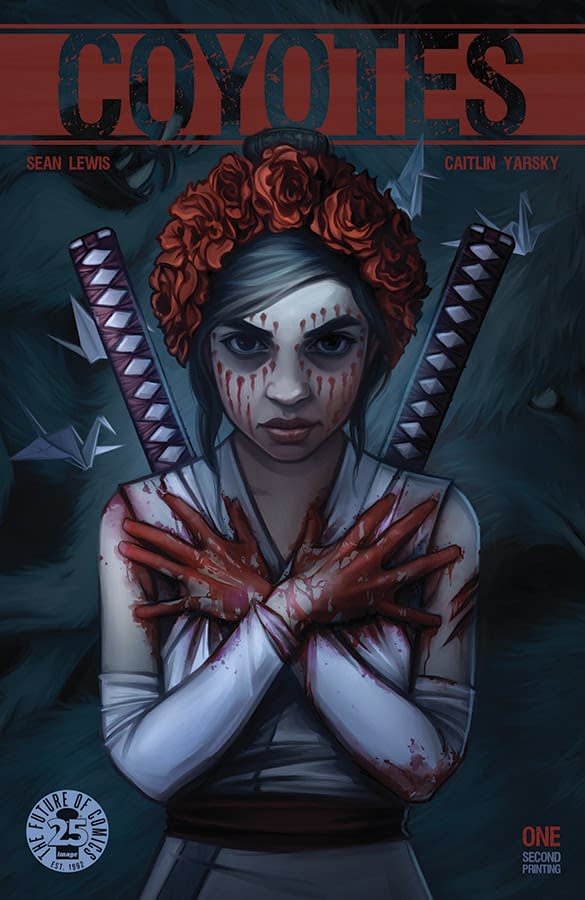 COYOTES #1
(W) Sean Lewis (A/CA) Caitlin Yarsky
Underworld meets Sicario in this new miniseries from SEAN LEWIS (SAINTS, THE FEW) and amazing new artist CAITLIN YARSKY. Hunted by a legion of wolves that roam the border, women are disappearing. The survivors band together to wage war. Detective Frank Coffey is trying to understand this mythic-level bloodbath when he comes across Red, a little girl with a secret and a sword. Ultra-violent and smart as hell, COYOTES transforms the everyday into a myth we can rally behind.In Shops: Nov 08, 2017 SRP: $3.99
And coming from Marvel Comics, available on the 27th of December, their latest Marvel Legacy titles that have danced a similar dance.
DOCTOR STRANGE #381 2ND PTG DEODATO VAR LEG
(W) Donny Cates (A) Gabriel Hernandez Walta (CA) Mike Deodato
LOKI: SORCERER SUPREME Part 1
Evil is everywhere and the world needs the Sorcerer Supreme more than ever. But is the world ready for LOKI: SORCERER SUPREME? He has the cloak, the spells – he's even got Zelma Stanton as his assistant (and possibly more?) – but is this the chance he needed to become a hero, or is the god of lies dangerously close to unlimited power? And what happened to STEPHEN STRANGE? PLUS: Includes 3 bonus MARVEL PRIMER PAGES!
Rated T+ SRP: $3.99

GUARDIANS OF GALAXY #147 2ND PTG KUDER VAR LEG
(W) Gerry Duggan (A) Marcus To (CA) Aaron Kuder
THE INFINITY QUEST Part 2
THE GUARDIANS' HUNT FOR THE INFINITY STONES BEGINS! Their first stop? Joining up with the Nova Corps, of course! Join the Guardians as they all take up golden helmets in the quest to keep the universe safe! Nuff said!
Rated T+ SRP: $3.99

PUNISHER #218 2ND PTG BRADSTREET VAR LEG
(W) Matthew Rosenberg (A) Guiu Vilanova (CA) Tim Bradstreet
FRANK CASTLE: WAR MACHINE Part 1
For years, Frank Castle has been fighting a one-man war against criminals who endanger the innocent, but when a certain one-eyed operative offers him the tools to take his fight global…how could he say no? Find out how Frank found his way into the WAR MACHINE Armor! PLUS: Includes 3 bonus MARVEL PRIMER PAGES!
Parental Advisory SRP: $3.99

PETER PARKER SPECTACULAR SPIDER-MAN #297 2ND PTG SIQUEIRA VA
(W) Chip Zdarsky (A/CA) Adam Kubert
MOST WANTED Part 1
Peter Parker is back in the friendly neighborhood, but he's persona non grata as far as the NYPD is concerned! It's the ol' switcheroo as we here at the House of Ideas ask that classic question – PETER PARKER: THREAT OR MENACE?!
PLUS: Includes 3 bonus MARVEL PRIMER PAGES!
Rated T SRP: $3.99

MIGHTY THOR #701 2ND PTG DAUTERMAN LEG
(W) Jason Aaron (A) James Harren (CA) Russell Dauterman
DEATH OF THE MIGHTY THOR Part 2
• The Mangog comes to Asgard!
• But is one Thor enough to take down the Ultimate Judgment?
• Guest artist James Harren brings his talents to the Mighty Thor!
• It all leads to the most dramatic return in the Marvel Universe!
Rated T+ SRP: $3.99

INCREDIBLE HULK #710 2ND PTG LAND VAR LEG
(W) Greg Pak (A/CA) Greg LandRETURN TO PLANET HULK Part 2
• Stranded on Sakaar, Amadeus Cho must embrace the savage Hulk within himself if he's to survive the barbaric planet…
• But who sent the mysterious call for help that brought him to this deadly planet?
• Can Cho conquer a series of impossible trials known as THE GAUNTLET, or will it conquer him?
Rated T SRP: $3.99
Enjoyed this article? Share it!