How a Crisis Led to the Creation of The Scientists, and the Evolution of an Art Style
Geoff Weber writes,
It was all up to me. I had a comic that had to be finished that same night, but it was four pages short!
My friends and I had started off so well! We had previously come together and successfully published the first issue of our supernatural anthology comic, but when we attempted to do the follow-up book, all of that momentum started to fall apart! We didn't get all of the stories turned in on time, and now I was left holding the bag.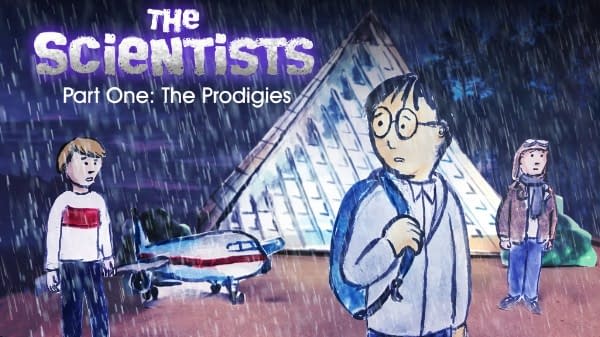 My first impulse was to grab a sharpie and just start filling the pages with stick figures. But then I had a flash of inspiration. Instead, I grabbed a paintbrush and some black acrylic paint and started madly working on a new story.
I could go just as fast as with a sharpie, but now, instead of looking like a bunch of slap-dashed doodles, I could claim it was an artistic and stylistic choice. When I stepped back and took stock of what I had created, I was pleasantly surprised. I had cranked out four pages in a single sitting and the results, although rough around the edges, had an interesting and unique aesthetic to them.
I was excited to now have this "fast-painting" style as a new tool at my disposal and began to imagine how it might be applied to tell a longer story. My writing partner and I had recently completed a screenplay, The Scientists, that I thought could be perfect for just this sort of treatment. If I just did four pages every night, I could have a whole graphic novel finished in a couple months! Little did I know that 11 years later, I would still be working on it.
I discovered that the frenzied creation moment that I had experienced the first time, was not sustainable over a long project. As time went on, I slowed down, became more precise, and ultimately abandoned the "fast-paint style" altogether.
Here's an early page (p.24) from 2007 when I was still "fast-painting":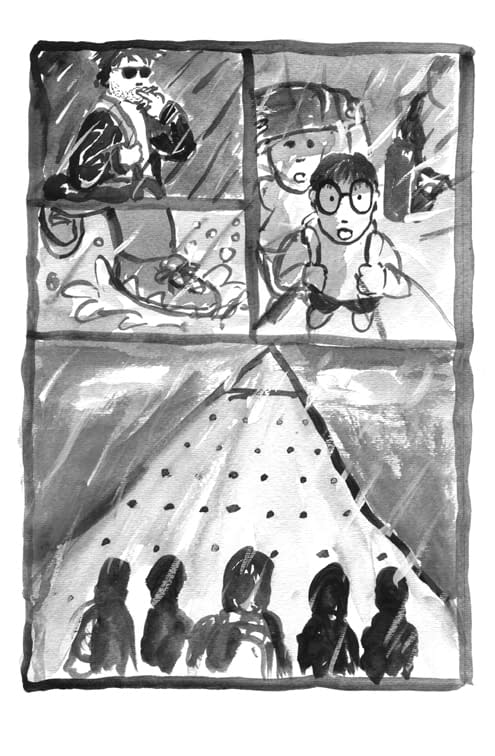 Here is a more recent page (112) after I switched to a more detailed to style with pencil and ink, using acrylic washes for the grey tones: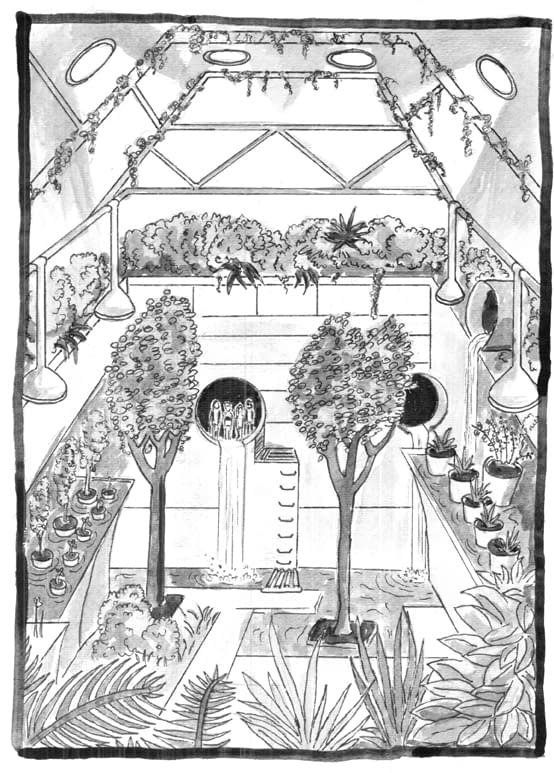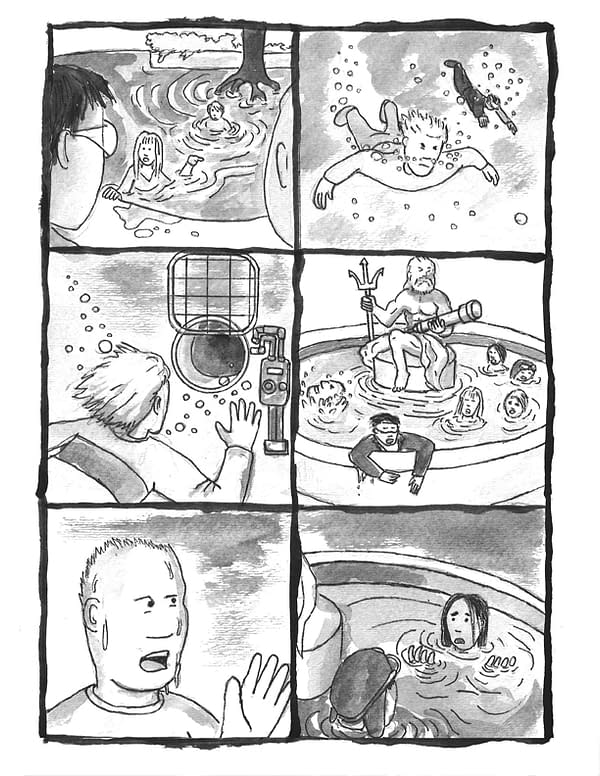 The change in style was only a small factor behind this project's long development cycle. Greater factors include having four children, going to grad school, and changing careers. These life events forced me to put the comic work on hold for periods of time, but I always felt an irresistible draw to keep coming back to it. The thing that impacted me the most was the death of my co-creator in 2007. It was a truly devastating loss, but I found that working on the comic helped me to maintain a feeling of connection and I promised myself I would finish it as a way to honor him.
This comic is like a time capsule, capturing my art at various moments in time. It's interesting to look back and see how my art has evolved over the years. After working on something over a long time you start to forget what it looks like to see it through fresh eyes. That is why I am so excited to finally be able to start sharing it with audiences through Kickstarter! The campaign is going to be running from March 9 to April 10. You can check it out here.
And you can read the first 32 pages for free at www.scientistscomic.com/preview
If you leave on comment on the Kickstarter page saying "Bleeding Cool sent me!", I'll send you a free sci-fi bonus comic called "Gone"!
---
---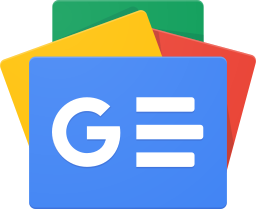 Stay up-to-date and support the site by following Bleeding Cool on Google News today!