Today's Darth Vader #1 Comic Rewrites George Lucas' Star Wars Canon (MASSIVE SPOILERS)
I am told by retailers that previews they had of the final page of today's Darth Vader #1 by Greg Pak and Rafaele Ienco was classified. But that from the context they worked it out anyway. Odds are, despite all this, that Darth Vader #1 will sell out quickly in stores today, go up in value on eBay, and that Marvel Comics will announce a second printing very very quickly.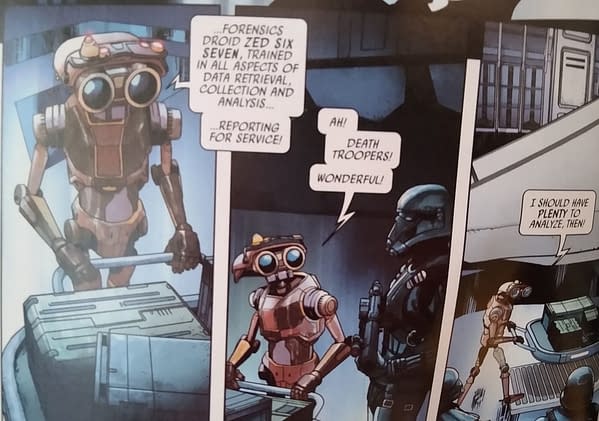 In today's Darth Vader #1, Vader finds a new droid to hang out with, Zed Six Seven, visits a number of locations around the galaxy including the Tatooine home of Luke Skywalker…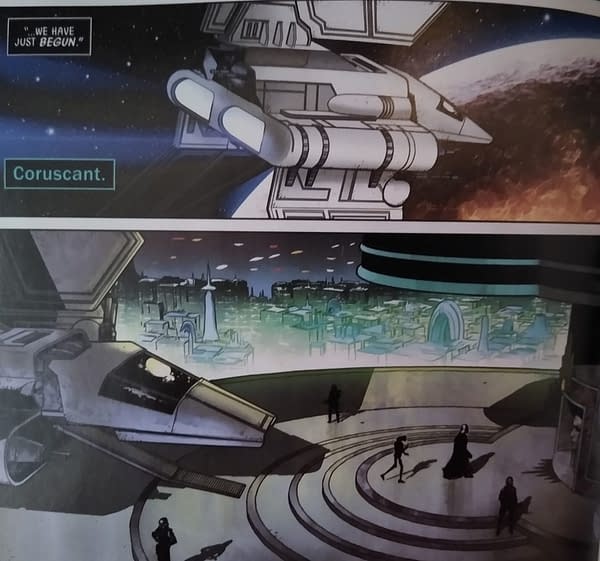 …and returns to the royal planet of Coruscant.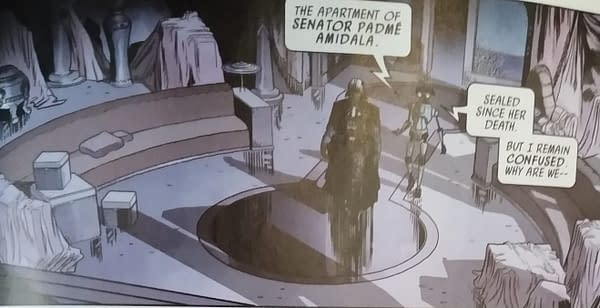 But he also finds a lot more, such as the birthing room of his mother.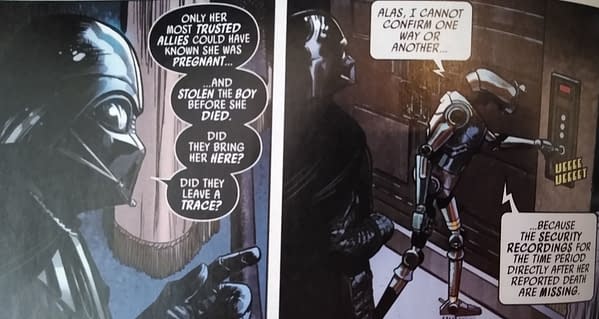 Padmé Amidala portrayed by Natalie Portman was first mentioned briefly in Return of the Jedi, and is introduced in The Phantom Menace as the teenaged Queen of Naboo. After her reign, she becomes a senator and an anti-war spokesperson in the Galactic Senate. She secretly marries Jedi Knight Anakin Skywalker and later gives birth to Luke Skywalker and Leia Organa. Anakin's fear of losing her later plays a part in driving him to the Dark Side of the Force and becoming Darth Vader. Padmé dies after giving birth, but in the her funeral the appearance of pregnancy is disguised, to hide that her children survived.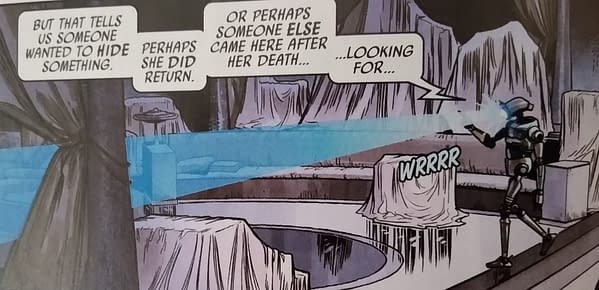 But it appears that not all was what it appears even then.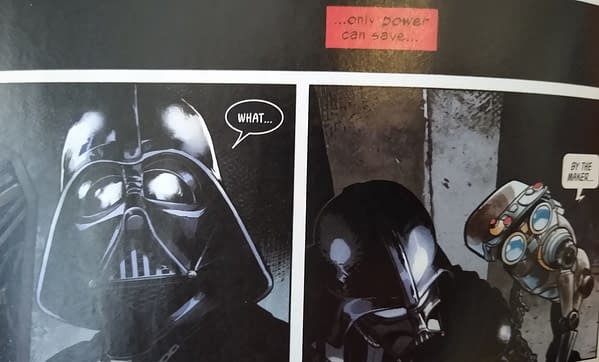 And, contrary to George Lucas' screenplay in Revenge Of The Sith, it appears that Padme…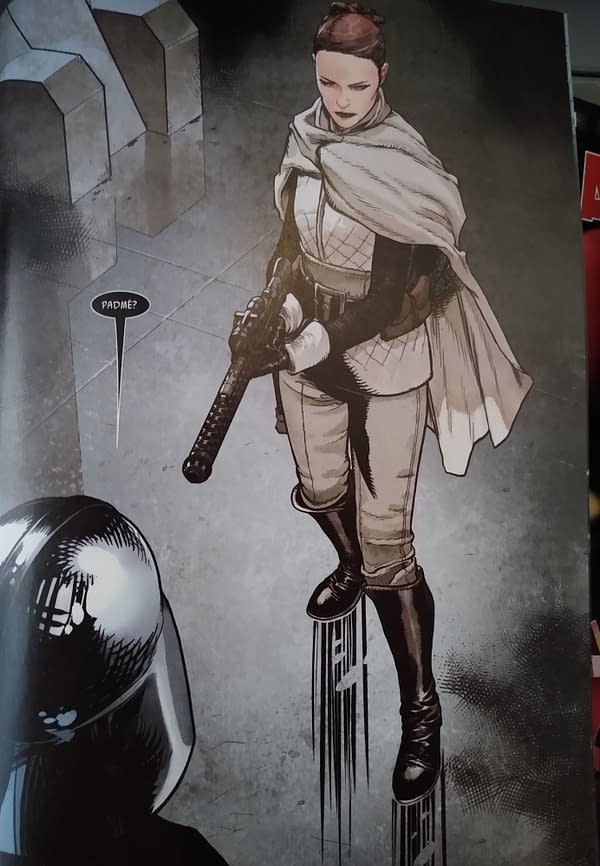 …survived. How, and why she appears as she does in Darth Vader #1 is not elaborated upon. That will be a job for issue two, out on March 11th. But it explains some of the upcoming Darth Vader solicitations a little more. Especially the covers to issues two and threes. Shouldn't really have been a surprise to anyone, if taken literally. Remember, the Marvel Star Wars comics are now as canon as the movies or the TV shows… so this is now the way things are. Here are the solicitations for the first three issues.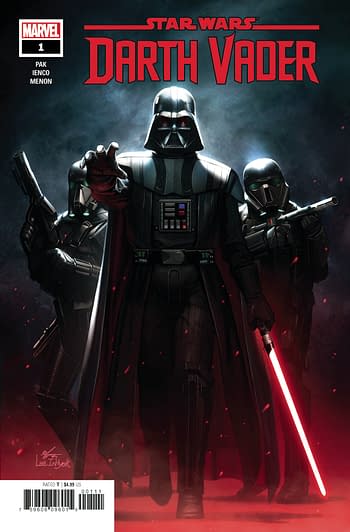 STAR WARS DARTH VADER #1
(W) Greg Pak (A) Raffaele Ienco (CA) In-Hyuk Lee
"JOIN ME, AND TOGETHER, WE CAN RULE THE GALAXY AS FATHER AND SON!"
THE TRAGEDY OF DARTH VADER CONTINUES!
In the shattering climax of The Empire Strikes Back, Darth Vader infamously reveals his true relationship to Luke Skywalker and invites his son to rule the galaxy at his side. But Luke refuses — plunging into the abyss beneath Cloud City rather than turn to the Dark Side. We all remember Luke's utter horror in this life-altering moment. But what about Vader? In this new epic chapter in the Darth Vader saga, the dark lord grapples with Luke's unthinkable refusal and embarks on a bloody mission of rage-filled revenge against everything and everyone who had a hand in hiding and corrupting his only son. But even as he uncovers the secrets of Luke's origins, Vader must face shocking new challenges from his own dark past.
Writer Greg Pak and artist Raffaele Ienco unleash Darth Vader on his dark quest of vengeance and discovery this February! With covers by InHyuk Lee! Rated T In Shops: Feb 05, 2020 SRP: $4.99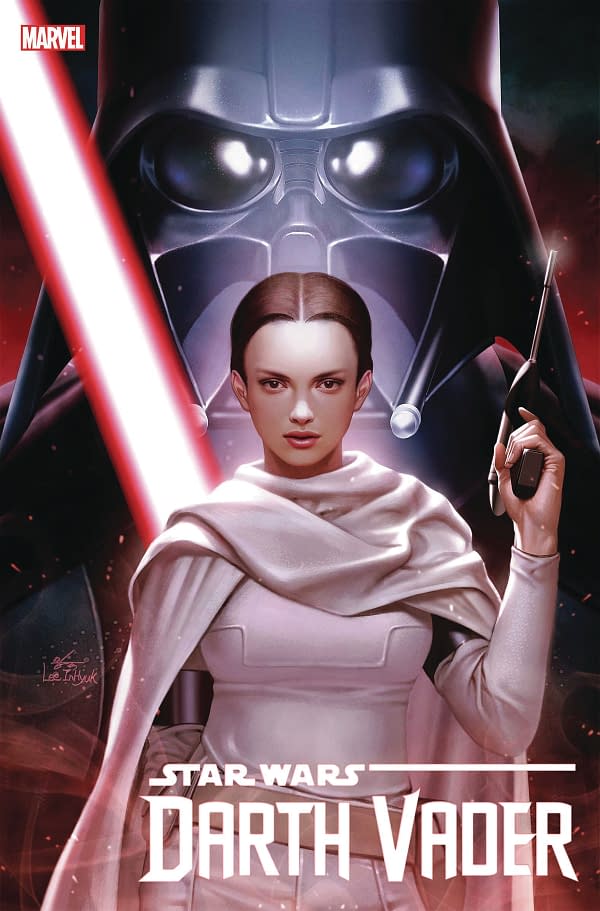 STAR WARS DARTH VADER #2
(W) Greg Pak (A) Raffaele Ienco (CA) In-Hyuk Lee
THE FACE OF THE QUEEN!
• In the wake of the shocking revelations of The Empire Strikes Back, DARTH VADER continues his quest for revenge against everyone who hid his son Luke from him.
• But when his search takes him deep into his past, he uncovers a hauntingly familiar face that will challenge everything he knows.
Rated T In Shops: Mar 11, 2020 SRP: $3.99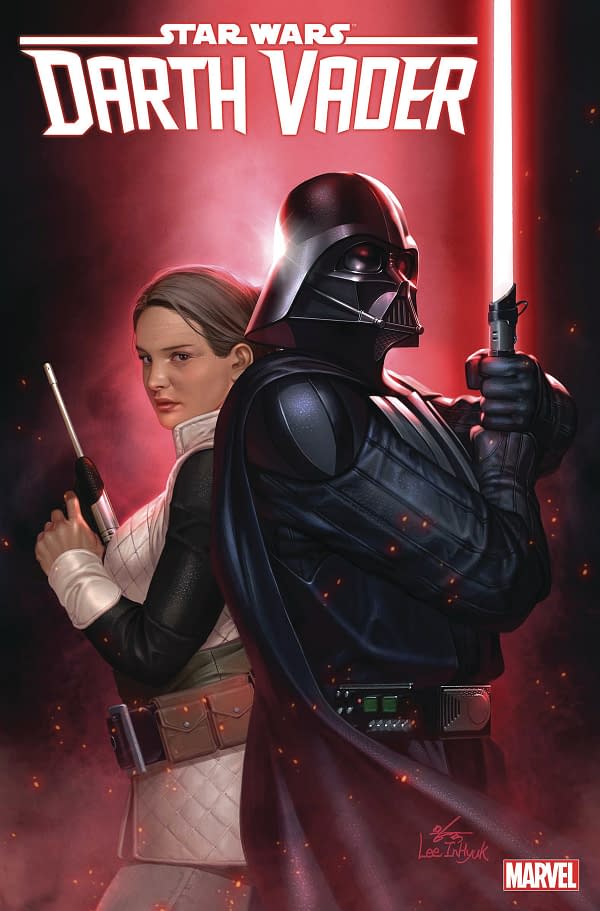 STAR WARS DARTH VADER #3
(W) Greg Pak (A) Raffaele Ienco (CA) In-Hyuk Lee
GHOSTS OF VADER'S PAST!
• In his quest to destroy everyone who hid the existence of his son, Luke Skywalker, from him, Darth Vader has formed an unlikely partnership with an eerie shadow from his previous life.
• Now they return to Naboo where a powerful new host of vengeful ghosts awaits them.
• Delve deeper into Vader's past than you thought possible with this shocking tale of tragedy and revenge!
Rated T In Shops: Apr 15, 2020 SRP: $3.99
---
---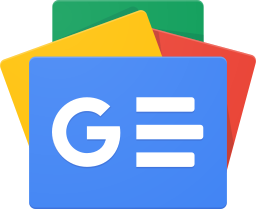 Stay up-to-date and support the site by following Bleeding Cool on Google News today!