Is anyone getting board of this? Seems not. Another Cerebus In Hell oneshot, taking the etchings of Gustave Dore and slapping cut-and-past Cerebus images over the top, and creating a comic book – in this case a parody of Jack Kirby's Silver Surfer.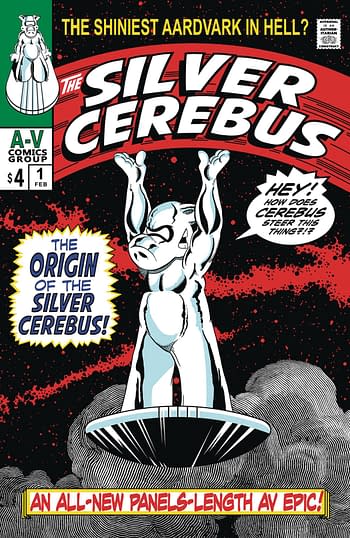 SILVER CEREBUS ONE SHOT
DEC191285
(W) Dave Sim (A) Dave Sim, Gustave Dore (CA) David Birdsong (A/CA) Benjamin Hobbs
"The Secret Origin of The Silver Cerebus!" Meet Lone S. Kum, CEO of Telsa Motors and #1 Elon Musk fanboy (who can't wait to crush Musk "like the outmoded neo-Luddite insect he has become" and dominate the Interplanetary Submersible Balance-Board Buoyancy Space!) and who uses his "special" touch to get himself elected Supreme Commander of the Electrical Grid Fairies! Inventor of FACEBOT 365! Sponsored by Online Revisionist Mongoloid Contrarians For A Better Past! He sells his electric vehicles exclusively through Sony Playstation 4 Gift Cards! Watch as this Industrial Genius pries the secret of the ALTERNATIVE! ANIMAL! REAL! GRID! out of the Electrical Grid Fairies! We shall not see the like of Lone S. Kum, The Silver Cerebus, again in our lifetimes!
In Shops: Feb 26, 2020
Final Orders Due: Jan 03, 2020
SRP: $4.00
And here's a trailer for the upcoming House Of Cerebus one-shot:
Enjoyed this article? Share it!