Dave Sim Tells You How to Keep Your Vagina "Kissing Fresh" in Cerebus "Color Your Own" One-Shot
The Aardvark-Vanaheim solicitations for the Cerebus In Hell one-shots that see Dave Sim mash up his own work, that of 19th century artist Gustave Dore, and artist/designer Joe Gravel only come through a fraction of what they are originally written as. So when you read the listing to the Color Your Own one-shot, remember this is the cut-down version.
COLOR YOUR OWN ONE SHOT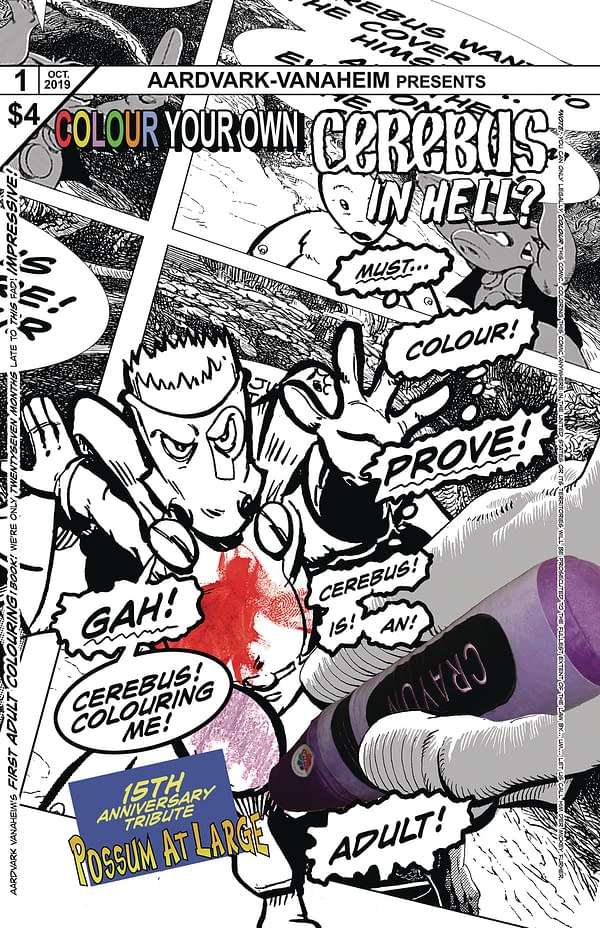 AUG191433
(W) Dave Sim (A) Dave Sim, Gustave Dore (CA) Joe Gravel
It's the 15th Anniversary tribute to indy comics legends, Possum At Large and Flyboy and the first Aardvark-Vanaheim Adult Colouring Book! Featuring How To Color! Legal threat from Mark Zuckerburg! How to keep your vagina "kissing fresh"! SuperCerebus' Super-GPS! Infernal Realms Eisner Awards! Cerebus declares himself a Blockchain Crypto-Currency! And writes a new book, The HandM.A.I.D.'s Tale! The Pre-Christian Philosophers' Union Local 658 discusses "High-Resolution Colour Photos of Botched Celebrity Boob Jobs"! The Sacred "Oracle of Omaha"! Pushing The Whore of Babylon's Inner Gwyneth Paltrow button! The concussion grenade in the minotaur's shower stall!
In Shops: Oct 30, 2019
SRP: $4.00
And from happier times…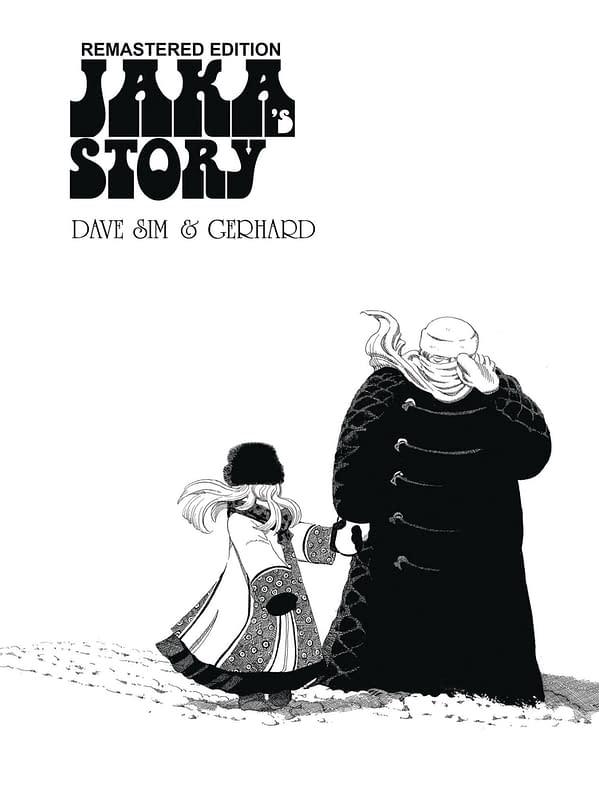 CEREBUS TP VOL 05 JAKAS STORY REMASTERED ED (APR191258)
(W) Dave Sim (A/CA) Dave Sim
Jaka's Story, the fifth volume of the Cerebus series, represents a point of departure for the series, focusing as it does on a small cast of characters, living out their lives in orbital, Thoreau-like "quiet desperation", drawn ever inward, until at last, they inevitably collide. This new edition, painstakingly restored and printed on acid-free paper with a durable sewn binding, reveals astounding detail never before present outside of the original art itself. This volume also includes eight brand-new pages of extras, including a 6,000-word essay by restorer and critic Sean Michael Robinson, discussing the background and "secret origins" of the book, providing historical context for a whole new generation of readers.
In Shops: Sep 11, 2019
SRP: $40.00