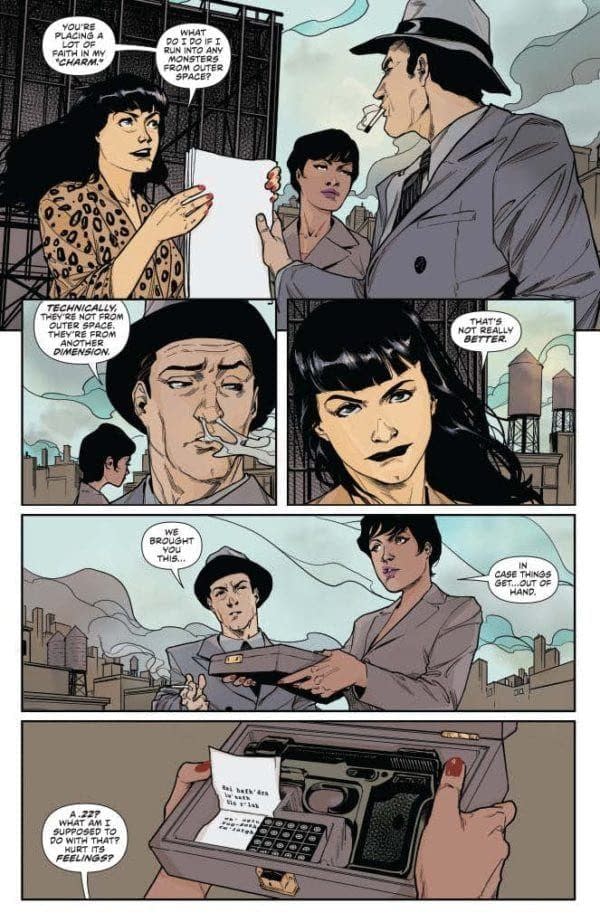 David Avallone's Writer's Commentary on Bettie Page Hallowe'en Special from Dynamite, out now…
We start with the usual warning: here there be spoilers! So go read the thing and then come back for the inside scoop.
Last year, I wrote an eight issue BETTIE PAGE series. It was supposed to be only four, but it sold well so I was asked to expand to eight. I had something ready for nine through twelve, too… but at the time… eight was enough.
A few months back, Dynamite reached out (I think it was Anthony Marques) to ask if I would be interested in bringing Bettie back for a Halloween issue. Of course, I was delighted and said yes immediately. But what to do with Bettie for Halloween?
In the previous series, Bettie had become involved with the 1952 version of the X-Files: the USAF's "Project Blue Book." In my telling, Blue Book's historical mission (mostly debunking sightings) was transformed into something a little more interesting and a little more proactive. By issue six, Bettie was a fully trained secret agent working on strange cases for Uncle Sam.
When I thought about horror, and Halloween, and what would interest a "defense against alien beings" government agency, I found myself thinking about H.P. Lovecraft's inter-dimensional invaders as a good scary set of "bad guys" for this story. Then I remembered the short story "Pickman's Model" and the title of this issue occurred to me and – sue me – I thought it was a pretty good joke. Lovecraft's story is about a painter, Richard Upton Pickman, whose friend discovers that his disgusting paintings are actually based on photographs of REAL monsters. Well… painters need models, and Bettie is a model, so… Pickman's Supermodel.
Last thing about the title. As anyone who's read my stuff knows, I write a lot of stories set in the past, and I do a lot of research. I looked it up… and in 1952 the expression "supermodel" did, in fact, exist and had been used in magazines and newspapers. (I was pleasantly surprised by that, frankly.)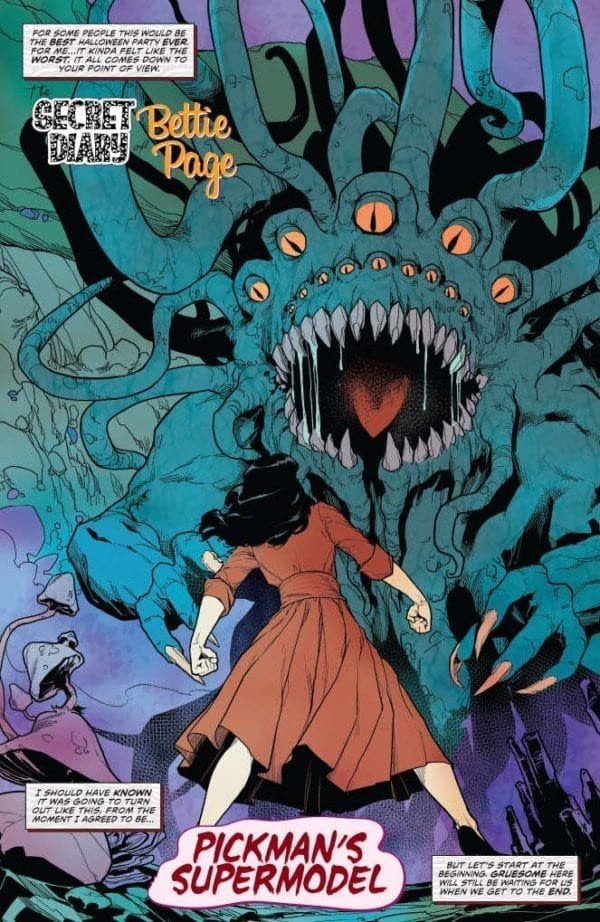 Page One.
Now THAT is a splash page. Bettie facing off against one of the Great Old Ones in some nightmare landscape. Got your attention? Good. Julius Ohta, the new Bettie artist, is amazing. He has a talent for caricature (his Bettie is perfection), for drama, for storytelling, for design, everything. And he's as obsessive with his research and detail as I am. Couldn't be happier working with him, and I think this is the beginning of a beautiful friendship.
Also on page one, you see the return of the "secret diary" conceit, with Bettie's narration rendered beautifully by Taylor Esposito on journal pages.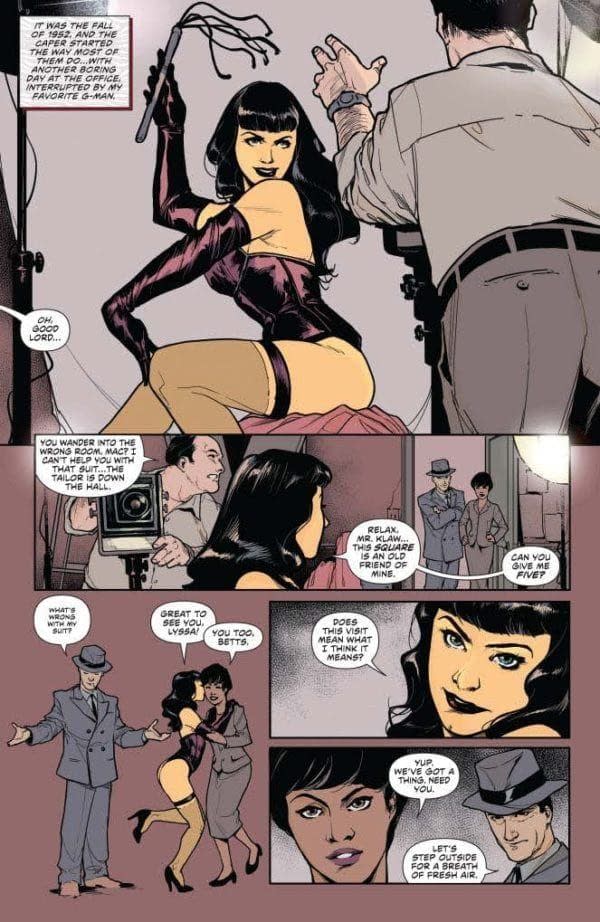 Page Two.
A little PG nod towards the work Bettie was starting at that time. The photographer is Irving Klaw, her long-time employer, and the subject is some light fetish work. At the door are Bettie's colleagues from the first series, Captain McKnight and Lyssa Druke. Both of those characters have some hidden pop culture connections, which may be revealed some day…
Pages Three, Four and Five.
Like most spy movie fans, I love a good briefing scene. I thought the roof would be a nice place for it, and Julius did a beautiful job with the 1952 New York City rooftops. If Pickman looks familiar, he may bear a passing resemblance to a certain incredibly famous horror novelist. His middle name – Kaiser – is also a bit of a clue.
Yes, McKnight is smoking. I don't smoke, hate the smell of it, hate being around it… but I'm not big on whitewashing the past. To set a comic book in 1952 and have not one adult smoking is more unbelievable than Great Old Ones. Speaking of which… the designation "UnSub EDE #17" isn't random gibberish. It stands for Unknown Subject: Extra-Dimensional Entity #17. Maybe Cthulhu is UnSub EDE #1?
The line about the .22 caliber pistol and "hurt feelings": I wrote that line about a decade ago and I've been trying to use it in something ever since. Glad it finally found a home with Bettie. She's a tough cookie who knows her guns, so I could see her being unimpressed with the little Beretta they brought for her.
Pages Six and Seven.
Julius does a great job conveying Bettie's charm and Pickman's creepiness and suspicion here. This also seems like a good place to mention the terrific work of colorist Ellie Wright. This whole issue has a beautiful and understated palette which conveys just the right mood and sense of the period.
Page Eight.
It was Julius' idea that Pickman should be in his pajamas. It was also Julius' idea that Pickman "paints" his weapon into existence.
Pages Nine and Ten.
Bettie hits Pickman where it hurts – his ego — and sets him off. And looks like Lyssa was right… he's kind of a racist (which is a little nod towards the reality of H.P. Lovecraft's dark soul.)
Page Eleven.
What Ellie does here with the invasion of blue, magic flowing into the room like water, is extraordinary and comes from her imagination, not mine.
I apologize in advance to any native R'lyehian speakers for any mistakes I've made in the language. An enterprising soul COULD probably do some research and figure out what all the R'lyehian speech in the comic is… believe it or not, what's on the page is not just random gibberish. That said… I bet you can probably figure it all out from context.
Pages Twelve and Thirteen.
The blue magic opens a portal and off we go. Yog-Sothoth, or Yog-So-What-Now, as Bettie calls him. I'm proud of the bit where she figures out that shooting it is pointless. I like writing about smart people.
Pages Fourteen and Fifteen.
Welcome to wherever… some pocket dimension of the Old Ones. Yog-Sothoth really doesn't like to be bugged and lose sleep. (It's possible this aspect of Yog-Sothoth's character may be based on the author.) More beautiful design work from Julius, enhanced by Ellie's otherworldly colors and Taylor's lettering treatment for Yog-Sothoth.
Page Sixteen.
Pickman gets chomped by the Shuggoth, and Bettie – who's strong but only human – sheds tears for him. I love the mascara trails she wears for the rest of the sequence, even as she displays pretty amazing bravery. When you're a kid, the closest you come to seeing a real live, real-world monster is the dinosaur skeletons in natural history museums. When I wrote this page, I didn't actually know I was going to end the issue that way.
Page Seventeen.
Bettie casts her spell, in R'ylehian, causing Yog-Sothoth to send her home. I love the look of resolve on her face at the top of the page. She's terrified but she knows she's got the secret weapon.
Pages Eighteen and Nineteen.
Bettie grabs the Necronomicon and escapes, while the house Poltergeists itself out of existence. (To be fair to me and Julius here… there are only so many ways you can show a house being sucked into another dimension, and Spielberg/Tobe Hooper got there first.) I love the lingering after-image of Yog-Sothoth made of smoke, and the brave scared little smile on Bettie's face on the bottom of the page. Perfection.
Page Twenty.
The Museum of Natural History. I had considered using the giant whale room (it's not as creepy as a T-Rex, but much bigger)… unfortunately that hadn't been built in 1952. What Bettie has just been through will haunt her… as you'll see in next month's BETTIE PAGE #1!
Pages Twenty-One through Twenty-Eight:
It's not my place to give commentary on Leah Williams and Fernando Ruiz' fun story, but there are a couple of things I wanted to say about it.
When I found out that someone else would be providing a backup story in this issue, I had decidedly mixed feelings. Someone else writing MY Bettie? When I found out that Leah Williams was the one doing it, I relaxed completely… from her other excellent work I knew I could trust that it would be a great piece.
The finished story exceeded my high expectations. Leah and Fernando paid tribute to one of Bettie's greatest costume creations (that telephone outfit is REAL and Bettie made it). Also, and this is no small thing… I'm relatively new to comic books, and haven't created a lot of completely original characters. As such, I haven't had the experience – common for comics' writers — of reading another writer's "take" on a character of mine. That said… I couldn't have loved Leah's writing of Lyssa (and Bettie) more, and seeing her have a life beyond just me made me incredibly happy. Until the next exciting issue…
Enjoyed this article? Share it!