DC 100-Page Giants – Mark Russell and Ryan Benjamin on Batman #4, Gail Simone and Clayton Henry on Flash #4
DC has announced contents for Batman Giant #4 and The Flash Giant #4, both on Final Order Cutoff this week for comic stores, and already rolling out around Walmart and mass-media outlets.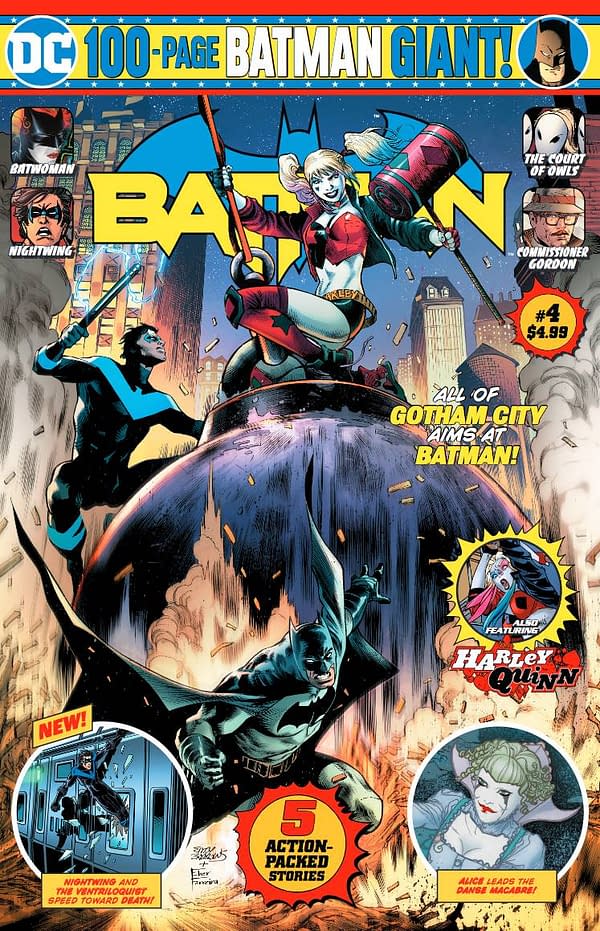 Batman Giant #4's cover by Ed Benes and Eber Ferreira and includes these new stories:
Concrete Jungle, a 16-page Batman story written by Mark Russell with art by Ryan Benjamin and Richard Friend
When Commissioner Gordon suspects there's a mole in his precinct, it's up to Batman to keep a witness safe until he can testify. But this particular witness is a crooked lawyer with ties to every criminal operation in Gotham City, and Batman finds himself under attack from both sides of the law!
Puppets, an 8-page story Nightwing story written by Steve Orlando with art by Tom Lyle
As a child, Dick Grayson saw his world come crashing down when his parents were killed by mobster Tony Zucco. Now Zucco's son has been kidnapped by the Ventriloquist, and Nightwing is his only chance to make it home alive. Dick must make a choice: How far is he willing to go to save the son of the man he hates most?
Plus, these reprint tales:
* "The Court of Owls Part 4: Face the Court," from Batman #4 (2011)
* "Elegy Part 3: Affetuoso," from Detective Comics #856 (2009)
* "Better than Batman Part 4," from Nightwing #4 (2016)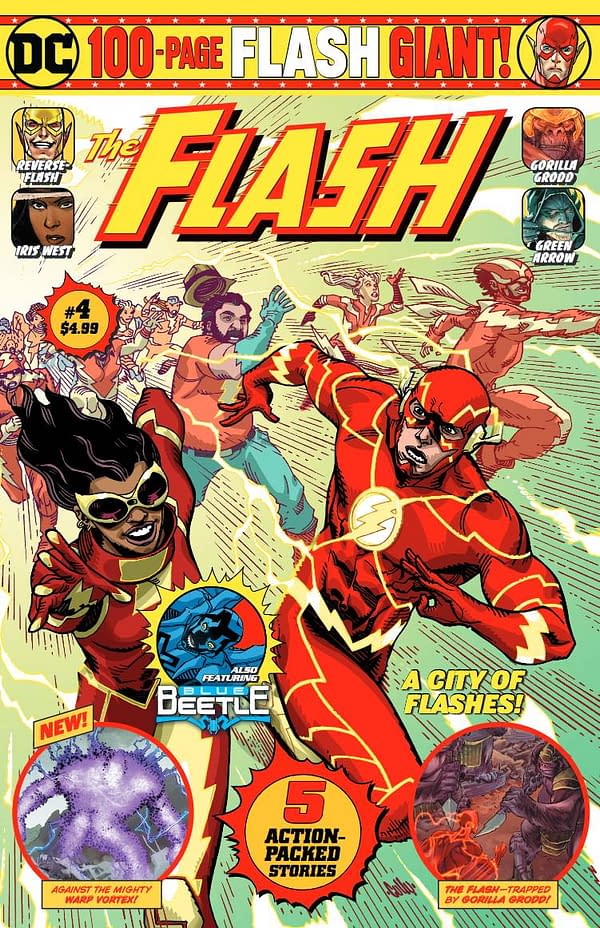 The Flash Giant #4, cover by Cully Hamner
Flash Forward, a 16-page story written by Gail Simone with art by Clayton Henry
The Flash has arrived in the 25th century to face down the villainous Eobard Thawne, the Reverse-Flash! But what Barry discovers isn't a city in ruins, but a utopia filled with people who can use the Speed Force the same way he does. Can the Flash stop the sinister speedster when he's surrounded by people who would die for him?
DC Comics bote that this story is not related to the Flash Forward miniseries, the epilogue story from The Flash #750, or the expanded version of the epilogue story that will appear in Generation Zero: Gods Among Us.
None of the Time in the World," an 8-page story written by Jay Baruchel with art by Sumit Kumar
A radioactive beast runs rampant after an explosion at S.T.A.R. Labs. But is it man or monster, and can the Flash calm the creature before it destroys Central City?
Plus, these reprint tales:
* "Gorilla Warfare Part 4: Love and Sacrifice," from The Flash #16 (2012)
* "The Ninth Circle," from Green Arrow #3 (2016)
* "The Past Is Another Country," from Blue Beetle #4 (2016)
So… worth looking out for?