DC Collectibles: More Toys Than Can Fit In Santa's Sack
Jeremy Konrad writes for Bleeding Cool:
DC Collectibles held their NYCC panel on Friday morning to a half-full room mostly mumbling about how disappointed they were about the lack of a DC booth at the show. Audio problems persisted at the beginning, with the panelists reminding each other not to spoil anything often. The panelists included Jim Fletcher, Director of Creator Services, Kevin Kiniry, Vice President of Creative Services, and John Cunningham, Vice President of Marketing, who also moderated the panel. Artist Nicola Scott was a curious no show.
They started by showing the promo video for Necessary Evil, which I am pretty sure they have shown at every panel this weekend. This led to them showing off their New 52 Villains figures, starting with the reveal of Bizzaro and armored up Lex Luthor. Luthor is still in the prototype stage. This was followed by a Suicide Squad 3-pack that includes Deadshot, Harley Quinn, and Captain Boomerang, which has been shown before.The panel asked if anyone would like to see a King Shark figure, but there was little enthusiasm. From there they showed off figures for the Crime Syndicate, based on their Forever Evil appearance. These figures looked pretty nice, and they will have more articulation then we are used to seeing from DC Collectibles, which is a nice surprise. The big reveal during this part of the panel was the Earth 2 figures. They showed off Wonder Woman, Alan Scott, Jay Garrick, and a nice looking Earth 2 Batman. These are expected in June of 2014. It was also here that they decided to show spoiler pages with silhouettes of unrevealed figures to us and push us to like them on Facebook for the reveals, which was met with boos and calls to show them now. They seemed to take great glee in doing this. Next up was a line based on Greg Capullo's designs for Batman during his current run on the book. Batman and Talon are coming in April, followed by Nightwing and yet another mystery figure in May. The color splotches shown of that mystery figure are green and purple, so if I had to guess it is The Riddler. Look for that to be Facebook revealed in a few days from now actually. On to statues, where they showed off some new Batman:Black and White statues. The first is based on the Arkham Orgins game, followed by an Earth 2 design by Nicola Scott, who was not in attendance to discuss the process, and a design by Gary Frank. Also shown was a gorgeous Harley Quinn designed by Bruce Timm.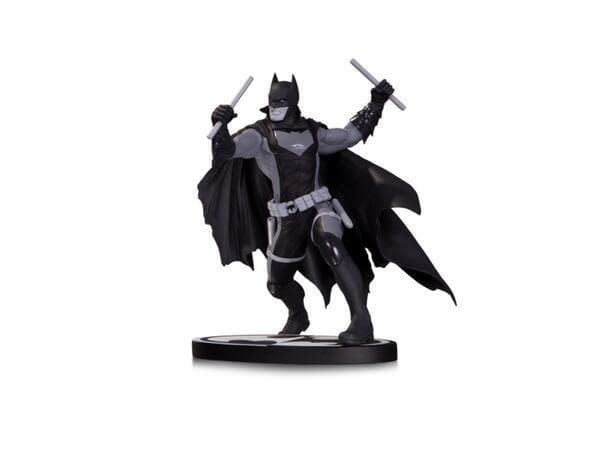 Superman was up next with the Man Of Steel line, featuring designs based on Kenneth Rocafort and Ed Mcguiness. The panel went into discussing how much they enjoyed these pieces and hope to do more if it stays successful. After that they showed off a new line of Wonder Woman statues using designs based on artwork by Jim Lee, George Perez, and Adam Hughes. Each one will come with a different weapon, hence the line being titled "The Art Of War". The last two statue reveals were for a new DC Covergirls statue of Poison Ivy, and an amazing looking statue based on the upcoming Sandman: Overture comic. The Sandman was a sight to behold, even in the prototype stage. Both will be out in June. Next the panel moved on to Arrow, and when they asked the audience who watched and enjoyed the second season premiere Wednesday, there was no response. The panel guessed it was because they were all here, but a couple people around me metioned that the con started Thursday, so make of that what you will.They showed off an Oliver Queen/Deathstroke 2-pack that will be available in April.
They spent a lot of time on their new blind box figures for the new DC Scribblenauts Unmasked game. These are some seriously adorable action figures, including a Black Manta that strangely looks an awful lot like Stewie from Family Guy. Each blind box will cost you $4.99, and I promise you will want them all.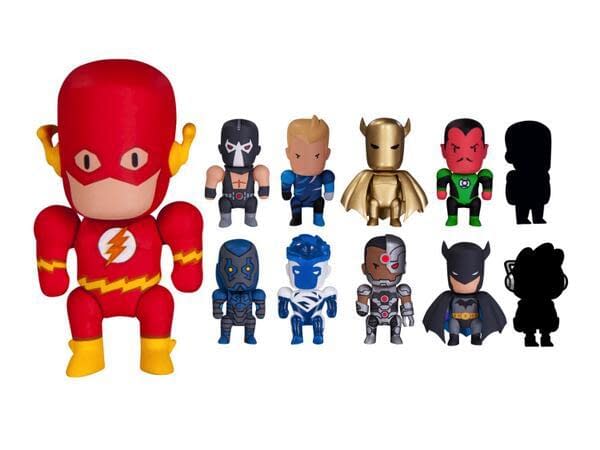 Those were followed by figures based on the new Batman:Arkham Origins video game. When the figures were shown, multiple people remarked that The Joker figure in particular looked "quite sexy", which seemed like an odd thing to say about a toy. They showed off figures for Batman, Black mask, The Joker, Bane, Deathstroke, Deadshot, Anarky, and Firefly. Looks like they are expecting big things and interest from this game. The final reveal was for figures based on next years Justice League: War animated film. Figures were shown for Shazam!, Wonder Woman, Superman, The Flash, and Green Lantern. These figures have a unique animated feel, and will be cheaper than the regular DC Collectibles figures at a price point of $19.99. On to questions:
Plans for anymore deluxe figures? We are interested. A fan asked about Clayface, panel was quite coy, just kept repeating they were interested.
Are there any plans for a re-release of any of the first couple Batman Black and White statues, namely the Risso one? Panel says it is a great idea, and that when they do it, they will switch around the colors on the bases. They also mention they are going back to numbering the statues from now on.
Any plans to work with Sideshow/Hot Toys? We talk to those guys all the time.
Black lantern replica? At some point
How do you choose characters? We read the comments on our Facebook page. Post all of those here. At this point there were a lot of questions regarding certain characters being made and on the panel it seemed like a fog swept over them while answering the questions.
Firestorm? No plans
Hawkman? Maybe in a multi-pack
More Lantern characters? Not saying no.
Increased points of articulation? Points to the new Crime Syndicate figures, says they would like to do more if they can hide it well and keep the integrity of the artist interpretation of the character.