A look at some solicitation changes 'twixt solicitation and publication….
We mentioned Action Comics #47 was solicited with art by Aaron Kuder, but Kuder co-plotted and scripted the book instead and it was actually by Georges Jeanty. But Kuder has been solicited as artist for all recent issues, but #44 was co-drawn with Howard Porter and #45-46 were by Scott Kolins,
Green Lantern #47 was solicited with art by Martin Coccolo but was joined by Billy Tan.
Lobo #13 was solicited with art by Robson Rocha but was joined by Ethan Van Sciver
Midnighter #7 was solicited with art by Aco but was joined by Hugo Petrus
Teen Titans #14 was solicited with art by Will Pfeifer but the comic was actually plotted by Scott Lobdell.
These changes have often been made to deal with late books. Jimmy Palmiotti talked about how such things can happen here. It has been a point of pride at DC Comics that they can get the comics published on time, month after month, and I have been told it can take only a small delay for he decision to be made to give pages from books to other creators, and the artist list for that title to increase twice, three times, fourfold.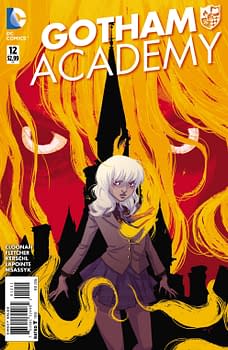 However, even with that principle in full practice across DC's line, a number of books have been slipping from one month to the next.
This week saw the publication of a number of books intended for November.
All Star Section 8 #6, Gotham Academy #12, scheduled for Nov 11th.
Prez #6 and DC Comics Presents: Titans Hunt (reprint) scheduled for Nov 18th.
Cyborg #5, Gotham By Midnight #11, Teen Titans #14, scheduled for Nov 25th.
I have been told, directly, that this is down to new, less experienced staff who have joined DC Comics at Burbank, hitting the scheduling issues that the holiday season brings, with not enough planning taking account of Thanksgiving.
Next year though, they should be all very experienced with the situation indeed….
Enjoyed this article? Share it!