Could this be another shoe dropping? DC Comics has a 'Team Variant' cover for Batman #100 by Lee Bermejo in his Batman: Damned style. This cover features art by Bermejo, depicting a battle between Batman and the Joker. But it won't be available to comic book stores through any of their distributors, Diamond UK, UCS or Lunar. Instead, retailers will order direct from DC Comics, at a minimum of 500 copies per store. And the print run will be limited to 10,000.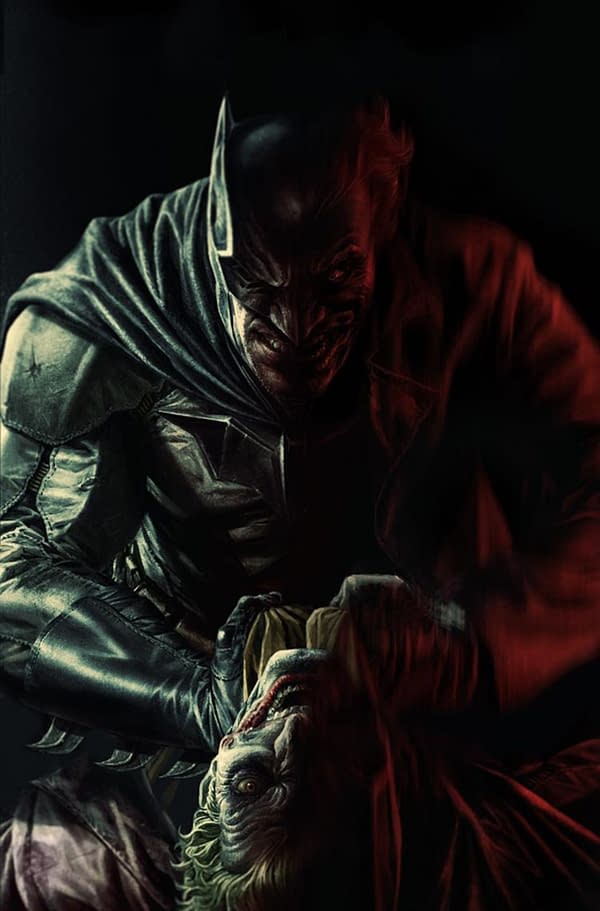 "We've seen increased interest in our retailer exclusive variant covers, and wanted to offer retailers an additional option, but with a lower barrier to entry," said Nancy Spears, VP, Sales. "This new program offers a rare, exciting variant cover for a landmark issue, with more stores able to participate."
Reall? That would mean a maximum of twenty stores. Also, what about international stores? We have seen what not using Diamond impacts on international shipping costs, which is why DC Comics had to temporarily U-turn and bring back Diamond UK for British stores until Christmas.
This card stock cover variant will have a cover price of $7.99. Retailers interested in participating in the Batman #100 Team Variant cover program can place orders with DC starting at noon PST (39m ET, 8pm BST) on Monday, July 20th and orders will be accepted on a first-come, first-serve basis, with a minimum of six participating stores and a maximum of twenty.
For further information and ordering instructions, retailers are encouraged to contact Dustin Kitchens at DC. We mentioned DC would be doing exclusive retailer covers for Batman #100 and the Team Variant cover won't be available to stores who already have an exclusive cover lined up. And, if by September 7th there are still copies available from the total print run, retailers will have the opportunity to increase their orders.
Batman #100 is on sale October 6th.
Enjoyed this article? Share it!