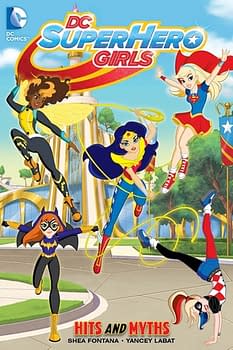 DC Entertainment's new line DC Super Hero Girls continues to grow. Publisher's Weekly announced that second DC Super Hero Girls graphic novel will be published. The first volume, DC Super Hero Girls: Finals Crisis will be released on June 5th but the first two chapters will be available on Free Comic Book Day, May 7th.
While learning about The Odyssey in Mister Etrigan's poetry class, Wonder Woman, Batgirl, Supergirl and their friends go on their own Odyssey-inspired journey where they face off with a Cyclops, seek help from a Witch, and evade the Siren before journeying to the underworld. Can they help their teacher escape from Trigon's prison and return home? Find out in DC Super Hero Girls: Hits & Myths.
Writer Shea Fontana and artist Yancey Labat will return for the second volume.
Enjoyed this article? Share it!