It's been a banner year for comic book publisher A Wave Blue World.
A month ago, the publisher of This Nightmare Kills Fascists, All We Ever Wanted and Kismet, appointed Aftershock's Director of Retailer Relations Lisa Y. Wu as their Vice President of Sales and Marketing and Valiant Executive Editor Joe Illidge as their Editorial Director.
They've been kickstarting a big anthology project, Dead Beats, and this weekend hit their $25,000 goal. A horror/music comics anthology centered around the curiosities for sale at one peculiar record store by its enigmatic Shoppe Keeper, the book curated by Eric Palicki (No Angel, All We Ever Wanted) and Joe Corallo (Mine!, This Nightmare Kills Fascists), includes a big list of well-known creators including putting back together the Doom Patrol team of writer Rachel Pollack, artist Richard Case, and letterer John Workman. This is the first time Pollack and Case have worked together since.
Featuring the first published comics work of Ren 'Renfamous' Cooper, the cosplayer whose social media stance took the brunt off so many comic creators last year, that it rocketed her onto the BC Power List.
As well as Claudia Aguirre, Magdalene Visaggio, Brent Schoonover, Cameron DeOrdio, Jen Hickman, Eva Cabrera, Kwanza Osajyefo, Daniel Kibblesmith, Vita Ayala and plenty more. And now it's actually happening.
So, hitting the goals. You know what that means? Stretch goals. And Bleeding Cool has had first dibs on just what they are, below:
30K: Premium Cover Stock with Spot Gloss
35K: Two Mini-Prints Added to All Physical Book Backers and Up (Lisa Sterle's Cover Image and Jen Hickman's Image)
40K EXCLUSIVE Kickstarter Edition. The KS Edition Will Be Available ONLY to Backers. It will have Its Own Logo Color and a "Kickstarter Exclusive" Stamp (Not Available in the Direct Market)
And here are the people currently involved.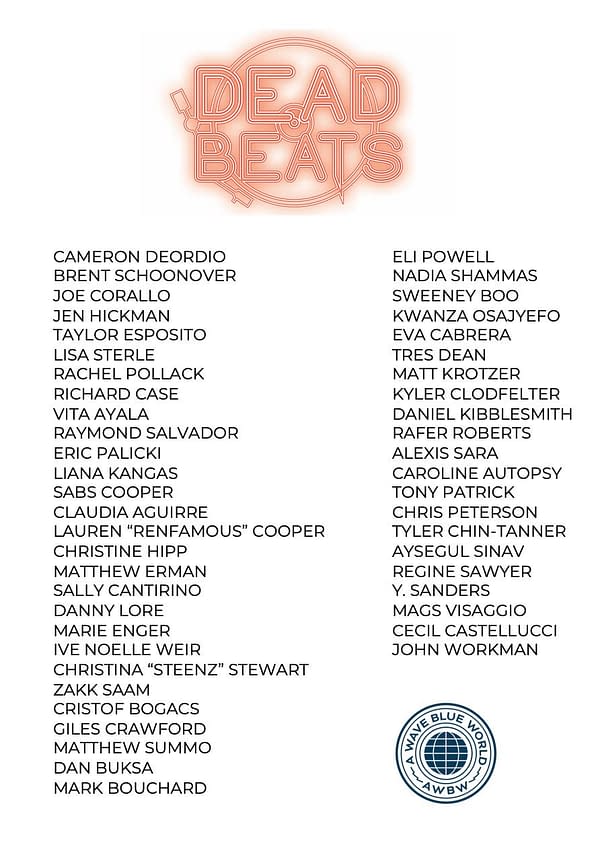 Dead Beats is a 160-page full-color anthology of music-themed horror comics centered around the curiosities for sale at one peculiar record store by its enigmatic Shoppe Keeper. Edited by Joseph Corallo (Oh S#!t, It's Kim & Kim, Mine!) and Eric Palicki (This Nightmare Kills Fascists, All We Ever Wanted), Dead Beats features more than twenty comics stories and more than forty up-and-coming creators and industry veterans, as well as cover art and interstitial narrative illustrations by Lisa Sterle (Long Lost, Submerged).
THE CREATORS
DEAD BEATS features a broad range of voices from new and established talent selected from across the medium. Notably, the book includes a reunion of Doom Patrol alums Rachel Pollack and Richard Case, working together for the first time in more than 25 years!
Also: Ren "Renfamous" Cooper * Caroline Autopsy * Alexis Sara * Christine Hipp * Tres Dean * Kyler Clodfelter * Christof Bogacs * Giles Crawford * Matthew Summo * Dan Buksa * Regine Sawyer * Y. Sanders * Sabs Cooper * Claudia Aguirre * Magdalene Visaggio * and more.
Enjoyed this article? Share it!