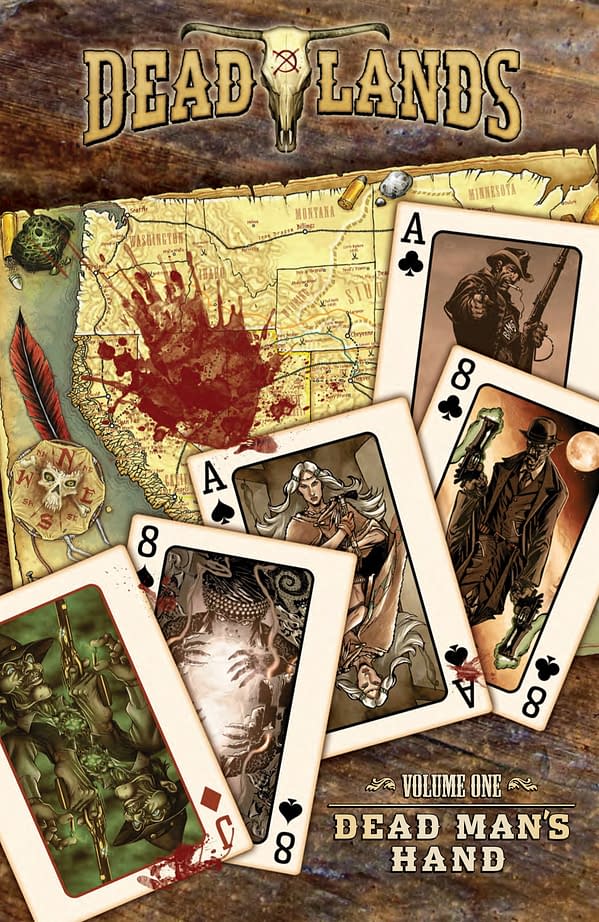 The Western steampunk horror role playing game Deadlands, originally published as a comic book at Image Comics, is seeing these stories – and new ones – collected by IDW.
Deadlands Volume 1: Dead Man's Hand brings together a who's-who of superstar horror-western comic talent to launch this unique series that laid the groundwork for every horror-western series since! Join High Moon's David Gallaher and Steve Ellis as they tell the tale of a cursed weapon created to kill the devil in Devil's Six Gun. Journey with All-Star Western's creators Jimmy Palmiotti and Justin Gray, and Lee Moder on a young Shamaness' quest for vengeance in Massacre at Redwing. Duck low for Witchblade's Ron Marz and Superman / Wonder Woman's Bart Sears as they tell of a heroic ranger who sets out to kill a whole town in Death Was Silent. Then dive into Desperados' Jeff Mariotte and Golly's Brook Turner's love tale drowned in horror in Black Water.

But that ain't all! For the first time in the comic market, this volume contains two brand new short stories penned by Deadlands creator Shane Hensley and Brand Manager Matt Cutter, who show us What a Man's Gotta Do and how to beVengeful. And for the first time ANYWHERE, get an exclusive sneak peek at the first, original Deadlands novel, Ghostwalkers by New York Times' best-selling author Jonathan Maberry, to be published by Tor Books in Fall of 2015! This amazing new adventure launches the new Tor novel line for Deadlands scheduled with releases into 2017!
May also be a good time to mention the new Deadlands Kickstarter that will be starting soon…
While we're at it, don't think Visionary and Pinnacle's stopping here! Because as you place your pre-order for volume 1, we will be launching a Kickstarter campaign for volume 2, an original series written by the creator of Deadlands himself, Shane Lacy Hensley, and gorgeously drawn by none other than Death Was Silent artist Bart Sears! This book, a complete mini-series, will FINALLY unveil the secret history behind Deadlands' biggest mystery villain, The Cackler! This comic will change the entire world of Deadlands FOREVER in a way no licensed book EVER has! Get in on the campaign for an exclusive edition available nowhere else!
Enjoyed this article? Share it!