Death of the Inhumans #1 Review: Named Character Meat Grinder
We are given a refresher course on the origins of the Inhumans before being told that the Kree have called the Inhumans back once more. They have done so by killing thousands of Inhumans and carving "Join or Die" into their bodies. Black Bolt intends to respond. He has called together the queens of all Inhuman tribes together to respond to this threat. However, the meeting goes far from as planned, and an Inhuman executioner named Vox begins his bloody rampage across all Inhuman kind.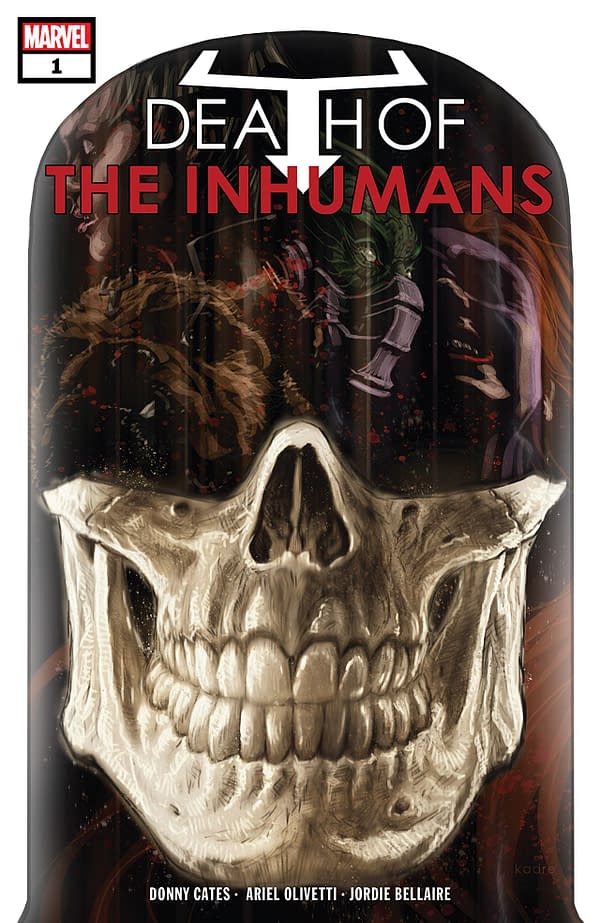 Death of the Inhumans #1 wastes no time in racking up a body count, and that is actually one of the most unappealing things about this comic.
I remember a criticism of the Ultimates line of comics being that they treated their characters like so much cannon fodder as a weak means of keeping the stakes high. Death of the Inhumans #1 made me think of that very quickly. It begins wasting named Inhuman characters within the first 10 pages and doesn't stop until the comic ends.
That seems like a good way to let the reader know you mean business, but this is another instance in which knowing what goes on behind the scenes makes it all a little worse. The Inhuman comics flopped, and the Inhumans television series showed that these characters aren't marketable. Higher-ups don't care what happens to this property, and deaths sell comics.
The comic reflects all this. The deaths are fast, given little build-up or payoff, and feel nihilistically meaningless.
I'm not the world's biggest fan of these characters, but I like them well enough. They deserve better than to be struck down with this reckless abandon.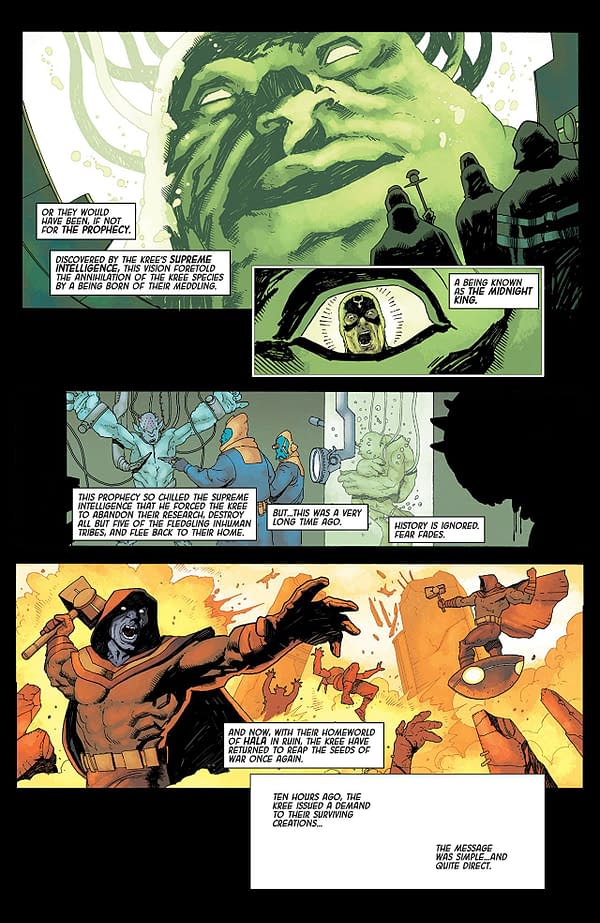 Ariel Olivetti provides the art to this comic, and his work is almost unrecognizable here. That's not to say that it's bad, but it lacks that textured 3-D feeling of his usual fare. That said, the characters are well-detailed, the style is still distinct and appealing, and the book benefits from it. Jordie Bellaire is the color artist on this one, and she delivers a well-balanced and tonally resonant palette to the book.
Death of the Inhumans #1 is a very poorly-handled rending of the Inhumans oeuvre. The characters are slaughtered with little fanfare. There is no build-up or payoff, and it's more frustrating than heartbreaking. The art is good, but it doesn't salvage the painfully thin script. Vox looks cool, but that's the best that can be said for this book. Give it a pass.