Despicable Deadpool #300 Is the Worst Comic I've Read in Years – Here's Why
[rwp-review-recap id="0"]
Deadpool is ready to bring himself down. He has reported his own position, and every hero in New York arrives to arrest the Merc With a Mouth. However, Wade even fails in this regard, as he accidentally sabotaged the heroes with an alien bioweapon. He is left with one recourse, but Captain America and Agent Preston are determined to stop him.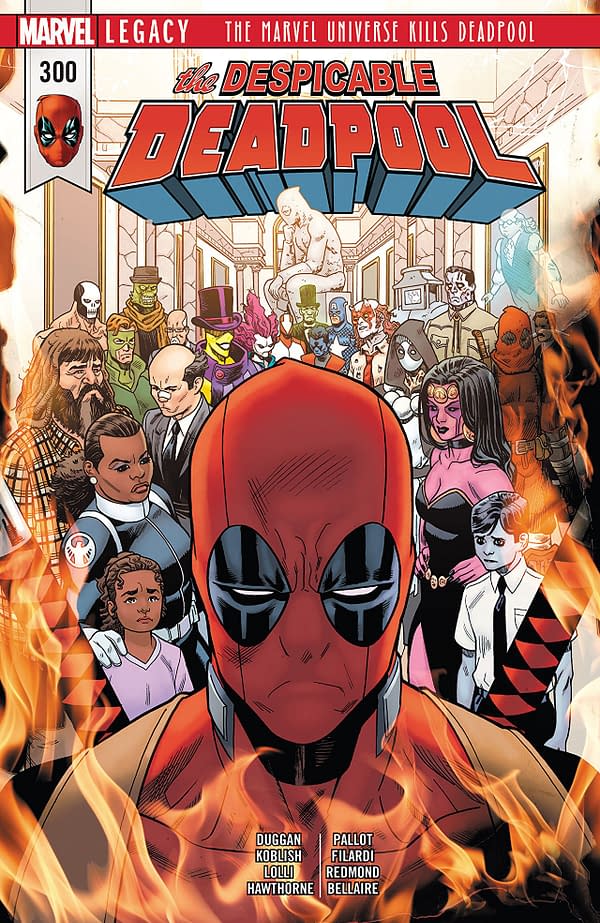 I've not liked the character of Deadpool since my freshman year of high school. I fell out of love with his comics and their humor then, even if I highly enjoyed the Deadpool film. This is Deadpool #300 though, so I thought I would give the book another try here at the end of Gerry Duggan's run.
This is me covering my ass before tearing into this book. Wade's not my cup of tea, and his humor grates on my nerves. Also, I'm going to be spoiling a lot because I really need to explain each part of the comic and why they fail to cleanse myself.
I was genuinely willing to give this comic a chance, but it was even worse than I thought it could be. The first 15 pages are non-stop vomit jokes punctuated with weak jabs at other Marvel characters. It also takes shots at Marvel business practices, and that's rich considering that this book is $5.99 with several variant covers.
Gerry Duggan shows up in the comic at about this point, and the book tries to get meta about how meta it's being, referencing Grant Morrison's Animal Man. At this point, I came dangerously close to quitting the book.
But I stuck it out. On some level, I respect attempting to give Wade Wilson some depth by having this mass display of guilt and need for repentance. That could have been interesting if it weren't the least funny comic since Thunderbolts Annual (2013) — which also had Wade Wilson not being funny in it.
The finale of him trying to erase his memories from an arbitrary point in his life kills the underlying idea of him being redeemable. For a second, this comic threatened to have depth under all the awful vomit and meta jokes, but the ending resets everything to give him a "Fresh Start" — and it makes a meta joke about that too.
It also closes that with a joke aimed at those with mental illness while making a vague jab at America's mental health system in a poor attempt at being "balanced" I guess.
Again, I'm no Deadpool fan, but, if this comic were funny, I'd admit it. I've nothing to gain from setting this comment section on fire a week before Deadpool 2 comes out. Hell, I'm planning on seeing Deadpool 2. Chances are I'll even enjoy it.
I feel like I need to reiterate how much actual vomit is in this comic. It has a pseudo montage of Falcon, the Champions, Thor, Doctor Voodoo, Scarlet Witch, and Giant Man puking for 12 straight pages.
The comic is so long too. That adds to the feeling that this is more of an endurance test than a reading experience.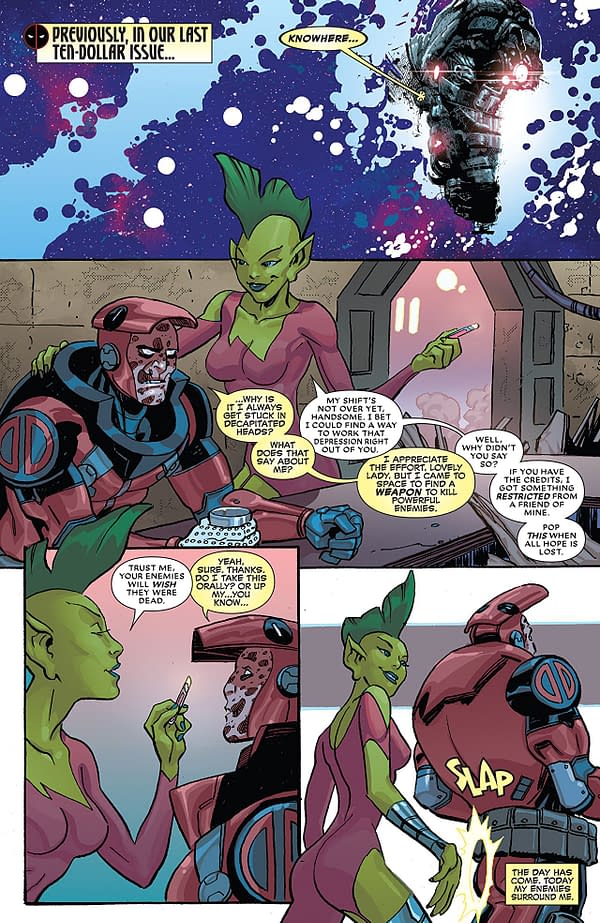 The art is actually pretty damn good, and that makes me angrier. Scott Koblish, Matteo Lolli, Mike Hawthorne, Terry Pallot, Craig Yeung, Nick Filardi, Ruth Redmond, and Jordie Bellaire all do some solid work in a comic that really doesn't deserve it.
The Despicable Deadpool #300 is honestly one of the worst comics I've read in some time. With abominable humor, insufferable attempts at metanarrative, and art too good for the writing, this book is about as far from recommended as you could imagine. Give this one a wide berth.
[rwp-review-ratings id="0"]
[rwp-review-form id="0"]