Destination Comics – A New Publisher From Comicsgate's Richard Meyer and Chuck Dixon? With Sylvester Stallone-Written Expendables, And More
In recent days, Richard Meyer has launched an Indiegogo campaign for a new graphic novel with the Expendables license, Expendables Go To Hell. The graphic novel is to be written by Bane co-creator Chuck Dixon, who wrote previous Expendables comics when Dynamite owned the license and will be co-written by Expendables star and producer, Sylvester Stallone. The comic will be drawn by fellow Bane co-creator Graham Nolan as well as Butch Guice, Jason Johnson, Kelsey Shannon and more. In three days, the campaign has already raised over $80,000, well above its $10,000 goal. The graphic novel sees the cast of the movies waking up in Hell, and dealing with armies from across history. It includes the main characters from the Expendables movies – but seemingly only has facial likenesses for Sylvester Stallone's character Barney Ross. Stallone's official Instagram account posted the following.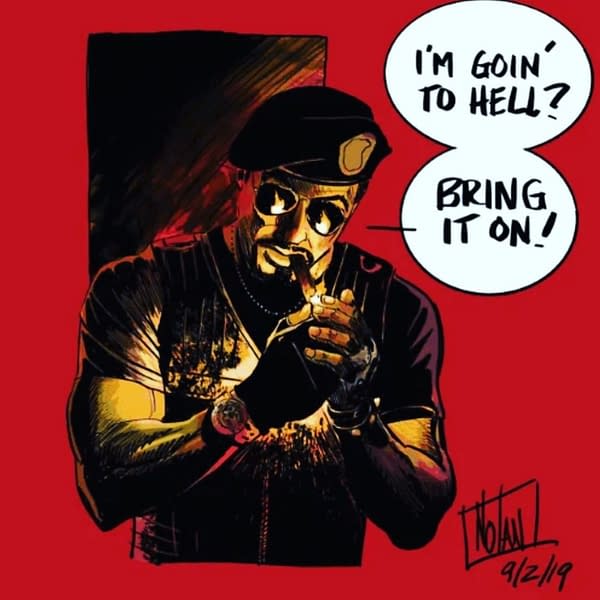 Images from the next Adventures of the EXPENDABLES – GO TO HELL!! … Thank you Chuck Dixon and your amazing team for working on this. Go out and get the graphic comic which is going to drop soon
Bleeding Cool understands that Dynamite Entertainment let the Expendables license lapse, is not involved in this publication, and the graphic novel will be published by a new publisher formed by Chuck Dixon and Richard Meyer, dubbed Destination Comics, and that future comics involving Sylvester Stallone will see publication there. I have been told that they already have digital distribution via Amazon's ComiXology and Kindle services. As for the direct market, I am told that Destination Comics will be entering an arrangement with an existing publisher, just as Image Comics once did with Malibu, to establish themselves a place in Diamond Previews catalogue, before splitting off on their own. If such a deal is finalised, it may increase said publisher's marketshare considerably, at least initially, as well as granting Destination Comics in instant and prominent position within the Diamond Previews catalogue.
UPDATE: After publication, Meyer contacted Bleeding Cool to say "I have not had any discussions with any other companies to do a Malibu-Image type of publishing deal. Nor has a deal of that type been offered to me by anyone."
Meyer has proved a controversial figure in recent years. A US veteran who had published a number of comics, his involvement in early comics cancel culture saw him successfully demanding that the writer of GI Joe be fired. Creating a YouTube channel that tackled what he saw as overly-liberal voices in comics, or what he saw as token hiring by publishers, with rapidly increasingly insulting language, he gained a large audience, culminating in his Dark Roast video that made many deeply insulting claims against comics industry figures. A leading figure in the outrage activist group Comicsgate, he channelled that attention into crowdfunding his graphic novels, with similarly-minded creators. He is also involved in an ongoing legal case against Mark Waid on charges of defamation and tortious interference, denied by Waid, over Meyer's publishing relationship with Antarctic Press. This happened after Antarctic dropped the planned publication of his crowdfunded graphic novels, and Meyer distributed contact lists of retailers who said they wouldn't stock his comic, to his followers.
Chuck Dixon is a longstanding legendary comic book creator, who may have written more published comic books than anyone else. The co-creator of Bane, he is best known for writing Batman, Punisher and many war comics. Of late, his published work has become a little more political, including political, usually right-wing, polemics. These have included the graphic novel adaptation of Clinton Cash, Trump's Space Force and the Vox Day comic, Alt-Hero. He also wrote the original Expendables comic series and has worked with Sylvester Stallone on other projects over the years.
No doubt, there will be plenty of commentary about such a new publisher and its place in the direct market. This is also the third comics publisher with well-known names to emerge this week, including Dinesh Shamdasani, Hunter Gorinson, Warren Simons and Jason Johns' Bad Idea Comics and Eddie Berganza and Eric M Esquivel's Alternate Empire. It could get a little crowded out there.
Bleeding Cool talked to Chuck Dixon when preparing this article, as well as other industry sources, but Richard Meyer did not return e-mails sent this morning. UPDATE: After publication, Meyer contacted Bleeding Cool with the correction noted above.
---
---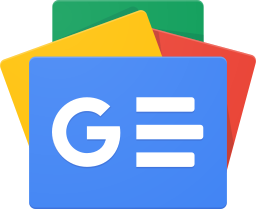 Stay up-to-date and support the site by following Bleeding Cool on Google News today!