I have no idea why. There certainly still seem to be copies on shelves of Walmart across the USA. But the Detective Comics 80th Anniversary Giant #1 published a few months ago in Walmart is currently selling for up to $175 on eBay.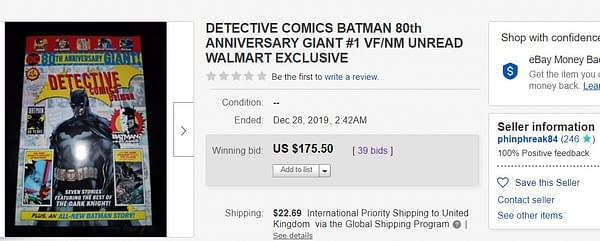 I have no justification for this whatsoever. Just that people believe it is scarce. On the 28th, successful sales prices jumped from $60 to $175, on the 27th they were from $35 to $45, and back in October they were still a high $30. The comic was surprise-published back in March, but these high prices are new. And I understand that some people have still be able to find them, right now, in their Walmart. Happy hunting…
Enjoyed this article? Share it!