[Editor's Note: Guest author Tony Panaccio writes about Devil's Due troubles over the DC Comics trademark for Wonder Woman in the recent Alexandra Ocasio-Cortez cover.]
DC Comics' intellectual property attorneys still don't have a clue, but maybe Devil's Due can give them one.By now, most folks have heard about DC Comics' claim that Devil's Due's AOC comic book infringes on DC's copyrights and trademarks on Wonder Woman, and anyone who has managed IP before also knows the extent to which that claim is a load of crap. But here's the chapter and verse.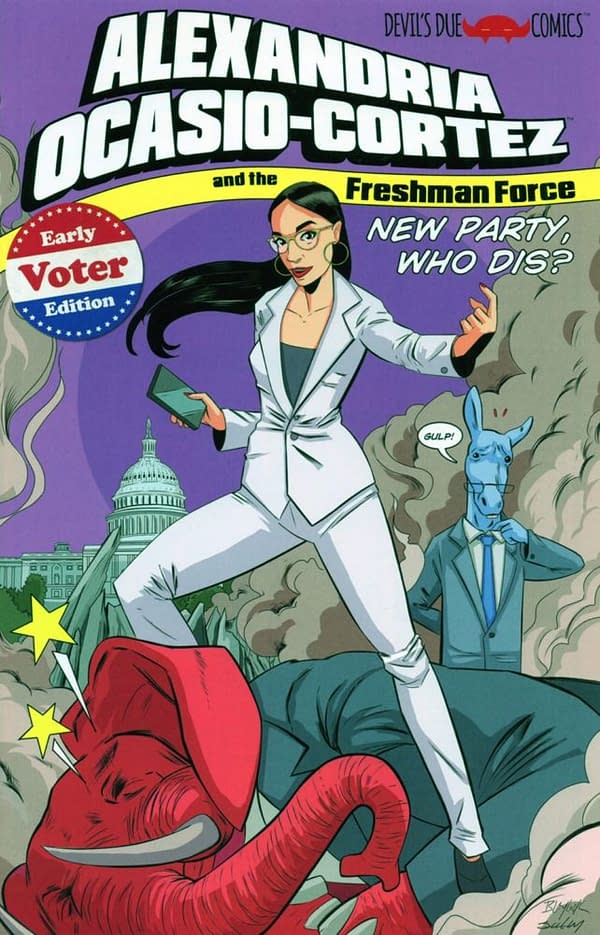 First, let's not forget that DC has a long history of pursuing claims on its IP, some of which have merit, but just as many have not. In some cases, it feels less like a serious legal claim than it does about attorneys scavenging for billable hours.
In 2014, DC Comics challenged a Toronto child abuse advocacy group over its use of the Superman Shield on a statue intended to bring awareness to the issue of child abuse. I correctly predicted that DC would reverse its decision within 48 hours, because their claim was baseless.
Back in the CrossGen days, Mystic #15 included a double-page spread set in an in-continuity bar for magic folks which featured images of every magical character in the genre, including Harry Potter, Dr. Strange, Dr. Fate, Zatanna and more. It was intended as a tribute to magic in comics, and generated only one cease and desist letter — from DC.
In 2016, DC even got a taste of its own medicine when Whataburger challenged Warners registration of the Wonder Woman logo from the movie, along with claims against more than a half dozen other companies using a double-W graphic in their logos.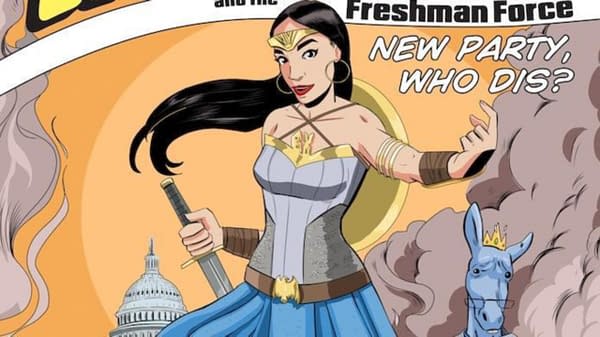 Fast-forward to last week, when DC decided that Devil's Due somehow infringed on their IP with Alexandria Ocasio-Cortez's comic, which gave her an Amazonian-Style super-hero alter-ego. DC's stance is that AOC appearing as hero with an armored skirt and chestplate represented an assault on the Wonder Woman IP.
But let's look at the law. According to the The Trademark Act of 1946, also known as The Lanham Act, the test for trademark infringement is whether the junior mark "is likely to cause confusion, or to cause mistake, or to deceive" with regard to the original trademark. The Southern District of New York stated that a parody contains language which closely imitates or mimics another work for comic effect or ridicule. Generally, good parody should lead to the antithesis of confusion, as its intent is to mock the original mark in its similarity to the mark, with enough differences to clearly indicate that it is in no way related to, or a product of, the original mark holder.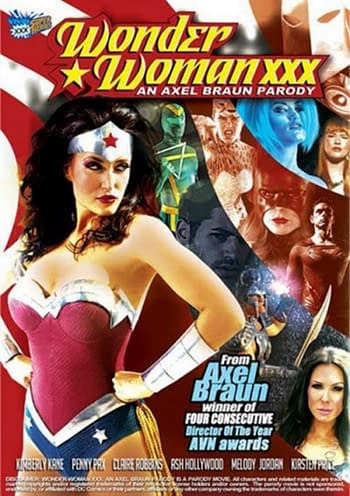 Against that test, DC's claim doesn't pass the "reasonable person" test, which is simply the question "Would a reasonable person believe that AOC's comic book could be confused with a Wonder Woman comic book?" At first glance — as well as second and third — the color scheme is different, and as AOC is a real-life person, no reasonable person could possibly confuse Princess Diana with the Queen of Progressive Politics.
But let's delve further. One of the most prevalent use of DC's IP in parodies takes place in the porn industry, which has created an entire subcategory of super-hero parodies with super-characters participating in various sexual acts that would strain even their fictional super-abilities. So, how is the image here an infringement, but AOC's comic is?
Not only is the costume identical, but the name of the character is used, as well. Compared to AOC's comic, which does not use the name Wonder Woman nor does it directly mimic the trademarked costume, surely the porn version shouldn't rate a pass just because the word "parody" is included in the title.
My advice for Devil's Due would be to send a letter back to DC rejecting the infringement assertion and demand DC produce proof of brand confusion and harm to their IP produced by the publication of the AOC comic. Make DC prove that they have lost sales or reputation based on the AOC comic, and document it through sales figures as well as anecdotal evidence. If Devil's Due is enjoying increased interest from fans over the comic, one compromise could be to simply place the word "parody" in a subtitle on subsequent printings of the book, matching the way the porn industry avoids infringement prosecution.
The bottom line is that this is just another example of DC's IP attorneys reaching for more internal billable hours, more than likely with some young staffer trying to impress a boss. It's a spurious claim and Devil's Due should fight it, as the entire issue is a legal windmill in a Quixotic effort to protect an iconography that is barely touched by AOC's comic.
Tony Panaccio is the former Senior VP of CrossGen Entertainment and currently a media consultant in the U.S., as well as Chief Media Strategist for Bold Blue Campaigns, a Democratic political consultancy based in Washington, D.C.
Enjoyed this article? Share it!